Tori Spelling and Dean McDermott Reportedly Pitching New Reality Series Documenting Comeback From Cheating Scandal and Financial Issues
Tori Spelling and Dean McDermott are no strangers to controversy. In addition to money problems, Spelling and McDermott publicly battled backlash regarding their financial issues. But sources say the couple's relationship is back on track and they're looking to document their progress in the form of a new reality series.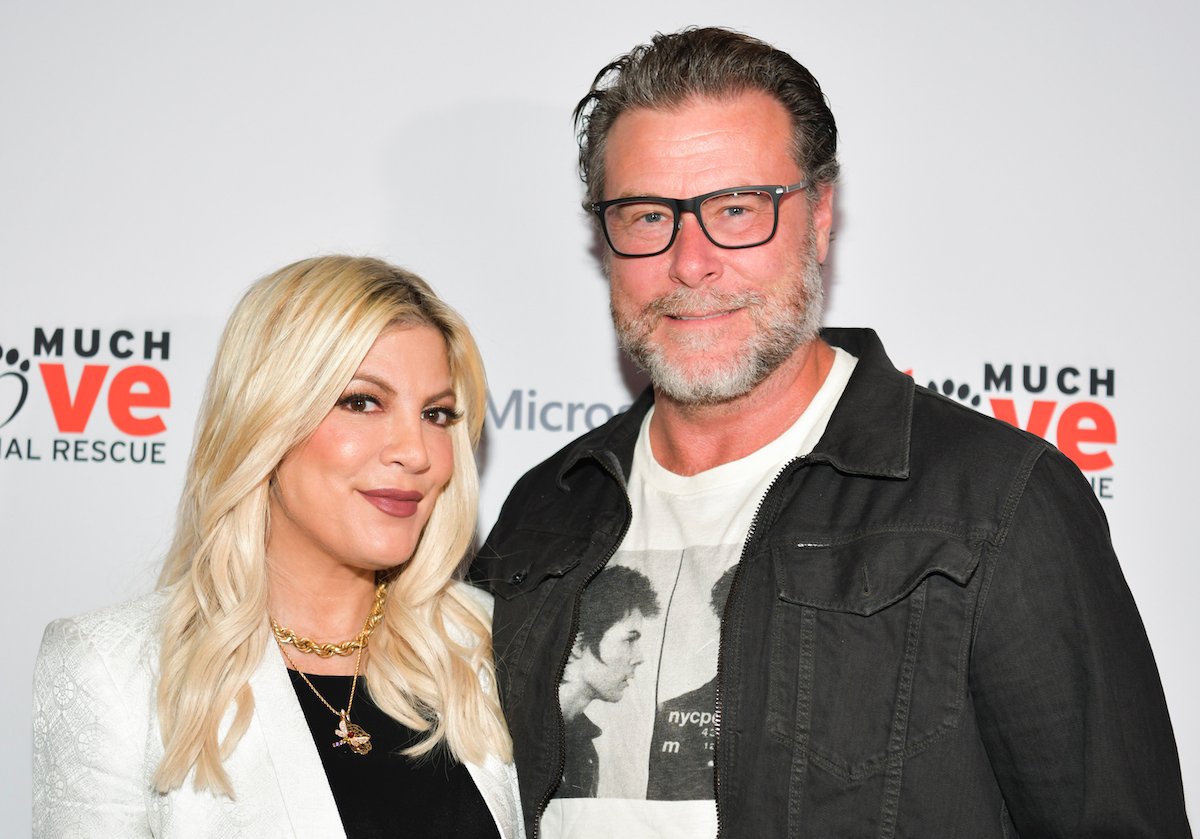 Tori Spelling and Dean McDermott deal with McDermott's cheating scandal
Spelling and McDermott's relationship began while they were both married to other parties. The couple met while filming a Lifetime movie and the on-camera chemistry was so hot that it turned into a real-life romance. They married in 2006.
Spelling admits that due to them starting their relationship by having an affair, she was fearful that McDermott would also cheat on her. Her worse fears came true in 2014 when McDermott admitted to infidelity. Their road to a reconciliation was documented on the reality series True Tori.
Related: The Dark Secrets Behind Tori Spelling's Marriage and What Led to Her Shocking Mental Breakdown
At the time, McDermott was filmed speaking about his affair, saying "I feel shame. I've never felt shame before."
McDermott entered a rehab facility for treatment for drugs, alcohol, and sex addiction. Simultaneously, Spelling worked toward forgiveness.
In a 2020 interview with Women on Top podcast, Spelling said she's grateful she stayed in her marriage.
"This happened and rocked our foundation and we have no choice — we either start over or move on. … It was madness," she said. "Everybody out there was like, 'F— him … and I was like, 'I love this man and I have children with this man and everyone makes mistakes.'"
Tori Spelling and Dean McDermott's financial issues
Aside from infidelity, the couple have publicly dealt with money trouble. Despite Spelling being the daughter of one of the most famous content creators and McDermott also being an actor, they haven't always been wise with their money.
At one point, they admitted to racking up over $300,000 in credit card debt and tax liens. They couldn't afford to pay it off as their acting opportunities were scarce.
Related: Tori Spelling Has a Long History of Financial Trouble
OK! Magazine reports that Spelling is determined to learn from her past financial mistakes. "I am not great with money, and I know a lot of people read a lot of stuff about my financial things going on," she once said. "I had a business manager since I was 18 years old, so I never handled any of my money. Everything, everything, went to them, so, unfortunately, I never quite learned about money. Now raising kids of my own, I'm like, that is so important."
Tori Spelling and Dean McDermott are reportedly planning another reality show based on their comeback
With money issues currently not as bad as before and infidelity behind them, a source tells OK! Magazine that the couple are looking to film a new reality series based on their comeback.
"They've been through hell, but somehow got through the worst of it," the source said. The source added that the new reality series will "show just how far they've come."
As Spelling and McDermott continue to rebuild, the source reports "they've put in the effort to save their relationship. Tori and Dean have finally found a good rhythm to live by."
It's unclear what networks the couple are pitching their reality series to, but they've previously appeared on Lifetime.