Trevor Noah Calls BTS 'The Nicest Group of People You'll Ever Meet'
The BTS fandom can add The Daily Show Host Trevor Noah to their list of fans after he met the group at the 64th Annual Grammy Awards. ammy Awards. Noah was impressed with BTS's fantastic performance and the groups' impeccable manners.
ARMY just picked up another member. BTS can add The Daily Show host Trevor Noah to their list of fans after he met the group at the 64th Annual Grammy Awards. Noah was impressed with BTS' fantastic performance and the groups' impeccable manners. During the ceremony, he sat with BTS for a short segment.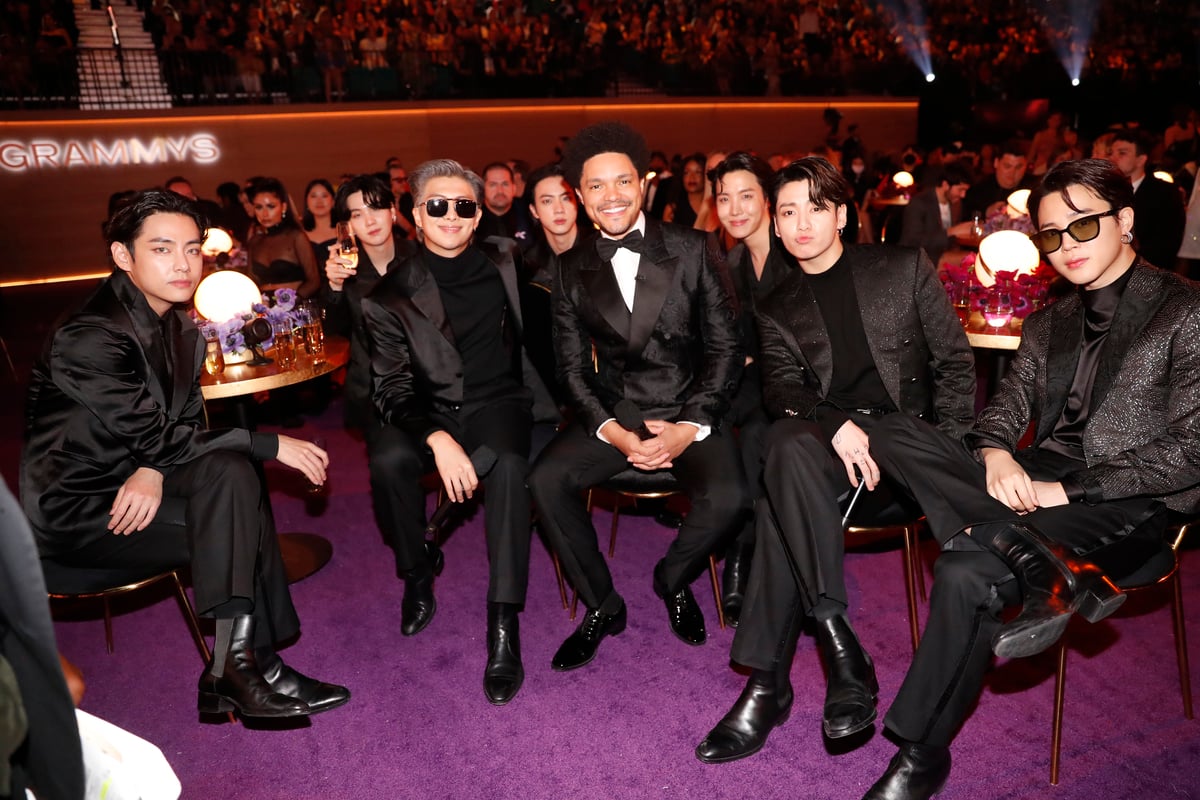 Trevor Noah says he 'sort of blacked out' when he met BTS 
During a commercial break of The Daily Show, on a streaming series called Between the Scenes, an audience member asked Noah what it was like meeting BTS. He responded, "You know, they say sometimes when you experience too much joy in a moment, you sort of black it out."
He described the kindness he witnessed from the seven-member K-pop group.  "You know, one thing I love about BTS is, they are, first of all, the nicest group of people you'll ever meet." 
Noah expanded on the word nice to describe BTS as being kind to everyone, "sometimes people say 'nice,' but they lose the context. They'll be like, 'Oh, nice to other celebrities, nice to others, you know what I mean?" He continued, "No, they're just nice in every interaction that they have with people and what they do."
Noah noticed the difference in K-pop choreography compared to western boybands
Something that stood out to Noah during the groups' spy-themed performance of "Butter" was the dance moves. For those unfamiliar with K-pop choreography, the synchronization and precision are even more impressive in person. "They're so good and efficient at what they do. Like they hit their marks. They're learning their moves. But like really precise, you know."
"I was watching them, and I'm not trying to throw shade or anything, but I was like, man NSYNC, they got away with s****." Noah continued, "I was just like, the moves that these kids are doing, and then you think of the boy bands I grew up with, and I'm like, damn."
The boybands of Noah's generation may agree with him. The Backstreet Boys talked to Kelly Clarkson about their upcoming DNA tour in a recent interview. They'll perform 32 songs, complete with choreography. 
Nick Carter told Clarkson, "We are dancing the whole show" He quickly added, "not BTS style, but we're dancing."
BTS may have left without a Grammy but won over new fans 
BTS lost the Best Pop Performance Duo/Group Grammy to SZA and Doja Cat for "Kiss Me More." This was their second year in a row losing the trophy, but their performance won them new fans inside and outside of the MGM Grand Garden Arena. 
RM, Jin, Suga, J-Hope, Jimin, V, and Jungkook performed a slick James Bond version of their hit song "Butter." Their peers were on their feet cheering before the song was over. Although the group performed at the Grammys the past few years, this was their first live solo stage. 
Social Butterfly V worked the room like a seasoned pro. He befriended Olivia Rodrigo, Lady Gaga, and finally connected in person with his virtual friend Jon Batiste. 
The group is currently performing four sold-out shows at the 65,000-seat capacity Allegiant Stadium in Las Vegas, NV. The tickets sold out during one fan presale. That presale happened before the Grammy Awards. When the next BTS tour is announced, Trevor Noah and friends may have to battle loyal ARMY for tickets.