'The Umbrella Academy' Season 3 Cast Revealed Their Songs of Choice for Wedding Dance Sequences
The Umbrella Academy Season 3 has its share of big moments, including the wedding episode. They had a blast filming the dance sequences. However, they actually had a bit more control on the set than one would imagine. The Umbrella Academy Season 3 cast recalled what songs they chose to play during the dance sequences.
The 'Umbrella Academy' Season 3 cast loved filming the wedding episode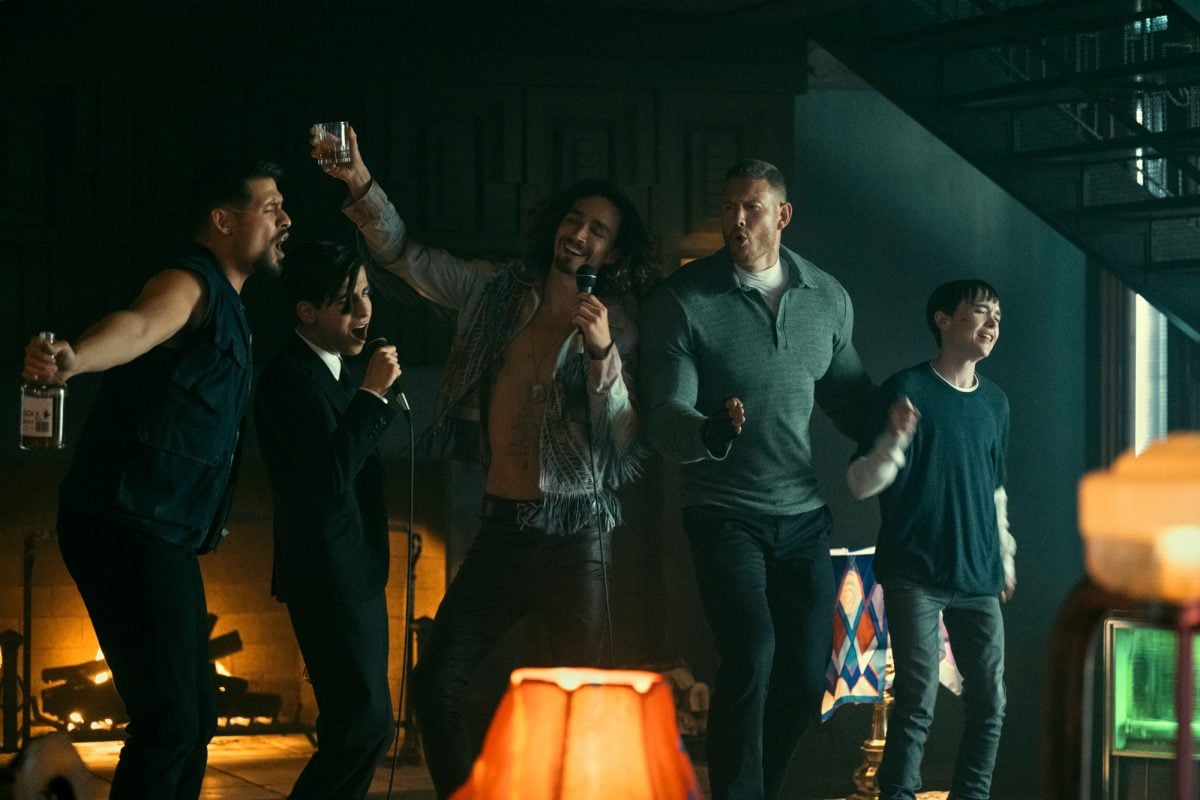 The Still Watching Netflix channel posted an interview with The Umbrella Academy Season 3 cast. They had plenty to say about the wedding episode. It was a long night of shooting, but they ultimately loved bonding over the course of the night. The host asked them to speak more about the experience of episode 8.
Emmy Raver-Lampman, who plays Allison Hargreeves, recalled that it took around six days to film. Tom Hopper, who plays Luther, chimed in and talked about how it all turned out.
"Yeah, over a few nights," Hopper said. "It was amazing because we had like these really long night shoots planned out. When you know you've got a lot of night shoots coming up, you're like, 'Ugh.' But, actually, it was the most fun, I think we had."
Genesis Rodriguez, who plays Sloane, also explained what an exciting experience it was and compared it to a nostalgic moment.
"It was like, you know, one of those giant sleepovers kind of a thing," Rodriguez said. "Where you get delirious all at the same time." Aidan Gallagher, who plays Number Five, chimed in: "Because we were all playing drunk, too."
Rodriguez continued: "Yeah, we were all playing drunk, so it really just played into just being tired and drunk and all that. But it was so much fun."
Gallagher had more to add regarding the bonding experience that they had during The Umbrella Academy wedding.
"We all got to like, bond," Gallagher said. "We soon to hide behind our dysfunction and are sort of at each other sometimes. Just because the characters won't let that down and just love each other. But with that context, I think it became a very, very cozy set and we all had a blast just being at ease and having a good time for once."
Unfortunately, Raver-Lampman didn't get to join in on the wedding dancing fun with The Umbrella Academy cast.
"They kept wrapping me right before they'd start the dancing, or all the fun stuff," Raver-Lampman said. "I'd be like, 'Goodnight, guys.' And they'd all be like, going over to the dance floor, and I was like, 'See ya tomorrow.'"
'The Umbrella Academy' Season 3 cast share their songs of choice for the wedding dance sequences
Still Watching Netflix's conversation with The Umbrella Academy Season 3 cast regarding the wedding took an interesting turn. Hopper explained how they were actually able to each choose a song to play during the dance sequences.
"There was a great moment in the dance section of that where we all got to pick a song," Hopper said. "We all gave Paco [Cabezas] a song that. we wanted played at the wedding. Oh God, what was mine?"
They all started to try and remember what they requested. Raver-Lampman jokingly called out "Barbie" by Aqua. However, Gallagher remembered that he chose "Need You Tonight" by INXS.
Meanwhile, David Castañeda, who plays Diego, remembered that he chose "June Paro Style" by Engrazi Lencia, which Ben's actor, Justin H. Min, laughed at the memory of.
Finally, Hopper remembered his pick – "MMMBop" by Hanson. Raver-Lampman responded: "That feels like a you choice, for sure." Hopper hilariously responded, "I don't know what that means, but I'm sticking with it. I'm sticking with my choice. Big fan."
Season 3 Episode 8 brought characters together
The Umbrella Academy Season 3 Episode 8 did a lot with its wedding episode. At this point, the season is building up to its climactic conclusion, and all of the characters are forced to confront many of their personal demons. However, it gives the audience an opportunity to see The Umbrella Academy characters bond in a wedding situation, which is a totally different perspective.
The entirety of season 3 is now on Netflix and a season 4 is extremely likely. It doesn't officially have the green light from the studio, but the conclusion would certainly cause one to believe that the story will continue.
RELATED: 'The Umbrella Academy' Showrunner Says Elliot Page Didn't Ask for Viktor's Transition