'Unsellable Houses': When is the Season 2 Premiere?
HGTV's Unsellable Houses features twin sisters attempting to help homeowners sell their less-than-desirable homes. And fans can rejoice, as the show is coming back to the network in March 2021. Here's more information on the premiere and how to watch the hit show.
When is 'Unsellable Houses' coming back?
Unsellable Houses returns to HGTV on March 30, 2021, the network website notes. The premiere for season 2 begins at 9 p.m. EST and follows a killer first season that drew in 27 million viewers.
Lyndsay Lamb and Leslie Davis are the real estate gurus who help the homeowners on the show, and they're back once again. They believe every home can be sold for profit with the right tweaks, and it looks like the sisters upgraded their own personal setup for the new season. The HGTV site notes they now have a new home office space, retail storefront, and staff of their own to assist them and make season 2 bigger and better than ever.
The first episode of the season features a Craftsman-style home that's gone unsold on the market for far too long. Lamb and Davis change the exterior, reimagine the floor plan, and give the home a new roof. A bungalow and a ranch-style home are also given makeovers for more sellable appeal.
Who are the hosts?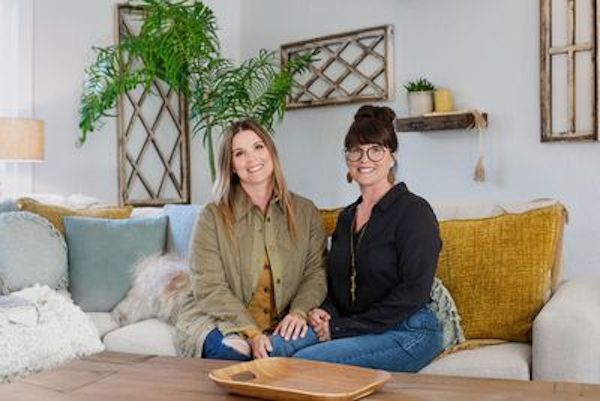 Lamb and Davis are the sisters who host HGTV's Unsellable Houses, and they bring very different assets to the table. Lamb is the head of home renovation and design, and Davis takes the reigns on budget. Together, they're the dream team necessary to take the duds and turn them into amazing homes worth purchasing.
Aside from the renovations on the show, the sisters have also gone through quite a lot in their personal lives — and they've gotten candid. "In 2013 my son was diagnosed with cancer and my world was turned upside down," Lamb told Hilary Winfield Fine Art. She then explained Davis knew she'd be heartbroken if her real estate business wasn't there after her son's treatment, so Davis "quickly got her license and started serving" her clients during this difficult time.
"After a year of treatment my son was ready to go back to school and I was ready to go back to work," Lamb added. "Luckily, Leslie was smart enough to keep the business running and so from that point forward we ran the business together."  
"Leslie and I own our business 50/50 and we love, truly love, working together," Lamb added. "We are very different and it compliments each other very well. I am creative, a visionary and a doer. Leslie is an analytical, organized, spreadsheet lover."   
Is 'Unsellable Houses' fake?
So, is the HGTV show real? It's likely everything fans see on the show is real. According to TV Overmind, Lamb Real Estate Team is, indeed, a real company, and they've been in business since 2009. And the restoration process of the home also looks legitimate, as Lamb and Davis bring in a crew who help them tear apart the unsellable homes.
With this said, some fans might still question the speediness of the restoration process and the high prices the homes go for after everything's fixed. But it sounds like Davis and Lamb really are that good at what they do, and they're surely helping real homeowners in the process.
We can't wait to see what's in store on Unsellable Houses Season 2!
Check out Showbiz Cheat Sheet on Facebook!