Video Resurfaces of the Pussycat Dolls' Nicole Scherzinger Hinting to Tiny and T.I.'s Love of Threesomes Amid Sexual Abuse Allegations
T.I. and Tiny's 2021 is not off to a good start. The couple are being accused of sexual abuse and sexual misconduct by dozens of women. Amid the allegations, a video of Nicole Scherzinger hinting to T.I. and Tiny's relationship and alleged bedroom behavior has resurfaced.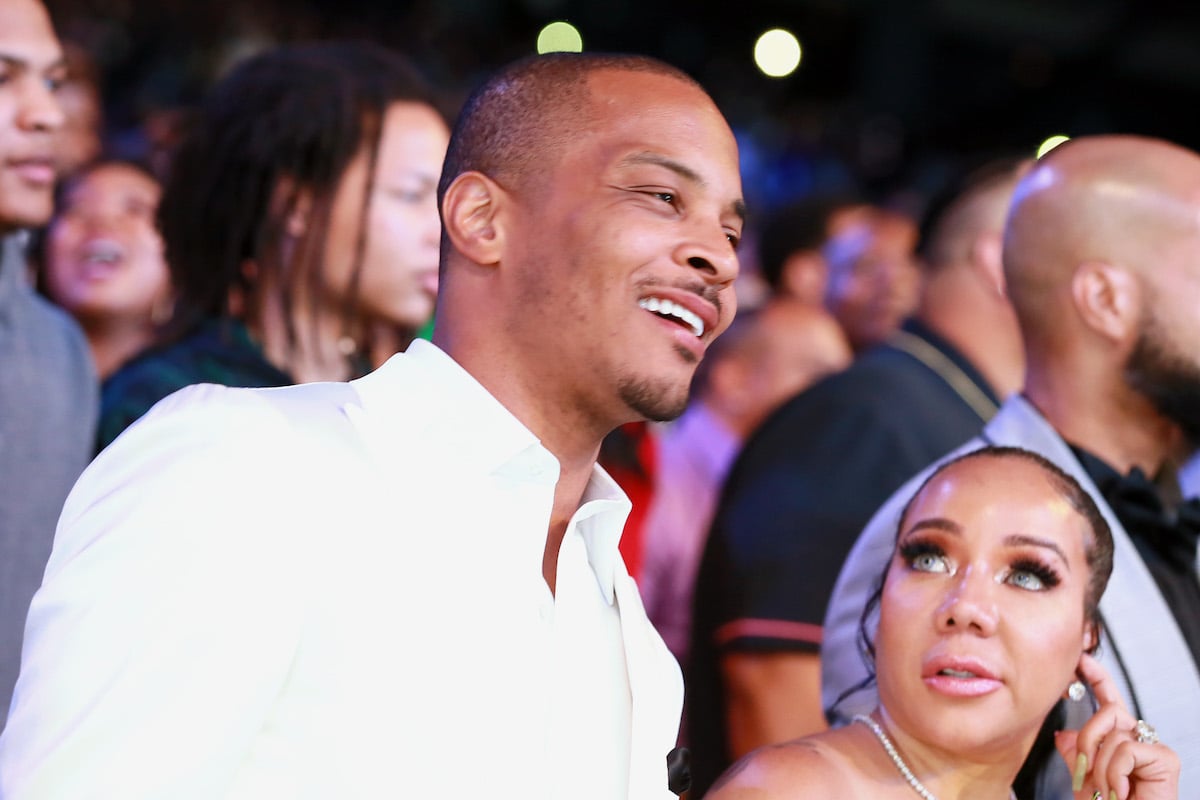 T.I. and Tiny are under fire amid sexual abuse allegations
T.I. and Tiny are currently up against a slew of sexual abuse and misconduct allegations. One woman came forward via Instagram to allege that T.I. one put a gun to her head and threatened her.
Related: Why T.I. Says His Mother Was Not Initially a Fan Of His Wife, Tiny
Others began a Twitter chain with allegations of being drugged and coerced into sexual acts with both T.I. and Tiny. Many allege they signed NDAs and willingly participated in threesomes with the couple before being forced to do things against their will.
Furthermore, many of the women say Tiny acts as T.I.'s madame and is the main culprit who recruits women and is the main engager in the behavior.
As a result, VH1 has halted the production of the couple's reality series. Both T.I. and Tiny deny any wrongdoing. T.I. does not deny that he and Tiny have had threesomes; instead, he says anything they've done in their bedroom is consensual.
Rob Kardashian previously hinted to T.I. and Tiny's bedroom action
In the midst of Kardashian's social media tirade against his ex Blac Chyna, T.I. interjected to give his opinion on the ordeal. T.I. found Kardashian's public smear campaign against Chyna to be repulsive and felt Kardashian could better handle things privately. Furthermore, T.I. mentioned that the public feud was not good for Kardashian and Chyna's daughter.
In response to T.I.'s remarks, Kardashian called out the rapper for his own alleged poor treatment of women. In the process, he alleged that he knew of Chyna having sexual experiences with both T.I. and Tiny…together, per Us Weekly.
"Since TI wanna chime in on business that don't concern him let's talk about the threesome you had with Chyna and your baby mama Tiny," Kardashian wrote in a response to T.I.'s Instagram post.
He continued: "Don't speak on my daughter when u having threesomes with young Chy and Tiny and I put that on my daughter's life since u wanna speak on my daughter…damn shame…Chyna told me everything about your threesomes with you and her and Tiny. U got no moves bro…Correction:TI paid Chyna to have sex with Tiny and him."
T.I. shot back and denied the allegations. Still, T.I.'s mention of Kardashian keeping a woman's secrets had many believing Kardashian's remarks.
Nicole Scherzinger's past comments about T.I. and Tiny resurface
Scherzinger collaborated with T.I. in 2007 on her single "Whatever U Like." The rapper also made a cameo in the accompanying music video, which shows the two getting steamy and cozy.
It's unclear whether or not T.I. ever hit on Scherzinger but she alluded to knowing of his preferences during an episode of the E! podcast, Ladygang. During one show in 2019, co-host Becca Toobin revealed that the T.I. and Tiny invited her to their home for dinner. Scherzinger responded that the invitation was not a shocker.
"One time he and Tiny invited me over for dinner [laughs]," Toobin said to the group. Scherzinger responded while winking and grinning, "I'm sure they did. I'm sure they did."
Toobin explained that she was "quite flattered" by the invitation, though she did not attend. Sherzinger joked, "They were like, 'Guess what's for dinner? You, b—h!'"
Many fans believe Scherzinger may have had her own experience with T.I. and Tiny due to her comments.