'WandaVision': Elizabeth Olsen 'Fought' to Wear Scarlet Witch's Comic Book Costume in the Show; 'Make [It] as Big as You Need To'
Elizabeth Olsen was promised that she wouldn't have to wear Scarlet Witch's comic book costume before. But for 'WandaVision,' she fought for it.
While the Marvel Cinematic Universe does a pretty good job of adapting the comic books, the comic-accurate costumes aren't always a priority. That definitely makes sense, since a lot of the costumes wouldn't translate that well from page to screen (look at Quicksilver's costume in the WandaVision episode). However, when it comes to Wanda Maximoff's comic book costume, Elizabeth Olsen actually fought to have that comic-accurate outfit in the show despite being told when she was hired that she would never have to wear it. [Spoiler alert: Spoilers ahead for WandaVision].
Joss Whedon initially told Elizabeth Olsen that she'd never have to wear Scarlet Witch's costume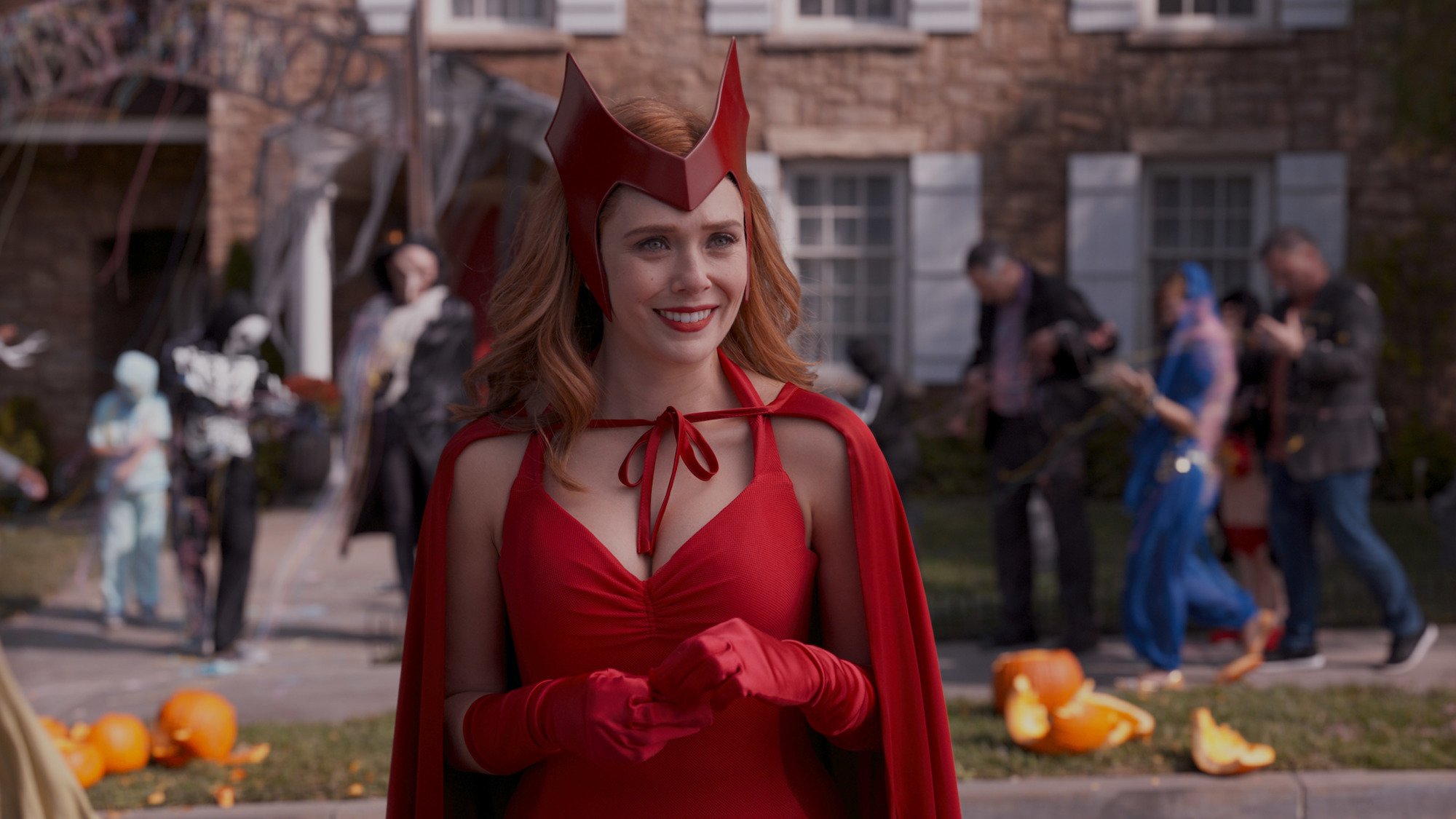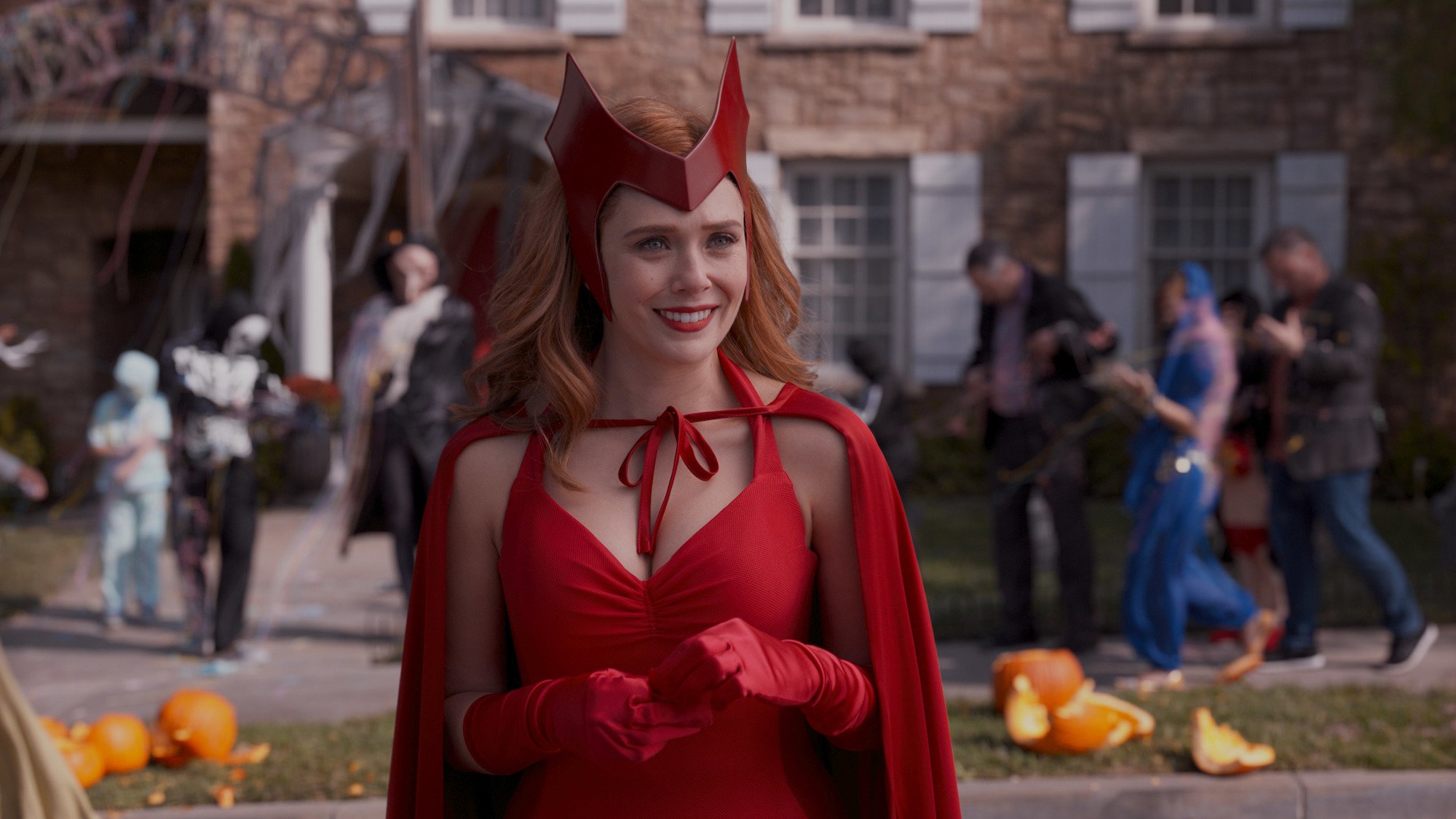 Olsen came into the MCU in 2015's Avengers: Age of Ultron in the antagonist role at first. Wanda and Pietro Maximoff were experimented on by Hydra and were "enhanced" beings that got their powers from the Mind Stone in Loki's scepter. And when Joss Whedon, the director of that film, brought Olsen on, he gave her some key information.  
"The same meeting Joss Whedon even mentioned who we were meeting about, he said 'There's this character Scarlet Witch that I'm interested in for you to play,'" Olsen said on Late Night with Seth Meyers in 2016. "Then he said, 'And when you go home and Google her, just know that you will never ever have to wear what she wears in the comics.'"
For anyone unfamiliar with Scarlet Witch's costume, she wears a leotard that can be pretty revealing at times, like many female superhero comic book costumes. It's form-fitting, low-cut, and doesn't require pants, only tights. 
But when it came to the Halloween episode, Olsen wanted to go all-in on the Scarlet Witch nod
At the time of her conversation with Meyers, she seemed happy that she wouldn't have to wear that original costume. But going into WandaVision, and her tune changed completely. 
While appearing on the Still Watching podcast from Vanity Fair on Jan. 29, Olsen shared that there were initially other ideas for Wanda's Halloween costume. This was before they settled on the "Sokovian fortune teller" costume that mimics the Scarlet Witch outfit from the comics that she ended up wearing on WandaVision. And Paul Bettany's Vision wears a Mexican wrestler costume that is very much a nod to his character's comic book look.
"I was so excited," Olsen said. "Actually what happened, so we have a Halloween episode and they were trying to figure out how big of a nod to the character we were going to do and it didn't start off with the classic Scarlet Witch costume."
So Olsen pushed to have the comic book costume for the Halloween episode so that it was more than just a nod but an all-out tribute to Scarlet Witch's origin. 
"I like fought for it," Olsen said. "I was like, 'No we have to go full into it. This is like the greatest thing. Paul's doing it, I'm doing it.' And I'm really in it, it's not just a flash. I'm really in the costume for quite a bit. It was so fun, I loved it. And it was the perfect way to wear that costume, 'cause you can't take that costume seriously. "
And when Olsen said "full into it" she meant it. She joked that she wanted them to "make the headdress as big as you need to, massive." 
It seems like it was a more pleasant experience than her costume on 'Avengers: Infinity War'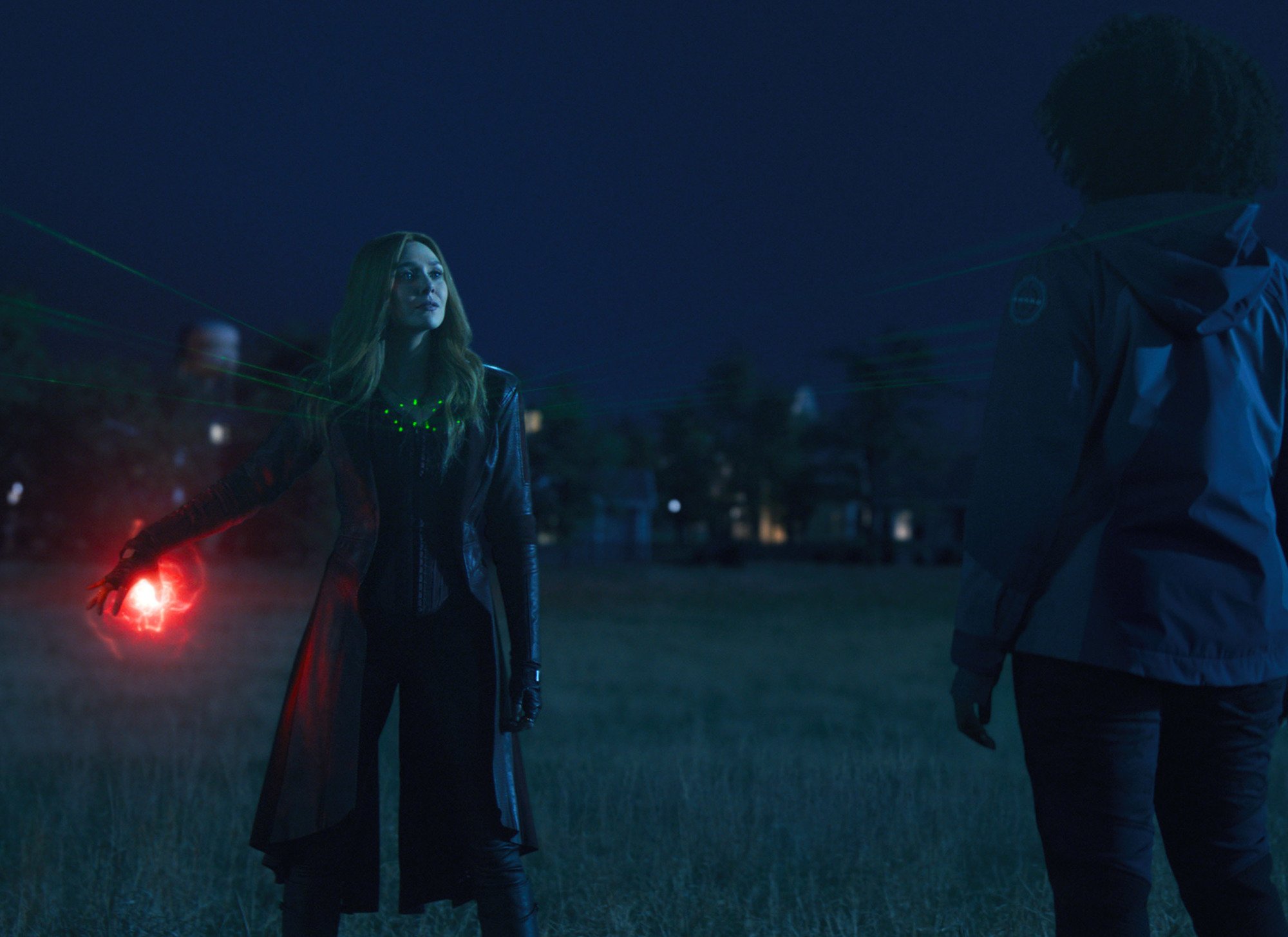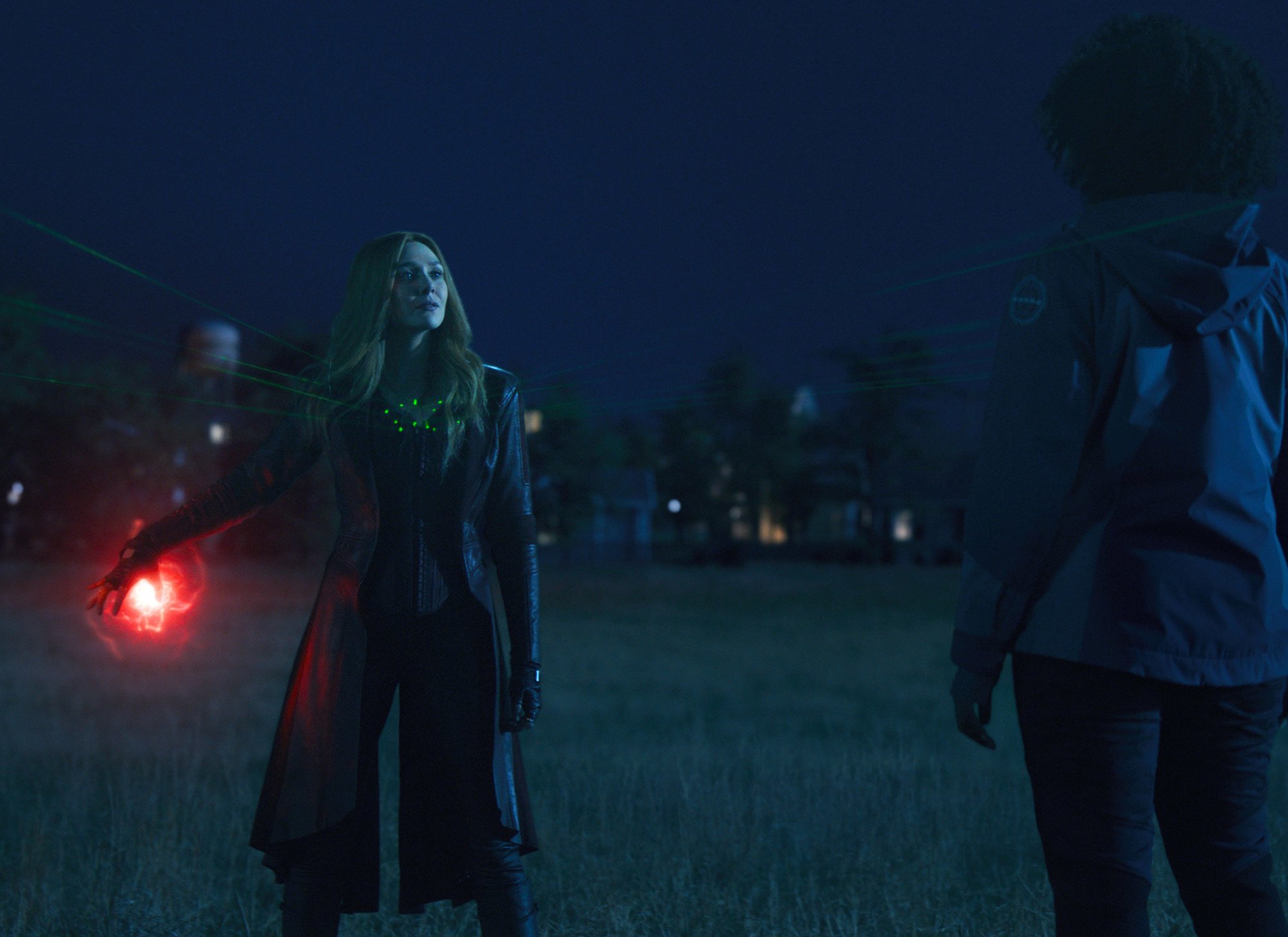 With all the other great period costumes on the show as it goes through the decades of sitcoms, along with that particular Scarlet Witch costume, it seems like Olsen had a lot of fun with the wardrobe on WandaVision. However, that hasn't always been the case with her outfits on an MCU set. 
When it came to her costume for Avengers: Infinity War, Olsen told Elle in 2018 that it was too revealing.  
"It would just not be a cleavage corset. I like corsets, but I'd like it to be higher. Everyone has these things that cover them—Tessa Thompson does, Scarlett does. I would like to cover up a bit," Olsen said. 
Sure, it's not the leotard and barely-held-up top from the comics, but it wasn't ideal for Olsen either. 
"It's funny because sometimes I look around and I'm just like—wow, I'm the only one who has cleavage, and that's a constant joke because they haven't really evolved my superhero costume that much," she said.
Wanda wore something more modern briefly when she interacts with S.W.O.R.D. and Director Hayward in WandaVision. And while it looks like the same design as the Infinity War costume, it doesn't look like it has the same revealing issue. So maybe that problem was squashed in the past.