'WandaVision' Is Like a Type of Therapy for Wanda, According to Elizabeth Olsen
Wanda Maximoff is obviously going through a lot in 'WandaVision.' And Elizabeth Olsen shared that there's a sort of therapy in it all. Sort of.
When Wanda Maximoff was first introduced to the Marvel Cinematic Universe in 2015's Avengers: Age of Ultron, she came in as a threat to Earth's mightiest heroes. Along with her brother Pietro, she had some really damaging powers that brought the Avengers to their knees. It wasn't until she saw the destruction that Ultron planned for Earth and how the Avengers weren't really the bad guys that she didn't destroy them. 
But with Wanda being one of the only formidable opponents to Thanos along with WandaVision, viewers are seeing more of what she's capable of. And for fans of the comics, the gravity and depth of Scarlet Witch's destruction are only just starting to be touched upon in the MCU. But she's really a woman who's grieving, and WandaVision has done a decent job of showing that. And for Elizabeth Olsen, that's what the show is about. [Spoiler alert: Spoilers ahead for WandaVision]. 
Wanda's reality in 'WandaVision' is like a form of therapy, according to Elizabeth Olsen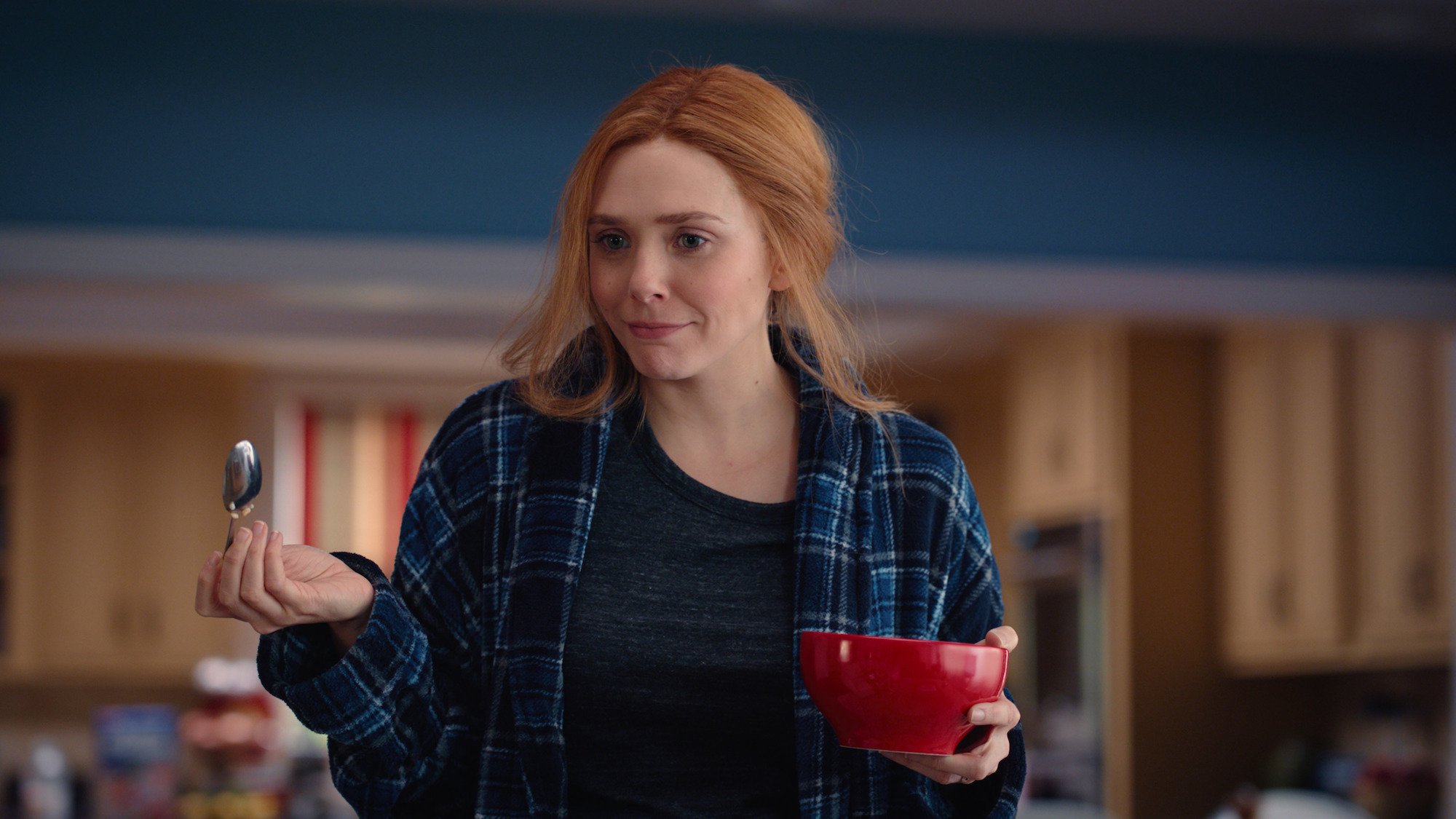 Obviously, Wanda's last moments in Avengers: Endgame are pretty different from her actions in WandaVision: going from subdued mourning at Tony Stark's funeral to stealing Vision's body from S.W.O.R.D. and creating this false reality. Of course, it seems like viewers don't have the full story, but from what Wanda told Pietro (or whoever Evan Peters' character ends up being) her grief really just blinded her and she was so lost in her despair. 
This, of course, is pretty understandable. Even though it is a contrast to Endgame, it does come after years of the trauma she's endured. From her parents' tragic death to Pietro dying and the loss of Sokovia to everything she went through with Civil War and then Vision's death, Wanda's had a heavy half of a decade. 
With that said, Olsen told Vanity Fair's Still Watching podcast in January that she thought of a popular therapist concept while in regards to WandaVision.
"Some therapists believe, or classically believe you need to talk to 'the child' that lives inside of you and connect with those experiences that have trauma," she said. "And then you take accountability and you maybe have an intervention with yourself and you can move forward in a different way in your life. And I do feel like this show represents this kind of therapy experience." 
Obviously, Wanda's grieving heavily. And while therapy typically helps someone, it's unclear if she's actually improving with this whole experience. But it does seem like Wanda's working through it.
Scarlet Witch's story is mostly about mental health in the comics and that's what Olsen wanted to focus on
It's also hard to forget in all of this that Wanda has a whole town hostage if she is the person that started the Hex (again, there's still a lot we don't know). Monica tried to reach through to Wanda last time, and it seemed like there was a possibility that it could work. 
However, with Agatha or other evil powers controlling who connects with Wanda, that'll be tough. And while Wanda could be working through her trauma in this type of "inner child" therapy, she obviously won't improve with the route we're seeing now. And for Olsen, centering the comic books' focus on mental health was important.  
"To just create hysterical women isn't really that interesting of a story [and] also doesn't really help any causes," Olsen said. "But to create a story about someone who believes so deeply in their own cause and their own experiences and to tell a story about trauma and resilience and avoidance, there's a lot of things that her story is and whatever moments of extreme power and emotion that has come out of it."
Other characters in the MCU have dealt with trauma involving PTSD or grief like Tony Stark, Peter Parker, and more. But with a 9-episode series dedicated to this part of Wanda's story, it is nice to really see her character development.
"I think that it's incredible for someone to have that kind of connection to their emotional life," Olsen said about her character. "And I think the show, with Jac [Schaeffer, the showrunner] at the helm, we created such a revolution for [Wanda]."
Grief is a huge part of Wanda's story, but fans of course don't know where that goes next 
Again, there are still a lot of questions left in just two episodes to answer. Odds are there will still be some left even when the season ends and it leads into the eventual next part of Wanda's story, Doctor Strange in the Multiverse of Madness. WandaVision is only a limited series and isn't meant to come back to this same plot again for season after season. 
With Wanda's history and some of her actions this season, she could go the antagonist route again. There's obviously precedent for that in the comics as well with House of M, although it's all grief-related so is it really a villainous arc? More like "It's complicated." But that's what makes it all the more interesting. 
And for Olsen, that's what kept her coming back to the character. Her role in the MCU is a bit different from others since she wasn't at the center of the action up until now and she only signed on for a couple of movies at a time instead of signing multi-picture deals. It's been a long journey for Olsen and Wanda, but definitely well-deserved. 
"I had signed on just because I liked the character because of the comics and I thought the Age of Ultron story was really powerful… and rebellious and really an honorable story to tell," Olsen said. "And now it's this completely new thing that it never was at the beginning and going from the transition from WandaVision to Doctor Strange 2, I just feel like it's all so earned."