'WandaVision': Kathryn Hahn Was All About Playing a Witch Men Wanted to Kill, According to Elizabeth Olsen
Even though "Agatha All Along" was about Agatha Harkness aka Agnes pulling some strings throughout WandaVision and not being who she says she is, Kathryn Hahn was also there all along sprinkling her magic. And Elizabeth Olsen could not get enough of the actor's excitement about playing witches. [Spoiler alert: Spoilers ahead for WandaVision]. 
Elizabeth Olsen shared how excited Kathryn Hahn was about playing a witch 
In an interview with Glamour UK on April 21, Olsen shared that Hahn was "so delicious to work with" which she's said time and again (in different variations) since WandaVision dropped. And she shared how Hahn was so adamant that playing witches was empowering and very cool. 
"She really was like, 'We are witches. How amazing is that? Like, we are these powerful women who men are terrified by, and they had to murder us because they were so scared of our power and our temptation and everything that is so mysterious about being a woman,'" Olsen said of Hahn's sentiments. "'Women were weaponized, so to have this ownership of witches, again, is really fun!'"
Hahn leaned into the witchy aspect of their roles so much that she even gifted Olsen a box of crystals and magical stones as a wrap present.  
"It was this beautiful, weird little box of treasures," Olsen said. 
Agatha Harkness and Wanda Maximoff are two very different types of witches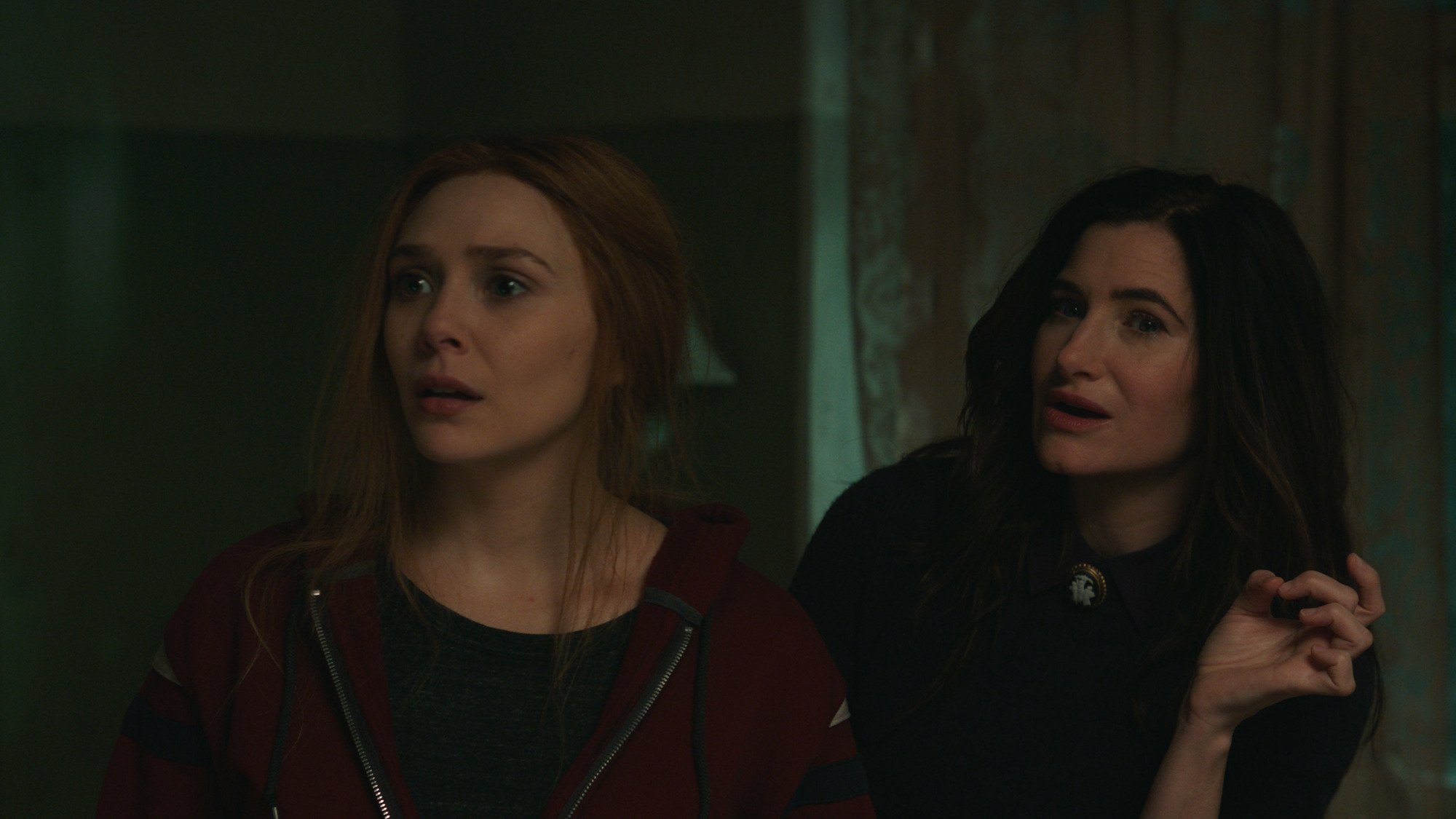 But, despite Hahn and Olsen both playing witches, they portrayed vastly different versions of the craft. 
Agatha Harkness' coven saw her as a major threat during the Salem Witch Trials in the 1600s and she took them out. She was a taught witch and learned all she could, possessing knowledge and power, and knew about actual spells, casting, and runes. 
Wanda, on the other hand, never knew she was a witch. She never knew about any power she might have and only came into her power when she signed up for testing with Hydra and underwent experiments with the Mind Stone. Those enhanced her powers, but as Agatha tells her, they were already there. They're just pure, raw magic and unlearned. 
Instead of knowing about runes and protection spells, Wanda has to see it and experience it firsthand from Agatha. But she catches on very quickly. So quickly that that, along with her mounting magic, is enough to tople a hundreds-year-old learned witch. Scarlet Witch is not to be triffled with. 
Hahn signed onto 'WandaVision' partly because so many women were in front of and behind the camera
Hahn is, of course, fantastic in the role of Agatha Harkness if not for her theme song alone. But she signed on partly because of the women involved. 
"That's also one of the things that was a big turn-on for me, how many women were involved in it, and it wasn't shying away from feelings," Hahn told the New York Times back in March. "It wasn't just action, right off the bat."
She did hit on the fact that Wanda's powers came from her feelings, her grief, love, and emotion. Not really from teachings, like Agatha's. 
"There's something I loved between the relationship of Agatha and Wanda," she said. "We talked a lot about Amadeus and Salieri, in terms of their relationship — Agatha wishes that she could make the kind of music that the Scarlet Witch just had naturally. For someone that has spent centuries studying this, to meet a young person to whom it comes completely naturally, it's maddening and you want to know why."