'WandaVision' Fans Found a Scarlet Witch Clue That's Been Hiding in Plain Sight
Warning: WandaVision spoilers ahead.
WandaVision gets better every week. The series has managed to deliver as much excitement for its weekly episodes as the Avengers movies, but one thing that's set it apart from the rest of the Marvel Cinematic Universe is the absence of scenes at the end containing plot clues.
There have been a couple of scenes at the end in the second half of the series, but WandaVision has laid more clues in the commercials Wanda Maximoff creates for her sitcoms than anything else. Eagle-eyed Marvel fans found a huge clue foreshadowing Elizabeth Olsen's character's fate in one of the show's promotional posters.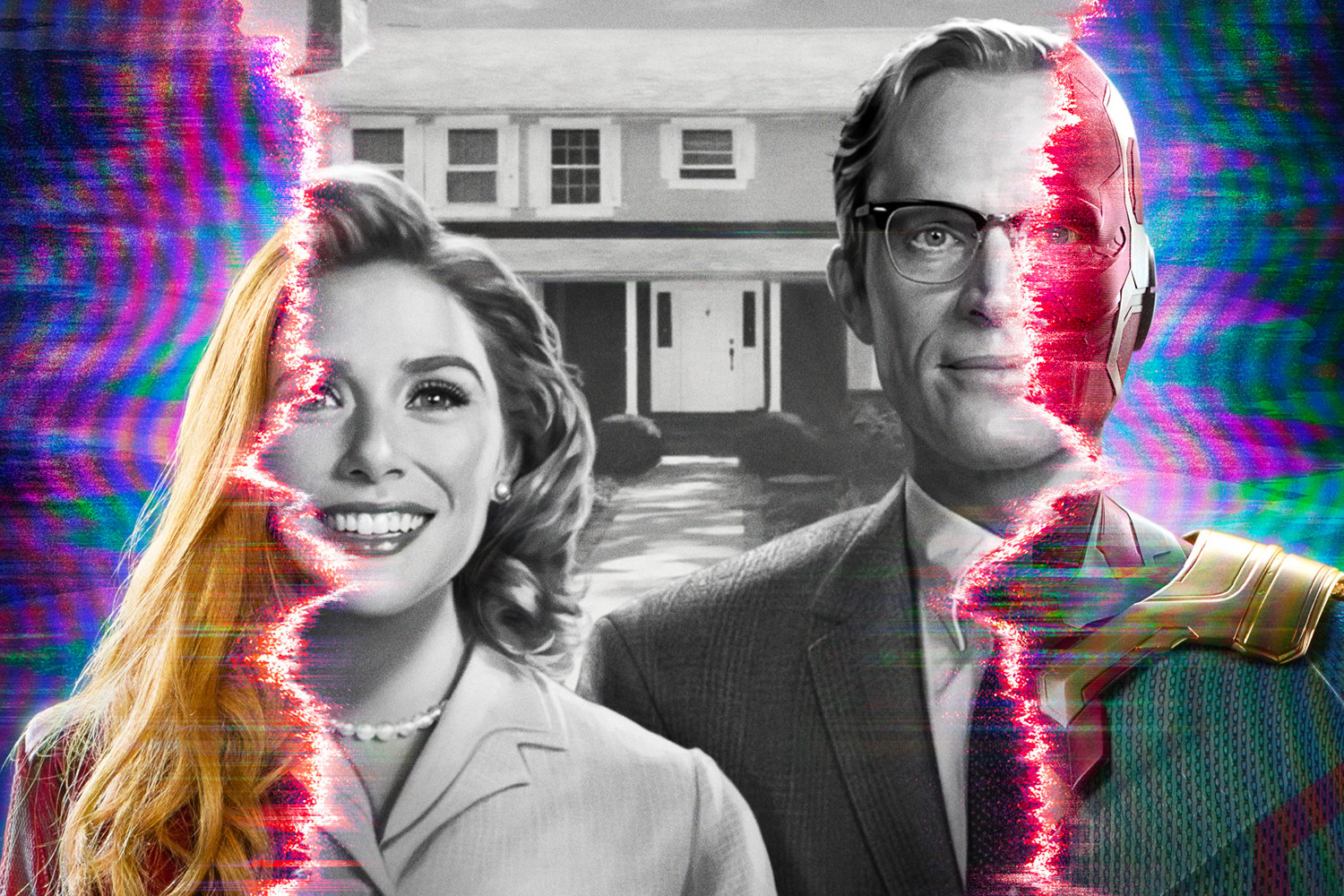 How did Wanda get her powers?
The eighth episode of the addictive Marvel series premiered on Friday, Feb. 26. It was the first episode to not contain any Wanda-made commercial breaks, and it gave fans the Agatha Harnkess origin story they were craving.
The episode centers around Wanda and her neighbor, Agnes (Kathryn Hahn), who was revealed to be Marvel comics witch Agatha Harkness in episode 7. (It's been Agatha all along!) Agatha forces Wanda to revisit all of the trauma that led to her creating Westview in an attempt to figure out how she did it. She's basically the ghost of Christmas past, but one billion times better. (Oh, and she killed Sparky, too.)
Fans finally got to see the things that made Wanda who she is: the attack in Sokovia that killed her and Pietro's parents, how Hydra helped create her powers, Pietro's death, and the tragic end to her relationship with Vision.
Viewers were previously led to believe that Wanda's powers were given to her in a lab, but the episode reveals that Wanda was—as Agatha described her—a "baby witch" whose powers were only strengthened by the mind stone.
It's also revealed that Wanda never stole Vision's body from S.W.O.R.D.—she created a new Vision with her powers.
Why is Scarlet Witch called Scarlet Witch?
The end of the episode shows Agatha holding Wanda and Vision's twin sons captive as she reveals what she's figured out about Wanda: she is the Scarlet Witch.
"You have no idea how dangerous you are," Agatha says. "You're supposed to be a myth. A being capable of spontaneous creation, and here you are, using it to make breakfast for dinner. … This is chaos magic, Wanda. And that makes you the Scarlet Witch."
Marvel fans immediately started unpacking every facet of information revealed in WandaVision Episode 8, and one Twitter user pointed out an exciting fact from one of the flashback scenes.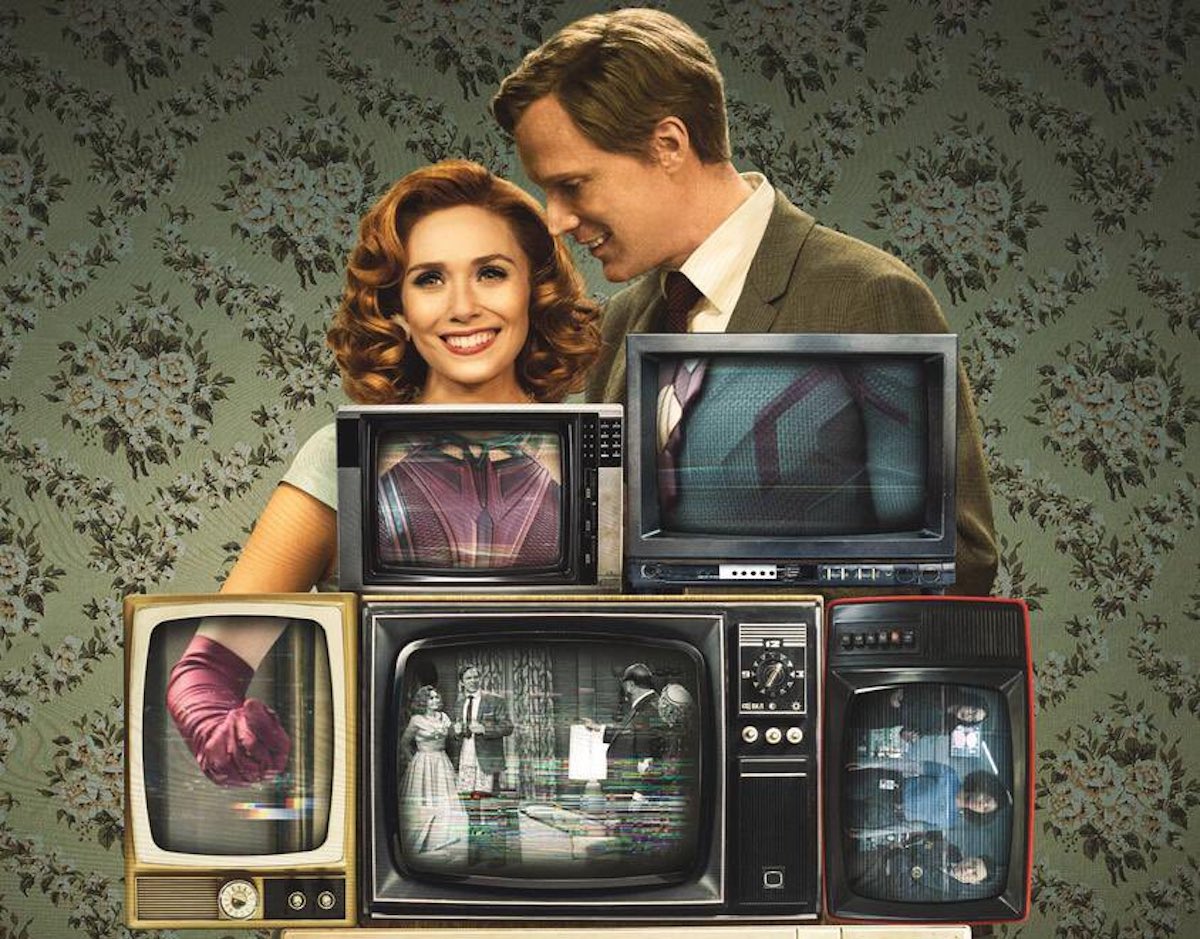 Wanda Maximoff's Scarlet Witch suit is teased in a 'WandaVision' poster
During the scene when Wanda "gets" her powers from Hydra, the mind stone gives her a vision of the future. The screen becomes awash with yellow light as a woman floats slowly toward her. It's clear by the shape of her headpiece that it's the Scarlet Witch. One fan zoomed in on the moment though and was able to make out more details of Scarlet Witch's suit.
The suit appears to be similar to Wanda's red coat and pants that she's worn in past battles with the Avengers, but this version is elevated. There also appears to be a silver buckle on her waist.
"A zoom in on Wanda's 'mind stone vision' from episode 8 of #WandaVision offers a teaser of the Scarlet Witch's new uniform!" one fan tweeted.
Another fan smartly made a connection between this image and one of the original WandaVision posters.
One of the Disney posters shows Olsen and Paul Bettany in their '50s sitcom garb, but the TVs in front of them show different images. The TVs in front of Wanda's chest and right hand appear to show the official Scarlet Witch suit, complete with the silver buckle from the Hydra scene.
"Omg it's been on the poster this whole time," replied another.
There's only one episode of WandaVision left. With the scene at the end debuting White Vision combined with the revelation that Wanda's version of Vision also exists, Wanda, Agatha, and Monica Rambeau are going to have an action-packed finale.