'WandaVision' Will Have a Cameo at the Level of Luke Skywalker in 'The Mandalorian,' According To Elizabeth Olsen
WandaVision doesn't need to really do much to blow fans' minds at this point. The first few episodes did enough and it continues to give way more each week. But apparently, there's a major cameo that fans have to look out for. And while major character appearances have been hinted at, Elizabeth Olsen just equated one to The Mandalorian's Season 2 finale bombshell, which is pretty huge. [Spoiler alert: Spoilers ahead for WandaVision].
'WandaVision' has brought back important characters from the past already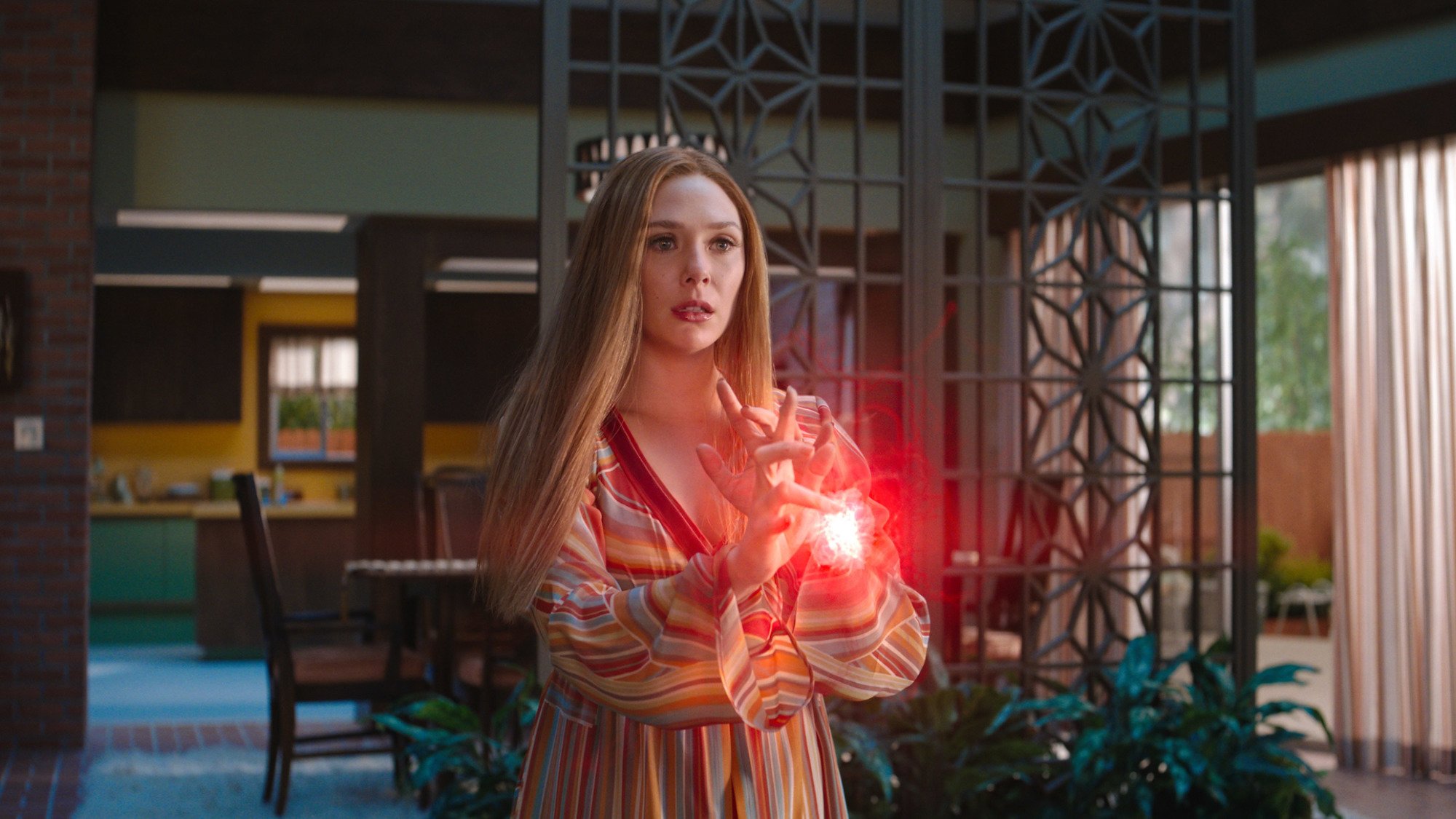 As stated above, WandaVision has already delivered a lot to fans. The structure of it is unlike anything Marvel has put out before, and it started off with Wanda Maximoff (Olsen) and Vision (Paul Bettany) in a sitcom, with no context to the previous films. Or the fact that Vision was supposed to be dead. 
It also brought back Jimmy Woo (Randall Park) who was seen in Ant-Man and The Wasp previously, as well as Dr. Darcy Lewis (Kat Dennings). Darcy was in the first two Thor films and had a lot of memorable one-liners and interactions in those films. 
Not to mention, the biggest return was also a new addition with Monica Rambeau. Monica first appeared in Captain Marvel, however in that film, it was the '90s and she was played by Akira Akbar as a child. Now, in WandaVision, she's an adult and portrayed by Teyonah Parris. And in Episode 4 it's revealed that she's a major agent at S.W.O.R.D., an organization her mother Maria helped create. The audience also finds out that Monica was, unfortunately, a victim of the Blip. 
Now, Elizabeth Olsen teased a possible Luke Skywalker-esque cameo on 'WandaVision'
Moving forward, there are rumors still about more cameos, like Evan Peters coming on WandaVision and reprising his role as Quicksilver. While the MCU had a Quicksilver to Wanda's Scarlet Witch, originally played by Aaron Taylor-Johnson, the rumors are that Peters' X-Men version would come into this dimension. This would be the connection of the Fox properties and the Marvel ones that the MCU needs to finally combine characters like the X-Men, Deadpool, and more. 
However, this won't be confirmed until it actually happens on the show since it's still only a rumor at the moment and not confirmed by any official Disney or Marvel source. 
Now, in an interview with TVLine on Feb. 2, Olsen shared that one cameo, in particular, might be so big it'll be up to Luke Skywalker proportions. The interviewer asked Olsen if "anything similar" is "in-store" in WandaVision — they're referring to Mark Hamill's de-aged Luke storming in at the last minute in the The Mandalorian finale — and Olsen confirmed that there is. 
"Yes," Olsen said. She couldn't share more, of course, but she finished by saying: "I'm really excited."
TVLine also reported that WandaVision showrunner Jac Schaeffer said, "there are so many surprises left in store" for the rest of the season. 
"I encourage all fans to settle in because there's more coming," she said. 
It's unclear who Olsen might be referring to, because other than Peters, there aren't other cameos that fans are expecting or gearing up for based on rumors. Based on the fact that Scarlet Witch is supposed to appear in Dr. Strange in the Multiverse of Madness, it's possible that Dr. Strange could show up. However, that might not really constitute a Luke Skywalker-level cameo. But it might, for some fans, so who knows. 
Paul Bettany has also teased working with an actor who he had 'always wanted to work with'
Olsen isn't the only lead on WandaVision that's teasing a major cameo coming up on the show as well. Her co-star Bettany appeared on the Lights Camera Barstool podcast and, according to Slashfilm, he said that there's a "top-secret actor" Bettany has "intense" scenes with this season. 
"So many things get leaked, but there's this thing that has been completely under wraps that happens and I work with this actor that I've always wanted to work with and we have fireworks together," Bettany shared. "The scenes are great and I think people are going to be really excited. I've always wanted to work with this guy and the scenes are pretty intense."
It's possible that he's referring to the same person that Olsen is as well. However, if she's referring to Benedict Cumberbatch's Dr. Strange, then the actor Bettany's talking about would be different. Because Bettany was excited to work with this person with whom he's never got to do something. It's possible he's referring to Peters or someone else entirely. 
Regardless of the cameos or plot points that fans have coming up on the show, the next five episodes are going to be wild, just like the first ones have been. But just like they've gradually ramped up the action and tension, the coming episodes are surely going to be way more intense. 
"[Fans are] going to be massively surprised by the end of the show," Bettany said. "I really think people are going to be like, 'Oh my god!' and they're going to look at the MCU in a whole new light and also have a much deeper understanding in what direction it's moving."