What Are BTS' Favorite Colors? Here's What Purple Means for the K-pop Group's Fans
We purple you, BTS. In a few interviews, the K-pop group's members have discussed their favorite colors and BTS mic colors. Since then, fans have attached special meanings to some shades, especially purple. Here are each BTS member's favorite colors and the meaning behind purple.
The BTS members talk about their favorite colors during interviews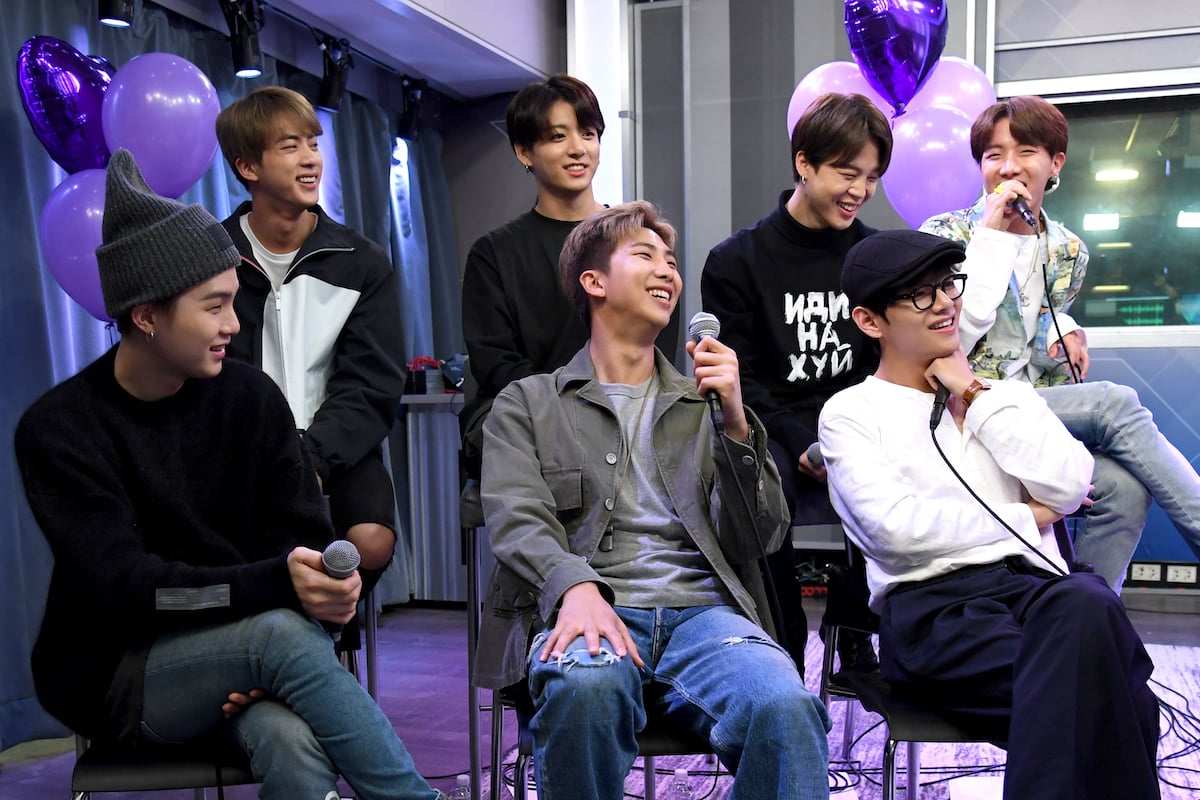 It feels like in every interview, the BTS members name a different color as their favorite, especially when it comes to dying their hair. J-Hope's favorite color rarely changes; he loves green because it's the color of hope. According to an interview with J-14 Magazine, Jin's favorite color is blue, although it used to be pink. In the same interview, RM revealed his favorite colors are black, pink, and purple.
According to K-Profiles, Jungkook's favorite color is black, V's favorite color is gray, Jimin's favorite colors are blue and black, and Suga's favorite color is white. 
BTS's official group color is still debatable. While some believe the official color is silver or black, fans hold a special meaning behind purple.
In addition, BTS mic colors are different for each member for a couple of reasons. First, the different colors match the members' personality types and tastes. And second, the customized colors help the members know whose mic is whose because each is tuned to match their voices. 
BTS mic colors change occasionally. For instance, Jin used a pink mic but switched to white. RM's primary mic was blue but is now silver and black with rainbow crystals. J-Hope once had a light-blue mic but more recently used a red one. And Jimin used gold but changed to orange. Suga's mic is usually black, V generally uses green, and Jungkook prefers purple.
The color purple holds a special meaning for BTS fans
Although each BTS member has a favorite color or two, purple holds special meaning among the bandmates and their army. The purpose of the color first sparked with BTS member V, who shared why the color is symbolic for fans.
"Purple is the last color of the rainbow, so it means I will trust and love you for a long time," V said in Korean during a live performance. "We will always trust you and go up the stairs with you. You don't need to help us all the time. You can hold our hands and follow us now. We'll go up really high. I'll make it nice."
In the summer of 2019, fans celebrated the 1,000th day of V's speech, sparking the social media trend "I Purple You." Fans enjoyed the celebration by sharing their love for one another and the boy band members.
BTS fans often say, 'I purple you,' to the group members
Fans often profess their love for BTS on social media. Members of the BTS army often share the phrase "I purple you" when talking about the group members.
"I never ever thought [the] meaning of color would take over a whole world; this shows how powerful Tae's words can reach throughout the world. His impact, his knowledge is not describable in words. Thank you so much," one fan wrote on Twitter.
"To the boys I will only love and stan for the rest of my life — I purple you," another Twitter user said.
Spreading love is one of BTS's most prominent messages, as the group partnered with UNICEF for the "Love Myself" campaign. A video posted by Hybe Labels for International Day of Friendship has earned more than 16 million views on YouTube.