What Is Bruno Mars' Real Name and Where Is He From?
Singer Bruno Mars has taken the world by storm over the course of the past few years. With hit songs such as "24K Magic," "Finesse," and "The Lazy Song" to his credit, Mars is responsible for some of the most popular songs of the decade.
He is known as one of the most talented artists ever to grace the stage and has the ability to sing, dance, write music, and choreograph his own music videos. Mars also has a very unique origin story, one that places him in a category all his own.
Where was Bruno Mars born?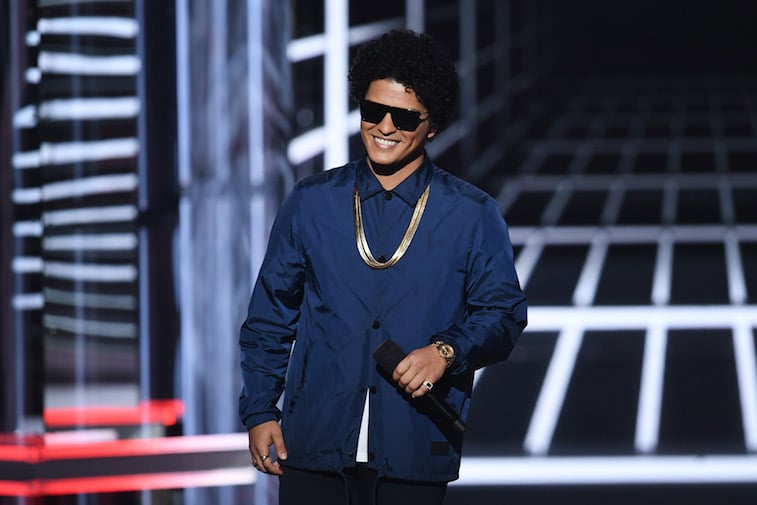 Bruno Mars was born Peter Gene Hernandez in 1985. He was raised in Honolulu, Hawaii, by multicultural parents – his father hails from Brooklyn, New York, and has Puerto Rican and Jewish descent, while his mother is Filipino and Spanish, and immigrated to Hawaii when she was a child.
With a wealth of influences to draw from, Mars grew up in a loving, musical environment. His father worked as a percussionist while his mother had talent as a singer. He adopted his stage name when he was just a toddler.
As his sister later explained, the nickname came from the youngster's resemblance to professional wrestler Bruno Sammartino: "Bruno was always so confident, independent, really strong-willed and kind of a brute—hence the name Bruno—and it kind of just stuck."
The latter part of his stage name wasn't chosen until he was a teenager – as Mars revealed, he figured that since people would think he was so "out of this world," he might as well be from Mars.
By the time he was three years old, Mars was getting involved in music, performing on stage in local productions. He drew inspiration from his uncle, an Elvis impersonator, encouraged his nephew to perfect his own series of impersonations, including Elvis Presley and Michael Jackson.
Mars officially joined his family's band, The Love Notes, and began regularly performing with the group.
How did Bruno Mars become famous?
By the early nineties, Bruno Mars had started to develop a reputation as a hugely talented child. He was featured on television shows such as The Arsenio Hall Show and even landed a cameo role in the 1992 film Honeymoon in Vegas. Mars began really developing his skills in music and began playing the guitar more seriously.
As he became a teenager and worked toward breaking into the record industry, Mars suffered from stereotyping in the music business. As he later revealed, his surname of Hernandez caused many record producers to try and force him into sounding like other Latin superstars, such as Enrique Iglesias.
In the mid-2000s, Mars managed to break through and experience mainstream success, both through his collaborations with other artists such as will.i.am, and on his own, with songs such as "Just the Way You Are."
Is Bruno Mars close to his family?
These days, Mars has managed to carve out his own, unique place in the entertainment world. He has performed at several Super Bowl Halftime shows and has worked with other incredible artists like Cardi B and Ed Sheeran. With major film and musical projects on the horizon, Mars has plenty to keep him occupied over the next several years.
Although Mars' mother passed away in 2013 from a brain aneurysm, he is very close to the remaining members of his family. He also makes sure to regularly visit his home state of Hawaii, both to reminisce about where he came from and to reconnect with his roots.
There's no doubt that his family is incredibly proud of the hard work and dedication that have contributed to his success. Stay tuned to Showbiz Cheat Sheet for all the latest entertainment news!