What Is the Age Difference Between Radio Host Elvis Duran and Husband Alex Carr?
Radio host Elvis Duran married longtime love Alex Duran in 2019. What is the age difference between the two and how did they meet?
Many know the iconic voice of Elvis Duran from his award-winning radio shows such as Elvis Duran and the Morning Show. For decades, Duran's helped millions of commuters get through their mornings with his no-holds-barred way of entertaining. Duran recently married his longtime partner, Alex Carr. How did this celebrity relationship begin and what is the age difference between the two?
Elvis Duran and Alex Carr lead a very 'normal' life together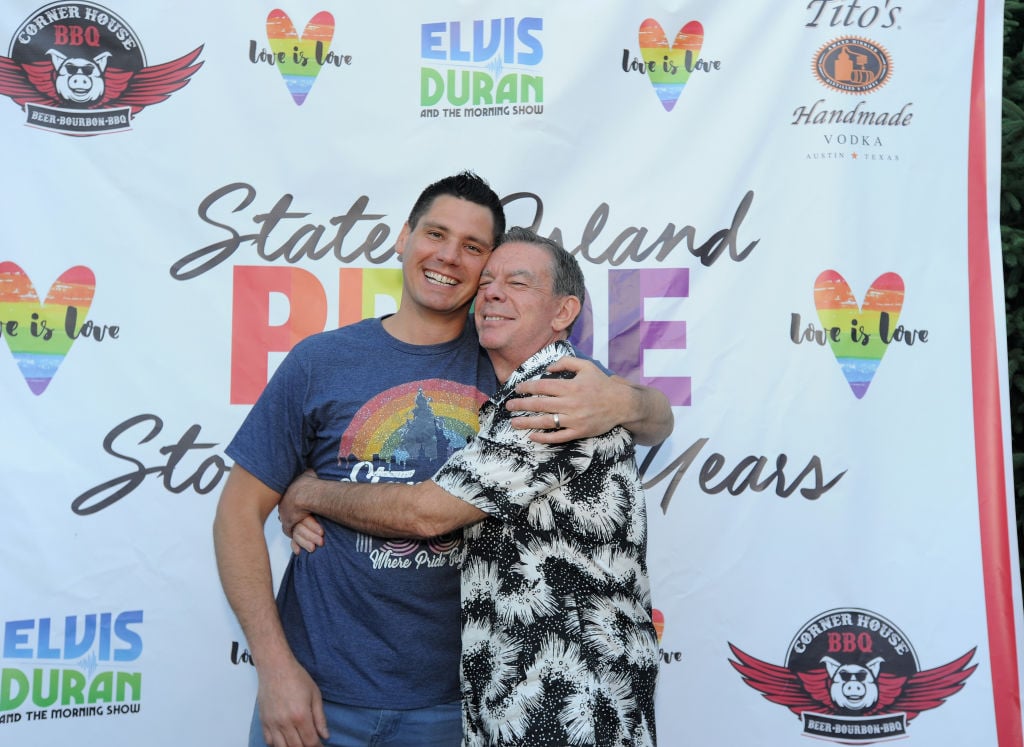 2015 National Radio Hall of Fame recipient, Elvis Duran, might be a married man now, but he and husband, Alex Carr, dated for eight years. The two became engaged in July 2018.
Duran speaks of their relationship often but their first meeting hasn't been disclosed. During downtime, they're just like the rest of us.
"We are extremely low-key," Duran told Us Weekly. "We would prefer to stay home, watch TV, wear our stretchy shorts and T-shirts, and pet the dog."
He continued: "We have lots of different ways that we balance each other. I'm a city guy, he's a suburban guy. I'm more of a white-collar guy, he's more of a blue-collar guy. He can fix things, I break things," he said.
"I've learned so much about animals, conservation, reproduction, and saving species. We've been on safari together three times. I never would have done that until he came into my life. I try to think, 'What have I done for him?' Not really anything as monumental."
Duran and Carr's New Mexico wedding
Carr is a beloved zookeeper at the Staten Island Zoo and the two now share a home in Manhatten and Santa Fe, New Mexico. Duran previously joked about the wedding planning process.
"It's gonna be the worst day of my life," he said via Us Weekly. "No, it's gonna be a happy party. That's what it's gonna be. To be able to stand up there with Alex and just prove [to] the world. Here's proof. You're seeing it. This is my guy. I'm his guy. We're moving forward together, and we're married. I said the word 'married.' That's gonna be a weird one to get used to."
In September 2019, Duran and Carr celebrated the nuptial exchange at the Eldorado Hotel & Spa in Santa Fe, New Mexico. Some of the guests include Duran's co-hosts Danielle Monaro, Matt Lanier, and Scott "Froggy" Langley.
Also in attendance, Dr. Oz and Fox 5 host, Rosanna Scotto, as well as fellow radio host, Charlamagne that God. The ceremony's theme, Dia de Los Muertos — "Day of the Dead" — matched with vibrant colors and flowers.
Carr took to Instagram about the big day saying, "I've always considered myself to be lucky and blessed, as I was when Elvis came into my life almost 8 years ago…first as my boyfriend and now fiancé!!!! They say opening umbrellas in the house brings bad luck, but this time I don't believe it. I love you, Elvis Duran!"
The age difference between the love birds
The age difference between Duran and Carr is somewhat significant. Duran turns 56 in August, and Carr just celebrated his 40th birthday. At the time of the wedding, Duran had just turned 55 and Carr was 39.
The 16-year age-gap doesn't seem to bother the newlyweds and that's all that really matters.