A 'When Calls the Heart' Actor Just Made an Appearance on 'Chesapeake Shores'
Hold on, what's Wyman Walden doing in Chesapeake Shores? Eagle-eyed When Calls the Heart fans may have done a double-take when watching the September 12 episode of Chesapeake Shores, which featured a brief appearance from actor Wesley Salter as a character named Mandrake.
Wesley Salter joins 'Chesapeake Shores' Season 5
RELATED: 'Chesapeake Shores': The Door Is 'Absolutely' Open for Jesse Metcalfe to Come Back
Salter made his first appearance on Hallmark Channel's Chesapeake Shores in the August 22 episode, "Are The Stars Out Tonight?" But his character wasn't introduced season's fifth episode. He plays Mandrake, the chauffeur to "eccentric billionaire" Evan Kincaid, played by Robert Buckley.
So far, we haven't seen much of Mandrake, but on Twitter, Salter teased "lots of fun stuff to come" through the rest of the show's fifth season.
The actor also plays Wyman Walden in 'When Calls the Heart'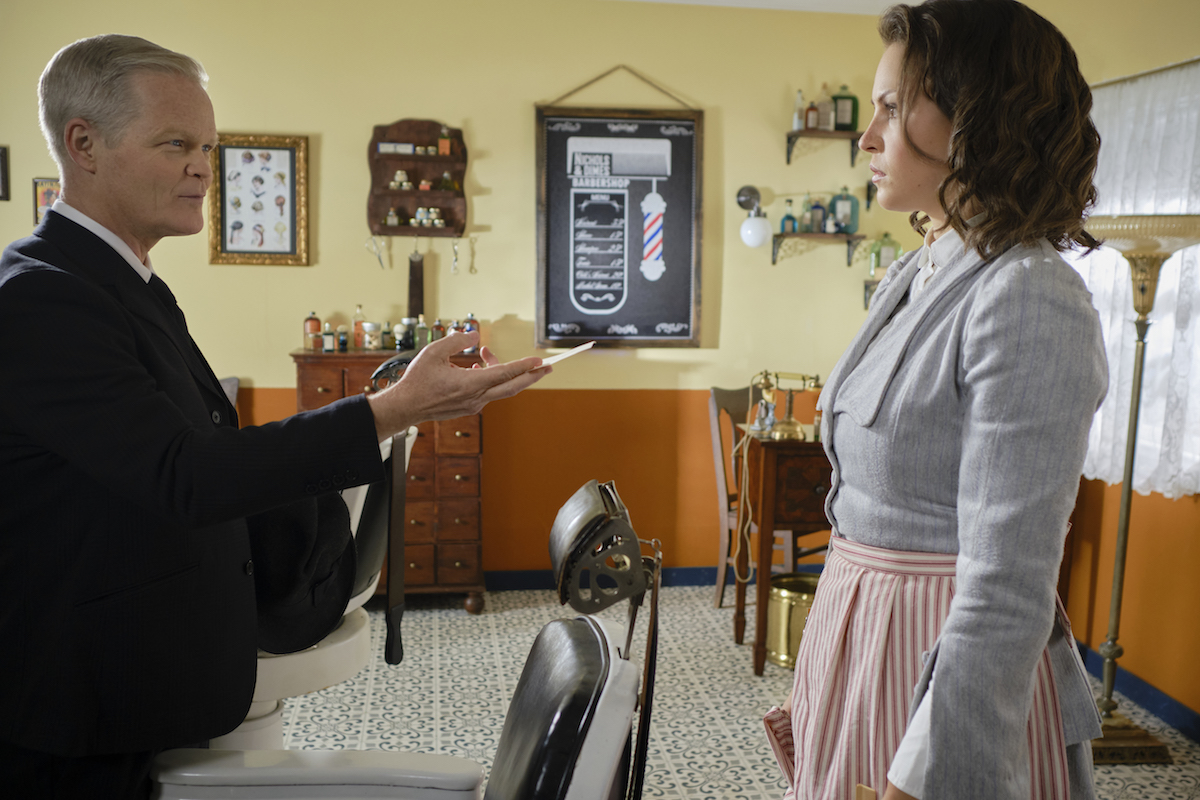 While Mandrake is a bit of a mystery, we know a bit more (though not much) about the character he plays on another Hallmark Channel series, When Calls the Heart.
Salter joined the show's cast in season 8 as Wyman Walden, a shady businessman who conned Clara (Eva Bourne) and Jesse (Aren Buchholz) out of their life savings and tried to pressure Fiona (Kayla Wallace) into selling her barbershop. Walden's associated with a group of businessmen who are buying up land around Hope Valley with plans to build a factory. He's also in cahoots with Julius Spurlock (Paul Lazenby), the Pinkerton who recently showed up in town.
Right now, it's not clear exactly what Walden and Spurlock are up to, but Bill Avery (Jack Wagner) and Nathan Grant (Kevin McGarry) suspect they're in town for a less-than-savory purpose. While the mystery wasn't resolved in the season 8 finale, the episode set things up for more conflict in the show's upcoming ninth season, which is currently in production.
Wyman Walden will be back in 'When Calls the Heart' Season 9
RELATED: Erin Krakow Hints at 'When Calls the Heart' Season 9 Premiere Date
Walden and Spurlock look like they'll be sticking around Hope Valley next season. When Calls the Heart director Peter DeLuise recently took to Twitter to share a behind-the-scenes photo of Salter and Lazenby in costume on the show's set.
"First Spurlock & Walden scene of season 9," he wrote.
In a tweet, Lazenby celebrated his and Salter's return to Hope Valley, though he admitted that their characters might not exactly be welcomed with open arms.
"Back in Hope Valley with @wesley_salter," he wrote. "How welcome we are, however, would be a matter for significant debate."
So, what kind of mischief will these two troublemakers get into next season? That remains to be seen, but When Calls the Heart executive producer Brian Bird has hinted that there will be plenty of mysteries to unravel when the show returns in 2022.
"We're raring to go," Bird said during an appearance on the June 14 episode of Dr. Steve Greene's Greenelines podcast. "We're excited. We've got lots of great stories to tell. We've set up lots of mysteries in season 8 that still need to be answered."
Check out Showbiz Cheat Sheet on Facebook!