'When Calls the Heart': Could Maggie Grace Ever Appear on the Hallmark Channel Show?
Today, When Calls the Heart is a fan-favorite Hallmark Channel series. But before that, it was a 2013 TV movie starring Maggie Grace, Steven Amell, and Poppy Drayton. When Hallmark decided to turn the movie into a series, some roles were recast, and other characters were dropped, including those played by Grace and Amell. But is there a chance they could ever appear on the show?
Maggie Grace played Aunt Elizabeth in the 'When Calls the Heart' movie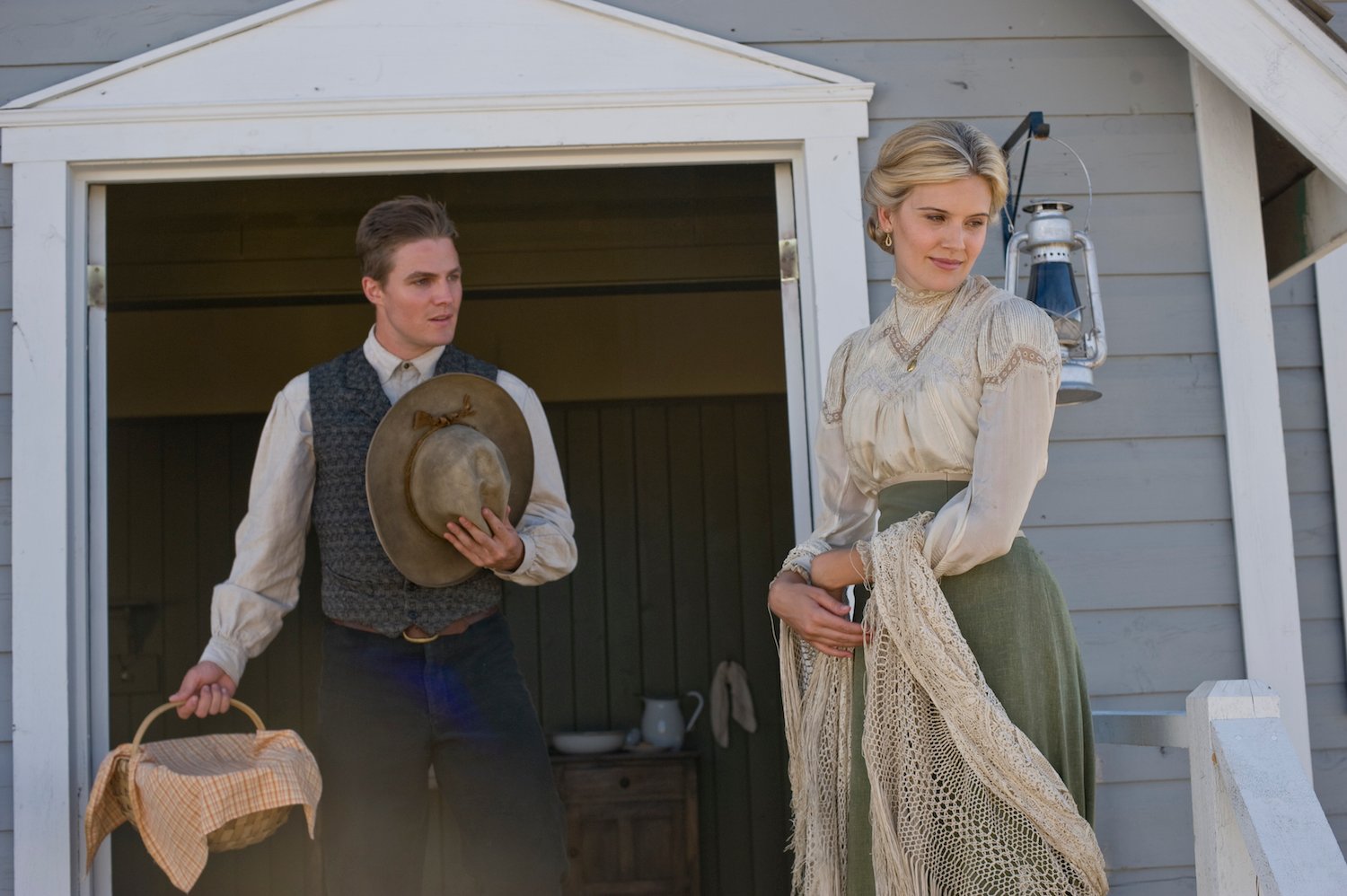 The When Calls the Heart movie is based on a book by author Janette Oke about a young teacher's life on the Canadian frontier. Maggie Grace played the teacher, who is named Elizabeth Thatcher. Stephen Amell played Wynn, her love interest. 
But the story's journey from page to screen wasn't a straightforward one. Production began before the financial crisis of 2008. When the economy slipped into recession, funding for the film dried up. Producers were left with a half-finished film and no way of completing it. 
Eventually, the financing worked out, and the movie was completed. But the two lead actors were no longer available. So, some creative thinking was needed to flesh out the film.
RELATED: 'When Calls the Heart' Leaving Netflix in January 2021; Hearties React
"We knew the footage with Stephen Amell and Maggie Grace was just beautiful and their performances were captivating," director Michael Landon Jr. told From the Desk of Kurt Manwaring. "So we knew we couldn't give up. But since we were unable to get them back, I created a whole new story that would allow us to incorporate the footage with Stephen and Maggie using them as flashbacks for our new heroine."
That new story involves Elizabeth's niece, also named Elizabeth Thatcher (Drayton), who travels to a remote Canadian town to teach school. As travels, she reads her aunt's journal, seeing events from the other woman's life.
Maggie Grace is a dream 'When Calls the Heart' guest star 
When Calls the Heart producer Brian Bird recently sat down with the Hearties Hotline podcast to talk about the show. In the Sept. 20 episode, he also opened up about what actors he'd like to see guest star. He dropped a few names, including Elisabeth Moss, Reba McEntire, and actor/wrestler Mick Foley, all of whom he said were fans of the series. He also expressed an interest in revisiting the show's roots.
"I've also thought it would be cool to figure out a way to bring Maggie Grace and Steven Amell onto the show," he said. He added that it "would be really interesting" to have the actors come back as "Aunt Elizabeth and Uncle Wynn."
Maggie Grace currently stars on 'Fear the Walking Dead'
Hearties will have to wait and see if Bird's dream of Grace guest starring on When Calls the Heart will become reality. It's been a few years since her turn as Elizabeth Thatcher, and she's been keeping plenty busy. Currently, she stars as Althea on AMC's zombie-apocalypse series Fear the Walking Dead. She also appeared in the 2020 film Love, Weddings & Other Disasters.