'When Calls the Heart': Director Shares Early Look at Nathan (Kevin McGarry) in Season 9
Mountie Nathan Grant didn't get the girl, but he's not leaving Hope Valley. The popular When Calls the Heart character played by Kevin McGarry will return for the show's upcoming ninth season, which is currently in production. Recently, fans got a behind-the-scenes glimpse of Nathan thanks to a tweet from director Peter DeLuise. 
'When Calls the Heart' director shares photo of Kevin McGarry as Nathan 
On September 12, DeLuise — who has been sharing many on-set photos with fans — took to Twitter to share an image of McGarry as Nathan.
"Two little suspenders… one gigantic Hunk!" he wrote. 
Meanwhile, McGarry's co-star Jaeda Lily Miller, who plays his niece and adopted daughter Allie, offered her Twitter followers a peek at a deleted season 8 scene where their characters go fishing. Many who replied were disappointed the scene didn't make it into an episode and mentioned how much they loved Nathan and Allie's dynamic. 
Nathan Grant is sticking around Hope Valley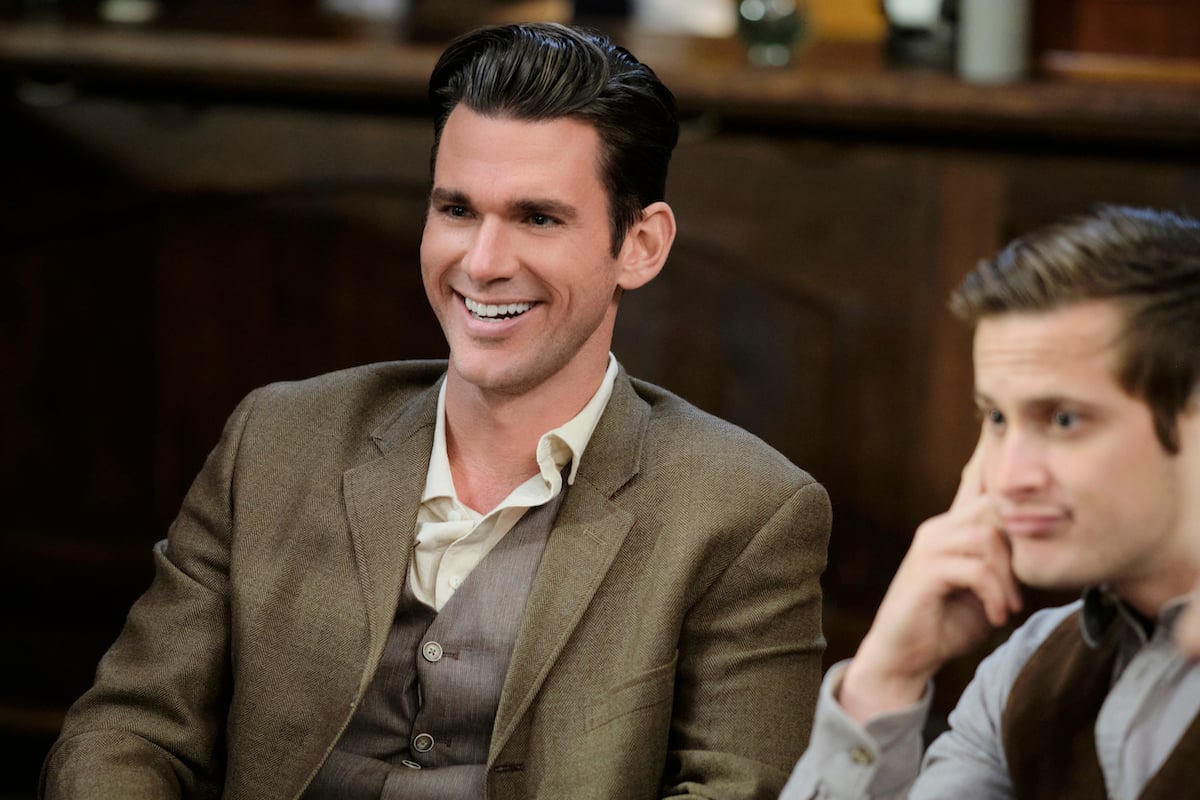 Fortunately, Nathan fans can take comfort in the knowledge that they'll be seeing more of him in season 9. 
Many members of Team Nathan were crushed by the When Calls the Heart Season 8 finale. In that episode, the show's long-running love triangle came to a close when Elizabeth (Erin Krakow) gently let down Nathan and instead declared her feelings for Lucas (Chris McNally). 
Nathan's heart was broken, but Hope Valley's resident lawman isn't about to pull up stakes. In an interview with ET, McGarry said his character will be processing his feelings and, eventually, moving on in season 9. 
"We all get broken hearts, and that'll be a fun thing to play and see. I hope he has some kind of redemption story of him building himself back up and moving on," he said. "I think there should be a little bit of mourning that we see at the beginning of season 9 that Nathan's going to have to go through."
"What's so cool is that both these guys are still on the show, so we get to see these after-stories," he added. "We've all seen the guy gets the girl and the happy ever after, but the guy that doesn't is still on the show, so there's this whole different storyline that's going to come out of it."
DeLuise also shared a photo of Chris McNally as Lucas
DeLuise didn't forget Team Lucas fans with his tweets. On September 11, he shared a behind-the-scenes look at McNally as Lucas. In the photo, the character is leaning against his desk in his office. He seems to be having a conversation with an unseen man. 
Of course, what many fans want to see is a photo of the new couple together. While DeLuise has also shared some images of Krakow as Elizabeth, so far, we haven't seen any of Elizabeth and Lucas together. It seems like fans may just have to be patient and wait for When Calls the Heart Season 9. The show is set to return in 2022. 
Check out Showbiz Cheat Sheet on Facebook!