'When Calls the Heart': Mei's Husband Resurfaces in Season 9 Episode 7 Sneak Peek
When Calls the Heart fans might finally be getting some answers about Mei Sou's past. A teaser for the April 17 episode of the Hallmark Channel series features the unexpected appearance of a man claiming to be her husband. But is he telling the truth about his relationship with Hope Valley's new pharmacist? 
Geoffrey wants Mei Sou arrested in the April 17 episode of 'When Calls the Heart' 
Mei (Amanda Wong) has been dodging questions about her past ever since she arrived in Hope Valley to take a job at Florence and Ned's new pharmacy. Exactly what she's running from is a mystery. However, in an earlier episode, she sought out help from Bill (Jack Wagner), hinting that there was some issue with a man who might (or might not) be her husband.   
That man makes his first appearance in When Calls the Heart Season 9's next episode. Geoffrey Lewis (Chris Cope) storms into town and demands that Bill put Mei behind bars, as seen in a preview (via YouTube).
"I believe my wife's in Hope Valley, and I'd like her arrested," he says. 
Somehow, Geoffrey is the one who ends up in jail. But that doesn't seem to put an end to Mei's troubles. Bill tells her that there's a marriage license with her signature on it. 
Nathan reacts to Mei's situation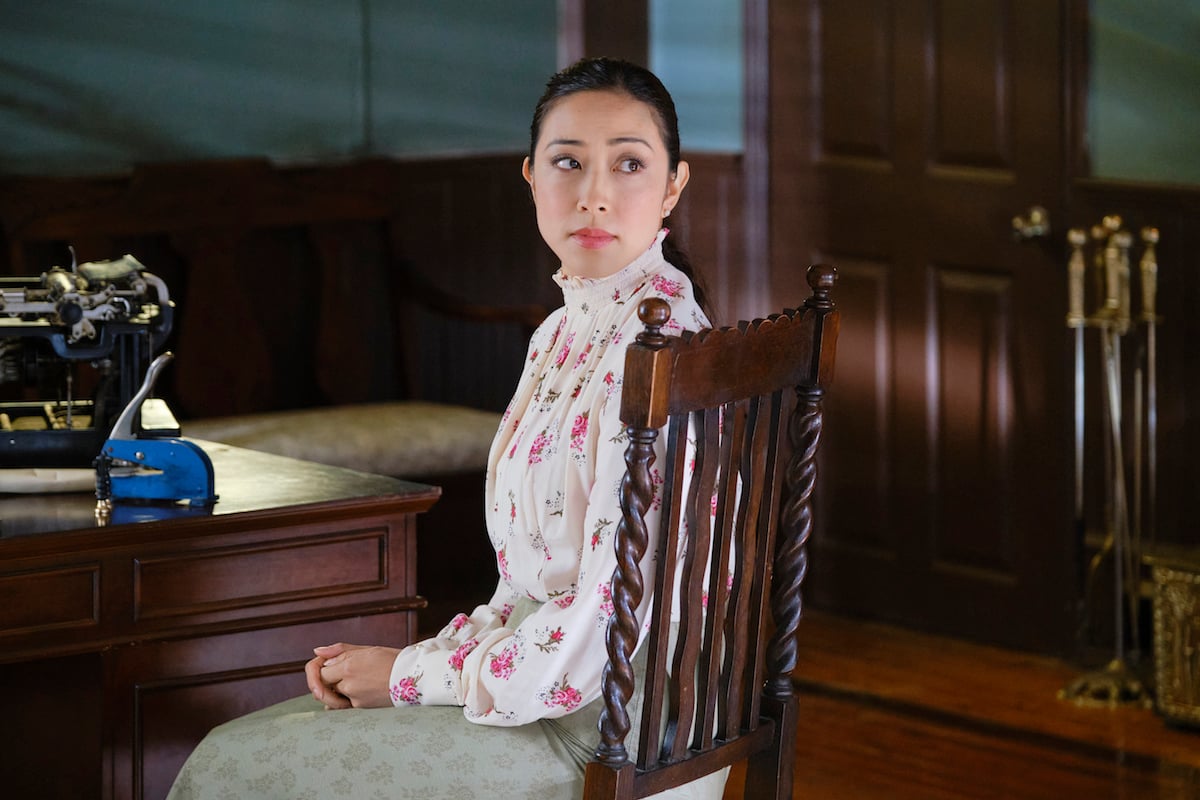 Bill has known about Mei's possible marriage for a while. But it's news to Nathan (Kevin McGarry), who's had an ongoing flirtation with the pharmacist since she arrived in Hope Valley. The revelation that she might not be single – and that Bill kept this information to himself – has Nathan pretty upset. 
"Why aren't you surprised?" he angrily asks Bill in the clip. 
Later, he appears to share his troubles with his former rival Lucas (Chris McNally). 
"Do you think Mei might really be married?" the saloon owner asks. 
Mike Hickam plans a celebration for Hope Valley
As Mei confronts her past with Geoffrey, Mike Hickam (Ben Rosenbaum) decides Hope Valley needs to get back to its roots. The new mayor decides to host Hope Valley Days, a fun celebration for the entire town. 
The event apparently involves a costume contest, which gives one-time thespian Rosemary (Pascale Hutton) a chance to dust off some of her old stage outfits, as seen in a sneak peek (via YouTube). She dresses up as Cleopatra, while her husband Lee (Kavan Smith) dons a Marc Antony costume. (Let's hope Rosemary and Lee's story has a happier outcome than Antony and Cleopatra's did.) 
When Calls the Heart Season 9 Episode 7 airs Sunday, April 17 at 8 p.m. ET on Hallmark Channel. 
Check out Showbiz Cheat Sheet on Facebook!