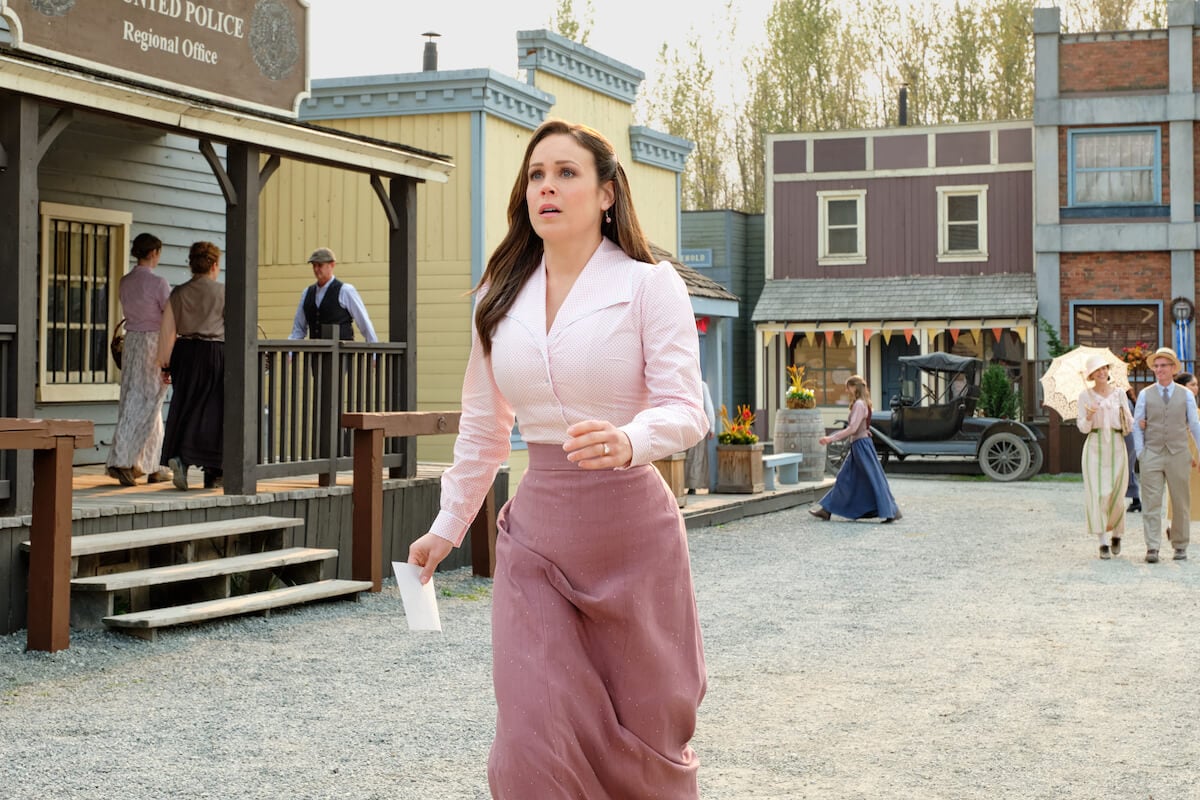 ​​'When Calls the Heart': Read the Original Books in Order 
Hallmark's 'When Calls the Heart' is inspired by a series of novels by best-selling Christian fiction author Janette Oke.
Every Sunday evening, loyal Hearties take a break from real life and are transported to the world of Hope Valley. For 10 seasons (soon to be 11), Hallmark Channel's beloved series When Calls the Heart has explored the stories of schoolteacher Elizabeth and the other residents of the small town on the Canadian frontier. 
While Hallmark has brought Hope Valley to life on screen, fans can thank author Janette Oke for crafting the stories that inspired the show, which is based on her Canadian West series. And while When Calls the Heart diverted from its source material some time ago, Oke's books remain a companion to the show. (In fact, the 88-year-old author gets a heads-up on When Calls the Heart storylines, executive producer Brian Bird once explained in a tweet.) So, if you want to experience a different version of Elizabeth's story, here are all the When Calls the Heart books, in order. 
'When Calls the Heart'
When Calls the Heart is the first book in the Canadian West Series. Published in 1983, its plot roughly mirrors the story of Hallmark's When Calls the Heart movie. (That movie in turn spawned the TV show.) The book follows Elizabeth Thatcher, a cultured and educated young woman who takes a job as a school teacher in the foothills of the Canadian Rockies. As she struggles to adjust to the strange environment, she meets and falls for a Mountie named Wynn Delaney.
'When Comes the Spring'
In book 2, Elizabeth has spent a year teaching in a one-room school on the frontier. Now, she and Wynn are preparing for their wedding and making plans to start their life together at his new outpost in the north. But Elizabeth may not be prepared for the harsh winter and such an isolated life.
'When Breaks the Dawn'
Elizabeth and Wynn have survived their first year of marriage. But just as they've finally settled into life in the far North, Wynn receives a new posting. He and his wife must uproot themselves again. Elizabeth starts to wonder if her dreams for her own home and family will ever come true. 
'When Hope Springs New'
Elizabeth and Wynn have taken up residence in an even more isolated spot in the Canadian Northwest. Unfortunately, the local women want nothing to do with Elizabeth. Meanwhile, she and her husband must lean on their faith as they deal with disappointments and challenges in their lives. 
'Beyond the Gathering Storm'
Published more than 10 years after When Hope Springs New, Beyond the Gathering Storm is the fifth book in the Canadian West series. It focuses on Elizabeth and Wynn's son Henry, who has followed in his father's footsteps and become a Mountie. One of his assignments requires him to inform a young woman named Anna of her husband's death in an accident. He can't get the incident out of his mind. When their paths cross again five years later, love blossoms. 
'When Tomorrow Comes'
Book six in the Canadian West series follows Elizabeth and Wynn's daughter Christine. Christine, who is heartbroken after a failed engagement, returns to the north to be with her family. There, she meets a man who has her questioning her future and God's path for her. 
The 'Return to the Canadian West' series tells the story of another Elizabeth Thatcher
When Hallmark decided to make a movie (and then a TV series) based on When Calls the Heart, the producers turned to Oke for guidance. The show follows Elizabeth Thatcher, who follows in the footsteps of her aunt (also named Elizabeth Thatcher) and takes a teaching job on the frontier in a town called Coal Valley. 
"We adapted [Oke's] original [When Calls the Heart] novel for the 2-hour pilot, and then she helped us brainstorm ways to expand the story-telling so that we would have a larger canvas to paint on," producer and co-creator Michael Landon Jr. explained in a Hallmark Channel blog post. 
The experience of working on the Hallmark show inspired Oke to write a new series of novels featuring the second Elizabeth Thatcher. 
"She loved our collective vision for the show so much that she decided to write a brand new novel inspired by the TV series," Landon explained. "It's like life imitates art imitates life imitates art… or something like that."
Where Courage Calls, which Oke co-wrote with her daughter, Laurel Oke Logan, tells the story of Elizabeth's early days in Coal Valley and her first encounters with Mountie Jack Thornton. 
In book two, Where Trust Lies, Elizabeth has returned to her family in the east. During a steamship voyage along the Atlantic Coast, she discovers that her bond with her parents and siblings isn't what it once was. Phone calls and letters from Jack lift her spirits. But can she leave her family again to be with the man she's come to love?
Elizabeth's story concludes in book three, Where Hope Prevails. She's returned to Coal Valley and is anticipating her wedding to Jack. But the town is growing, bringing uncomfortable changes and fresh challenges for Elizabeth. 
For more on the entertainment world and exclusive interviews, subscribe to Showbiz Cheat Sheet's YouTube channel.