'When Calls the Heart' Season 8 Episode 10 Promo Trailer: Hope Valley Prepares for a Wedding
Florence and Ned say "I do" in the April 25 episode of When Calls the Heart. The big day is leading to some big emotions for everyone in Hope Valley, as seen in a teaser trailer for the upcoming episode. Plus, photos from the episode suggest Lucas and Nathan might have that talk about Elizabeth.
Wedding bells are ringing in Hope Valley. Ned and Florence are getting married, and the big day is bringing with it some big emotions. In a promo trailer for the April 25 episode of When Calls the Heart, Ned's daughter arrives in town, which causes him to get cold feet. Plus, Elizabeth seems to have some conflicted feelings about Nathan. 
Ned's daughter returns to Hope Valley in the next episode of 'When Calls the Heart' 
Ned (Hrothgar Mathews) and Florence (Loretta Walsh) are about to say "I do," and Ned's daughter is back in town for the celebration. It's been a few years since we last saw Larissa Dias as Katie Yost on When Calls the Heart, but Ned is clearly delighted to have his child back home. 
Elizabeth (Erin Krakow) also greets Katie warmly. But Katie doesn't look too happy to be back in Hope Valley. 
"She just said she doesn't want me getting married," a worried Ned says. "Elizabeth, that's my little girl." 
Elizabeth tries to reassure Katie. "There will always be uncertainty in life," she tells the other woman. "Our greatest risk is possibly never experiencing our greatest joy." 
In the preview, Elizabeth's words are intercut with a shot of her exchanging a meaningful look with Nathan (Kevin McGarry) while a worried-looking Lucas (Chris McNally) watches.
Florence prepares for her wedding   
In an extended preview for the episode, Florence prepares for her wedding. Fiona (Kayla Wallace) is doing the bride's hair, but the other women of Hope Valley have clustered outside the barbershop, all talking over each other as they share their opinions about how Florence should style her hair. Fiona politely but firmly tells Rosemary (Pascale Hutton), Faith (Andrea Brooks), Clara (Eva Bourne), and Molly (Johannah Newmarch) to leave (though the latter strongly objects because she's the bride's best friend). 
Inside the barbershop, an emotional Florence tells Fiona and Elizabeth that she "wants to show Ned how he makes me feel." 
Lucas sits next to Elizabeth at the ceremony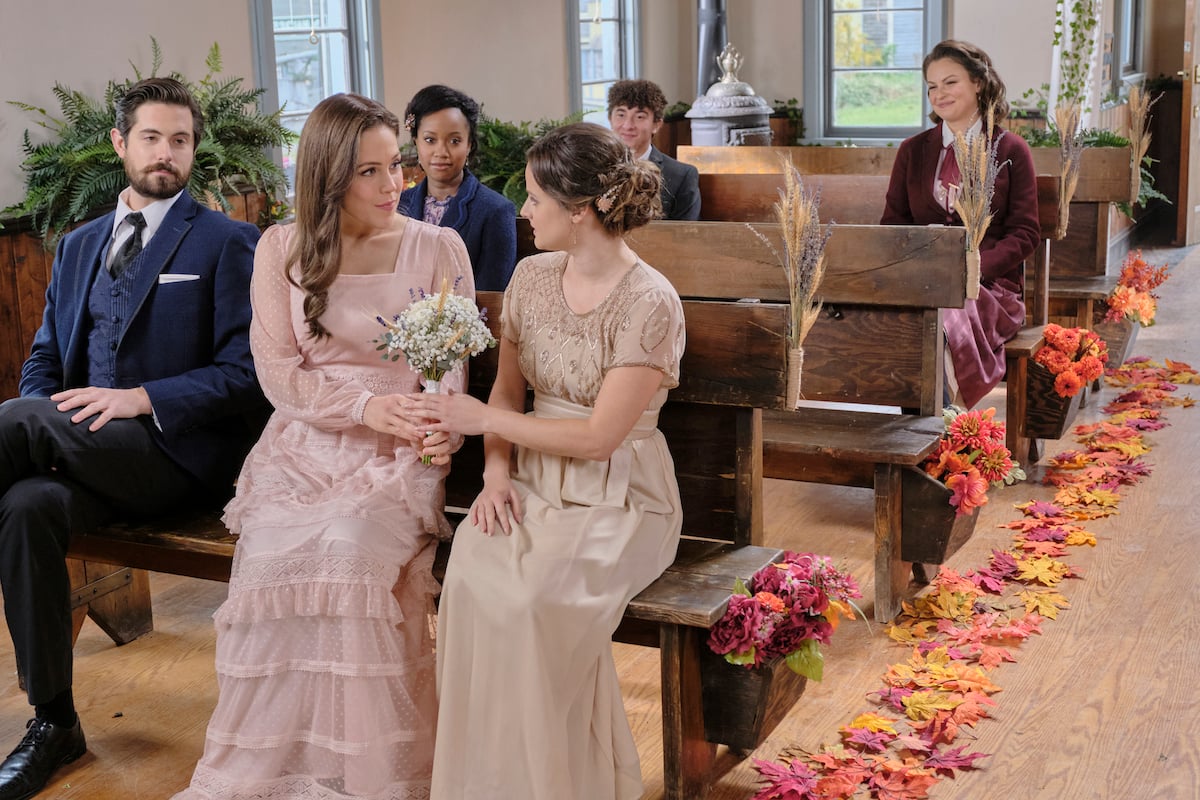 In "Pre-Wedding Jitters," Elizabeth was dealing with the fallout from learning Nathan was originally supposed to lead the training mission on which her husband Jack was killed. As she grappled with the new information, she inadvertently pushed Lucas away by accidentally choosing Nathan during the bachelorette party games. Meanwhile, Nathan declared himself more determined than ever to win Elizabeth's heart.  
It's still not clear which man Elizabeth will ultimately choose. However, images from the upcoming episode seem to show her and Lucas sitting next to each other at the wedding, indicating they probably came to the ceremony together.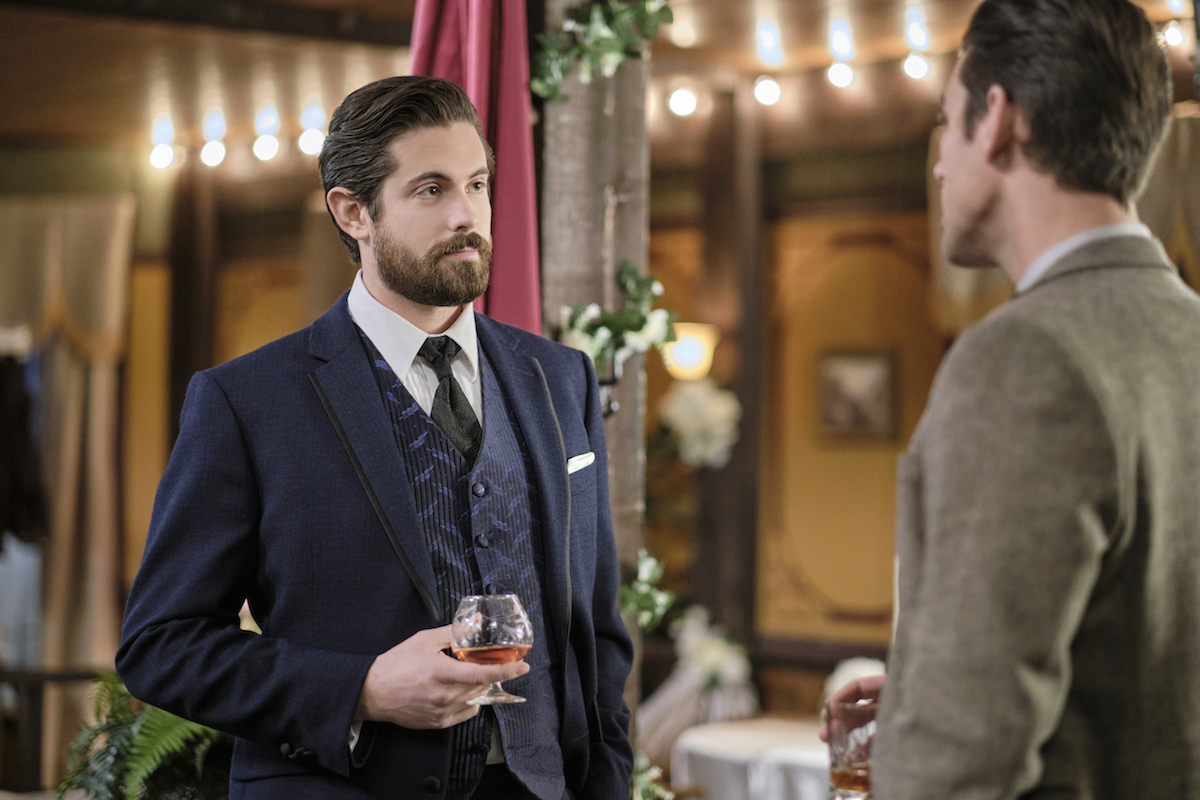 In another photo, Lucas, holding a snifter of brandy, appears to be talking to Nathan. Last week, Lucas said he and Nathan were going to work out their issues over Elizabeth. Perhaps that man-to-man talk happens in this episode? An episode description from Hallmark says that the wedding causes "every couple to reevaluate their relationships." Could that mean Elizabeth is finally ready to choose? Fans who are weary of this love triangle certainly hope so.  
When Calls the Heart "Old Love, New Love, Is This True Love," airs Sunday, April 25 at 9 p.m. ET on Hallmark Channel.  
Check out Showbiz Cheat Sheet on Facebook!