'When Calls the Heart' Season 8, Episode 2 Recap: Nathan's Big Confession
A recap of 'When Calls the Heart' Season 8, Episode 2
Batten down the hatches, Hearties. A squall is coming to Hope Valley. At least, that's Elizabeth's (Erin Krakow) worry at the beginning of the Feb. 28 episode of When Calls the Heart. The normally unflappable teacher was thrown off course by the unexpected arrival of Lucas' (Chris McNally) mother in the season premiere. But it turns out it's not Helen Bouchard (Teryl Rothery) who is behind this episode's most dramatic scene. 
[This recap contains spoilers for When Calls the Heart, Season 8, Episode 2, "Honestly, Elizabeth"]
Elizabeth and Helen take a step toward friendship on 'When Calls the Heart'
To call Helen intimidating would be an understatement. Though Lucas assures Elizabeth his big-city book editor mother's "bark is worse than her bite," she still approaches their first meeting with trepidation. After snubbing Elizabeth's friendly offer of muffins, Helen declares Elizabeth "undisciplined." She's also unimpressed when Elizabeth's explains she isn't going to give up her life for her writing. 
However, once the budding author and stern editor start to review her manuscript, things thaw a bit. Later, Helen confesses what's really behind her unannounced visit to Hope Valley: Her husband has left her. But Helen hasn't told Lucas yet. She swears Elizabeth to secrecy, putting her in an awkward position. Helen also quickly figures out that both her son and Nathan (Kevin McGarry) are interested in Elizabeth. It's not clear how long she'll be sticking around, but perhaps she'll push Lucas to make a more decisive move to win over Elizabeth.
A new face in Hope Valley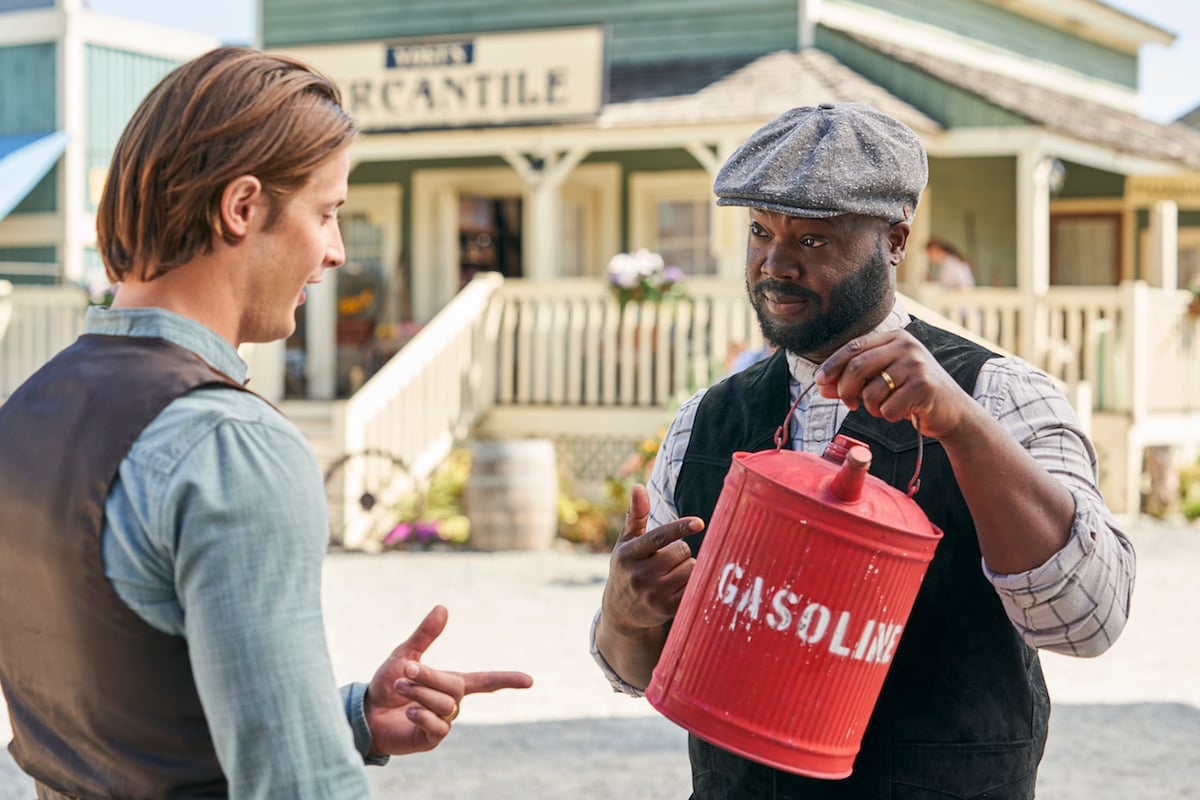 We also meet Joseph Canfield (Viv Leacock), who arrives in Hope Valley after his car runs out of gas. Joseph is immediately taken with the town and its friendly inhabitants; he decides it's the perfect place to settle with his family. Joseph expresses interest in taking over the shuttered gas station and buys Gowen's (Martin Cummins) old cabin so he has a place to live. Presumably, we'll meet his wife Minnie and their kids next week. The addition of the Canfields to the cast definitely seems to be part of a move toward more diverse programming on Hallmark Channel, and it's nice to see a non-white family settling permanently in Hope Valley.  
Fiona's barbershop opens for business
Meanwhile, the enterprising Fiona (Kayla Wallace) opens the doors to her new barbershop: Nichols & Dimes. The name is supposed to be a pun on the name of her old boss, but no one really gets it. A bigger issue is that the Hope Valley's menfolk aren't exactly lining up to get a haircut from a woman. But after some prodding from Clara (Eva Bourne) and Faith (Andrea Brooks), Jesse (Aren Buchholz) and Carson (Paul Greene) show up for trims, as does Hickam (Ben Rosenbaum), though the latter does get his ear nicked for his trouble. It looks like Fiona's barbershop is going to be a success after all (though she still might want to change the name). 
What's going on with Henry Gowen?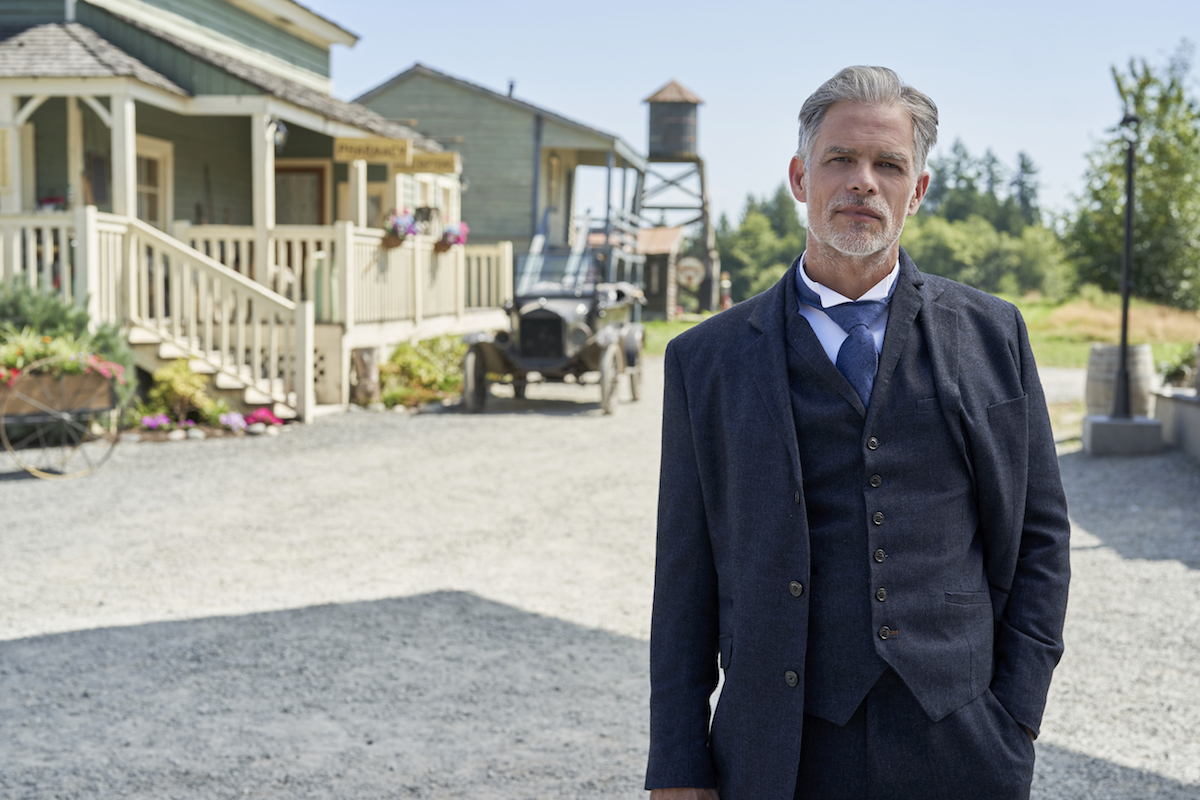 When Calls the Heart also teases a mystery involving Gowen. First, he approaches Lucas, proposing they team up again in the oil business (hinting he'd be willing to do some shady stuff to make it a success). Given how well that partnership worked out the first time around, Lucas is wise to hesitate. Then, Gowen freaks out at poor Ned (Hrothgar Mathews) after a letter he sent is returned. The envelope has been opened, and Gowen accuses Ned of snooping. The upstanding Ned is mortified by the accusation. 
It seems likely that whoever received Gowen's letter read it and then returned it. But who could that be? There's a lot we don't know about Gowen's past, but perhaps he's trying to reconnect with someone important to him. Gowen's blood pressure is still sky-high and he seems to be facing his own mortality. There hasn't been a major character death in When Calls the Heart in some time, and Gowen's future looks grim, though odds are, he'll stick around. Hope Valley needs at least one shady character, after all. 
We also get a little more flirtation between Bill (Jack Wagner) and Molly (Johannah Newmarch). Molly spots Bill chatting with Helen, which sparks her jealousy. He wants to talk about it, but she denies she's interested in him. But, she also says it would be nice to get to know him better. Those mixed signals leave Bill pretty confused. When Calls the Heart has teased a wedding this season. It seemed like Carson and Faith were the obvious candidates to get hitched, but what if perpetual bachelor Bill decides to settle down? 
Nathan tells Elizabeth he loves her 
Most of this episode was light on the Elizabeth-Nathan-Lucas love triangle drama. But that changed in a big way in the final few minutes. After earlier telling Elizabeth he was ready to settle down, Nathan happens upon her as she sits by the lake. He's eager to tell her about the land he bought, but she has something to say too. 
Elizabeth launches into one of those awkward, "I like you, but not in that way" speeches. She's trying to let Nathan down easy. "You want more than I can give you," she says. Then, the truth comes out: She can't handle losing him like she did her husband Jack. 
Nathan counters Elizabeth's objections, insisting he wouldn't let anything happen to him and even offering to quit the Mounties. But an emotional Elizabeth isn't having it — she knows he can't keep those promises, and it wouldn't be fair to ask him to. As she gets on her horse to leave, Nathan — who took an entire season to work up to asking her out to dinner — suddenly decides to be completely forthright. "Elizabeth, I love you," he says. A stunned Elizabeth says nothing and rides away. 
What to make of Nathan's declaration? Team Nathan fans will likely be thrilled he's finally opening up about his feelings, but it's possible he's coming on too strong. Elizabeth might be denying her attraction to Nathan as a form of self-protection, but will his bold announcement that he loves her actually push her further away — and into the arms of Lucas? 
The next episode of When Calls the Heart airs Sunday, March 7 at 9 p.m. ET on Hallmark Channel.
Check out Showbiz Cheat Sheet on Facebook!