'When Calls the Heart' Season 8 Episode 9 Promo Trailer: Lucas Has a Big Question for Elizabeth
Things get awkward at Florence's bachelorette party in a trailer for the April 18 episode of When Calls the Heart. Plus, Nathan isn't giving up on Elizabeth, while Lucas wants to know about her feelings for Nathan. Also, is Carson going to ask Faith to marry him?
How is Elizabeth going to deal with that big revelation? In "A Parade and a Charade," Nathan finally opened up about his indirect connection to her husband Jack's death. Will Elizabeth be able to forgive him for keeping such a huge secret from her? And has Nathan just destroyed any hope he had of winning Elizabeth's heart? A promo trailer for the April 18 episode of When Calls the Heart doesn't provide any clear answers, but it hints at which direction things might be going. 
An awkward moment at Florence's bachelorette party in 'When Calls the Heart' 
It's time for another bachelor/bachelorette party in Hope Valley. Florence (Loretta Walsh) and Ned (Hrothgar Mathews) are getting hitched, and their friends are throwing them a little pre-wedding celebration. Unfortunately, no one seems to have learned any lessons from Jesse's (Aren Buchholz) dud of bachelor party last season. As we see in a sneak peek, the men are once again assembled on one side of the saloon, not doing much of anything, while the ladies have a livelier party in another part of the bar. 
But as another preview for "Pre-Wedding Jitters" shows, the two parties eventually merge for some fun and games. Fiona (Kayla Wallace) tells a blindfolded Florence she needs to find the man she's meant to be with just by holding his hands. Florence appears to have no trouble picking Ned out of a lineup just by touch. But then Fiona invites Elizabeth (Erin Krakow) to play.
Elizabeth doesn't look super enthused by the idea, which isn't surprising. We know Nathan (Kevin McGarry) and Lucas (Chris McNally) are both at the party. At best, the game is just going to rub salt in Nathan's wound when she picks Lucas. But there's a bigger risk, too. What if Elizabeth accidentally chooses Nathan — who's still very much in love with her — over the man she's currently seeing? Can you say awkward?
Nathan won't let Elizabeth go; Lucas asks Elizabeth a question 
Next, we see Rosemary (Pascale Hutton) and Nathan having a conversation.
"I'm sorry, Rosemary. I can't let Elizabeth go that easily," he says.
At the end of "A Parade and a Charade," an upset Elizabeth walked away from Nathan after he told her he was originally supposed to lead the training mission that led to her husband's death. Based on the trailer, we don't know if he and Elizabeth have had another conversation about that revelation. But Nathan doesn't seem to have changed his feelings toward her, even though she was obviously upset with him about withholding such an important piece of information. 
The Nathan-Elizabeh tension is clearly giving Lucas some anxiety. We see him talking to Elizabeth outside of her house, and he looks worried.  
"What did you say to Nathan, when he told you that he loves you?" he asks.   
Remember, when Nathan confessed his love to Elizabeth earlier this season, she didn't tell him she didn't return his feelings. Rather, she simply rode off without responding. Though she didn't give him much positive encouragement, it wasn't a flat-out rejection. (Many fans on Team Nathan are convinces she was running from her true feelings.) By not giving Nahan a hard no, she might still be giving him reason to hope. That, in turn, could give Lucas reason to worry. 
Did Carson just propose to Faith?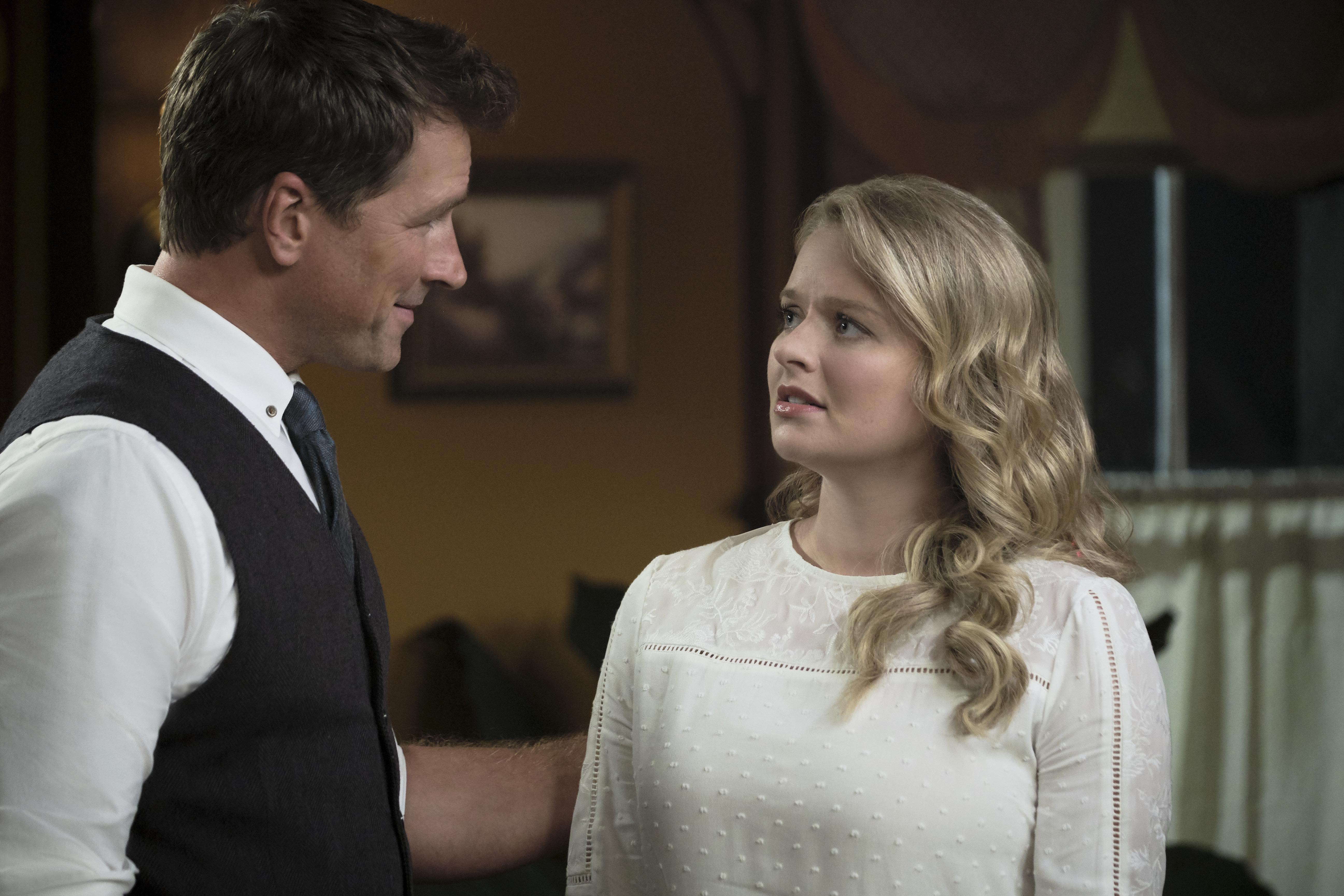 Elizabeth isn't the only Hope Valley resident with some romantic drama. Carson (Paul Greene) and Faith (Andrea Brooks) have been going back and forth about whether he should accept a prestigious surgical fellowship at Johns Hopkins in Baltimore. Now, he finally appears to have made a decision. 
"I accepted the surgical fellowship," he tells a stunned Faith. 
Then, we see them having another conversation sometime later. "I don't know what the answer is," Faith tells him. 
"Why don't we get married?" he replies.
Perhaps Florence and Ned's wedding won't be the only one on this season of When Calls the Heart?
When Calls the Heart Season 8 Episode 9, "Pre-Wedding Jitters," airs Sunday, April 18 at 9 p.m. ET on Hallmark Channel.