'When Calls the Heart' Season 9 Episode 10 Recap: Lucas Fights for His Freedom, Rosemary Gets Unexpected News
Lucas is behind bars, Rosemary gets surprising news, and Gowen makes a choice that upsets Florence in the May 8 episode of 'When Calls the Heart.'
Lucas is behind bars and fighting to clear his name in the latest episode of When Calls the Heart Season 9. Meanwhile, the oil company investors arrive in Hope Valley, which brings up unhappy memories for some of the town's residents. Plus Rosemary gets some unexpected news in the May 8 episode of the Hallmark Channel series. 
[Warning: This article contains spoilers for When Calls the Heart Season 9 Episode 10, "Never Say Never."]
Lucas's innocence is questioned in 'When Calls the Heart' Season 9 Episode 10
Lucas (Chris McNally) landed in jail at the end of last week's episode of When Calls the Heart. Bill (Jack Wagner) and Nathan (Kevin McGarry) discovered secret account books hidden in his office. They suggest he was in league with Wyman Walden.
Elizabeth (Erin Krakow) believes Lucas is innocent, but not everyone in town agrees with her. Fortunately, Bill gets a crucial piece of information from the man involved in Nathan's hit-and-run. The reckless driver says he was speeding out of town after planting evidence in Lucas' office on Walden's orders. 
The man's testimony could clear Lucas, but in exchange, he wants the charges against him dropped. Nathan has a choice: let the man go free to save Lucas, or insist that he's punished for what he did, even if it means Lucas goes to prison. At first, he's outraged that Bill's even considering accepting a plea deal. But eventually, he agrees to let the matter drop, realizing that letting an innocent man go to prison would be a greater injustice. Elizabeth knows this is a huge sacrifice for the Mountie to make, and she gives him a heartfelt hug in thanks. 
Gowen makes a deal with Smith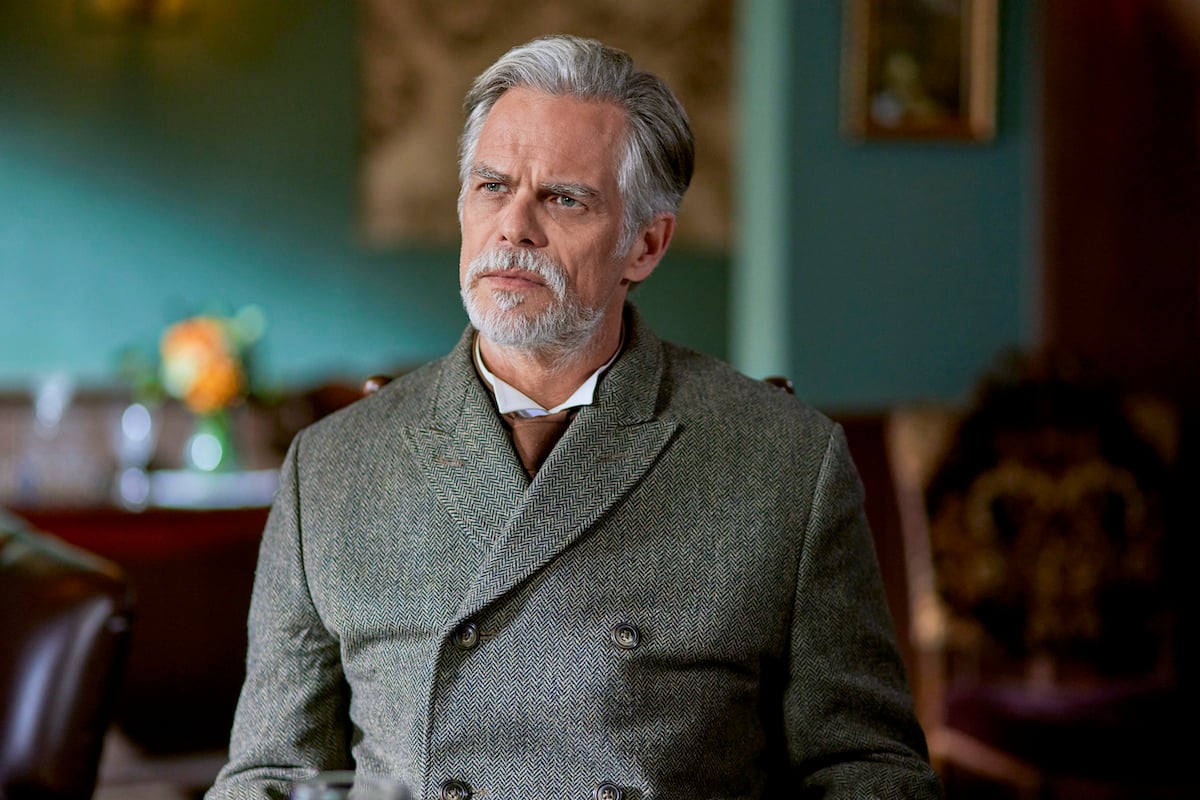 With Lucas sprung from jail, he's free to sit down with the oil company investors. Jerome Smith (Dean Paul Gibson) and Arthur Gilchrist (Matthew James Dowden) arrive from San Francisco to hammer out the details of the agreement. But negotiations hit a stumbling block over the question of whether they plan to reopen the long-shuttered coal mine. 
Mr. Gilchrist says the mine issue "isn't as simple as it's been characterized." There's a tense look between him and Mr. Smith as he says those words, suggesting that he and Smith might not be on the same page. Gilchrist also insists on visiting the mine site and asks Joseph (Viv Leacock) to tell him about the disaster that killed so many of the town's men. It seems possible he'll end up realizing that reopening the mind would cause more harm than good. 
But does Gilchrist have the final say? During a separate meeting, Smith tells Gowen (Martin Cummins) that the plan to reopen the mine is all Gilchrist's idea. However, we just have his word for that. Gowen continues to argue that the mine can't be made safe, but Smith eventually convinces him to help run the mine, with the promise that things will be different this time. Is Henry backsliding into his old ways? Or does he see this as the lesser of two evils? Perhaps he believes that by taking an active role in running the mine, he can prevent another disaster. 
News of the oil deal brings up bad memories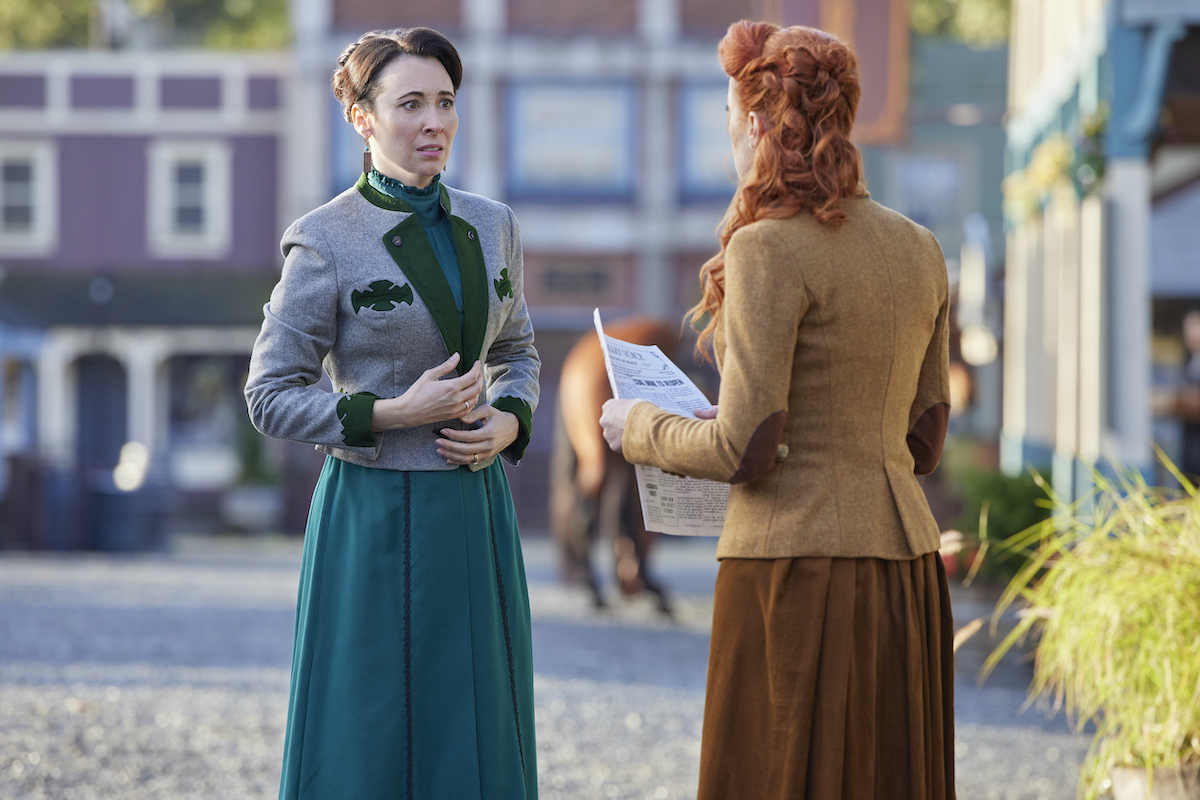 Gowen's motives in signing on with Smith aren't clear. But what's obvious is that reopening the mine will reopen old wounds in Hope Valley. Rosemary (Pascale Hutton) thinks the community deserves to know what's happening. She's determined to publish an article in the Valley Voice about the deal. But she got her information through a private conversation with Elizabeth. 
The two friends clash over Rosemary's plan to publish the article. Rosemary thinks she has a journalistic duty to share the story. Elizabeth worries that Lucas, whose reputation has already taken a hit because of the Walden mess, will be blamed. 
The story is front-page news in the next day's paper. Predictably, it sends shockwaves through town. Both Florence (Loretta Walsh) and Molly (Johannah Newmarch), who lost their husbands in the mine collapse, are devastated. Gowen approaches them on the street and tries to apologize. But Florence doesn't want to hear it. She slaps Gowen. "How could you let this happen?" she asks.  
Rosemary gets unexpected news
While Rosemary struggles with letting Elizabeth know of her decision to break her confidence, she's also dealing with a major secret. The episode begins with her suffering from what seems to be a bout of the stomach flu. But a consultation with Dr. Carter (Andrea Brooks) reveals the truth: She's probably pregnant. 
Rosemary is stunned. She and Lee (Kavan Smith) had all but given up hope of having a baby, and her happiness is mixed with uncertainty. It's early in the pregnancy, and she tells Faith she doesn't want to tell Lee until she's absolutely sure. "Otherwise, it would just break his heart," she says. 
Though Lee is still in the dark about the baby, Rosemary can't keep the truth from Elizabeth. The friends patch up their differences about the mine story, with Elizabeth admitting that publishing was the right thing to do. Rosemary then reveals her huge news, though she doesn't actually need to say the words out loud for Elizabeth to realize what's going on. Also, how appropriate is it that Rosemary learns she's expecting in the show's Mother's Day episode?
What else happened in this episode of 'When Calls the Heart' Season 9 
Elsewhere in this episode of When Calls the Heart: 
Was Lucas going to propose to Elizabeth? All the drama with Walden means he hasn't had a chance to present her with her birthday present. Toward the end of the episode he pulls out that red box fans saw in the season 9 teaser, and Elizabeth's eyes light up. But a phone call from Bill interrupts him and kills the mood. 
Lee and Joseph patch things up after their disagreement over Lee's decision to go behind Joseph's back and cosign his bank loan. 
Cheers to Fiona for cooly putting Mr. Gilchrist in his place when he gets a little too friendly during their meeting. 
Bill's nagging cough isn't going away, and Faith is increasingly worried about him. It seems like a serious health crisis could be in his future, but he continues to brush off her warnings. 
Mike (Ben Rosenbaum) decides to spend some time away from Hope Valley as he debates whether he wants to continue as mayor.
That Mountie Jack moment between Nathan and Little Jack (Hyland Goodrich) was both sweet and a little heartbreaking, seeing as it was a callback to the father the little boy will never know. 
The next episode of When Calls the Heart Season 9 airs Sunday, May 15 at 8 p.m. ET on Hallmark Channel. 
Check out Showbiz Cheat Sheet on Facebook!