'When Calls the Heart' Season 9 Episode 3 Recap: What Is Lucas Up To?
Elizabeth celebrated a major career milestone in the latest episode of When Calls the Heart. But the response to her debut novel wasn't exactly what she expected, as seen in the March 20 episode of the Hallmark Channel series. Plus, Wyman Walden returns and Nathan asks a favor of Mei Sou. 
[Warning: This article contains spoilers for When Calls the Heart Season 9 Episode 3, "Turn of the Page."]
Elizabeth celebrates the release of her book in the latest episode of 'When Calls the Heart' Season 9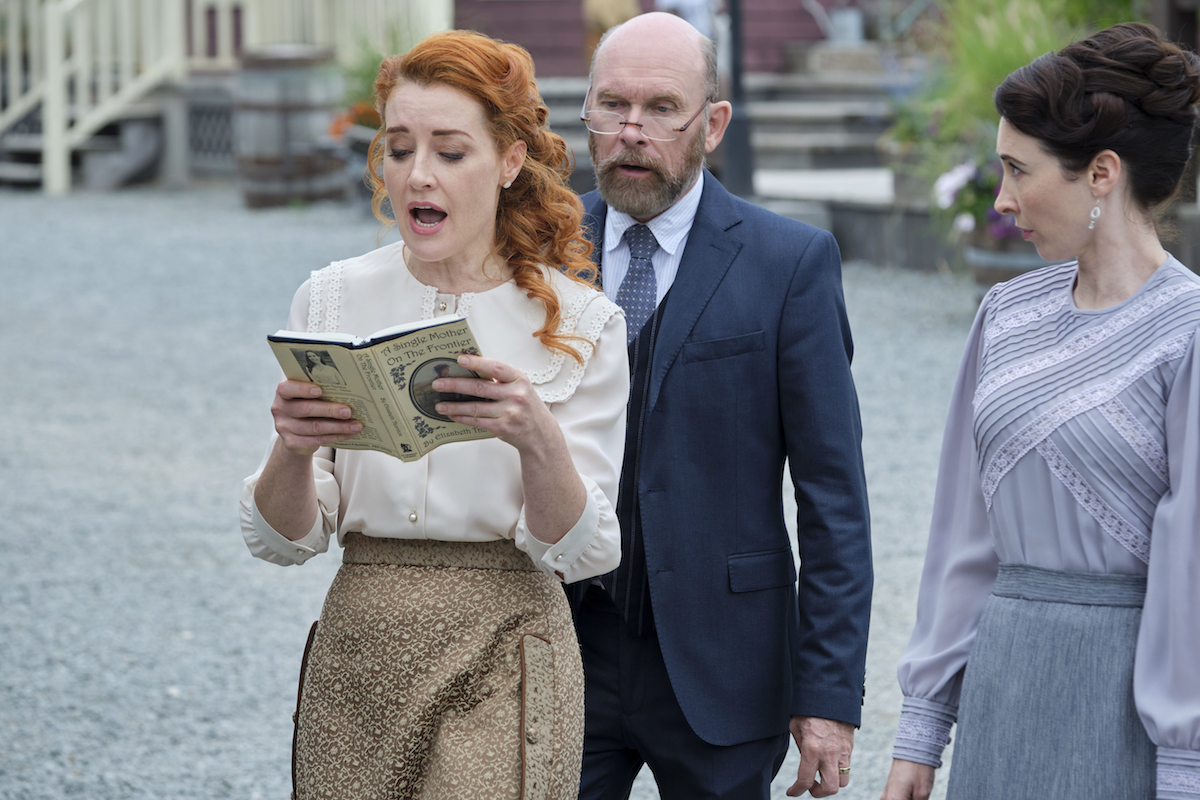 RELATED: 'When Calls the Heart' Drops Reference to Long-Missing Abigail in Recent Episode
Elizabeth's (Erin Krakow) first novel, A Single Mother on the Frontier, has hit the shelves. Everyone in Hope Valley is lining up to buy a copy. But not everyone is thrilled with what they read. Several characters seem to be thinly veiled versions of Elizabeth's real friends and acquaintances. Nathan (Kevin McGarry) simply decides not to read it at all, which is probably wise, all things considered. 
Elizabeth can handle some people having trouble distinguishing fact from fiction. But harder to swallow are the harsh reviews from critics. One dismisses her work as lacking "depth and nuance" and says it only "scratches the surface of anything meaningful or profound." Ouch. 
The critical drubbing has Elizabeth down in the dumps, but Lucas (Chris McNally) hopes the surprise party he has planned will cheer her up. (He's apparently still having a bit of trouble with that whole "little moments" thing from last week.) While Elizabeth initially wants to be alone, she's charmed by Lucas' sweet gesture, even though he has to spoil the surprise to get her to attend. She does her best to fake being shocked, but it seems safe to say Elizabeth shouldn't trade the pen for the stage. The party cheers her up, but even more special is a thoughtful letter to Valley Voice that Rosemary (Pascale Hutton) shares with her. The writer says that Elizabeth's book helped her deal with the loss of her own husband. 
Nathan turns to Mei Sou for help
Nathan's out of the infirmary following his accident, despite Faith's (Andrea Brooks) advice that he stay in bed. She convinces him not to ride out to see Allie, but she can't stop him from going to see his horse Newton, who is still spooked following the near-miss with the car. (Who was behind the wheel is still a mystery.)
Mei Sou (Amanda Wong) is the only person who can get close to Newton. But when Nathan goes to ask for her help, it doesn't go well. She tells him he needs to be patient, and he gets frustrated. Later, they patch things up. Nathan admits he was prickly was because he fears the accident was his fault. 
Nathan and Mei Sou seem to be going closer. That doesn't go unnoticed by Florence (Loretta Walsh), who gently tries to warn him about jumping into a new romance so soon after having his heart broken by Elizabeth. But he insists he's "not looking for a new courtship." Faith can also see that there might be something between the Mountie and the pharmacist, and she doesn't seem totally comfortable with it. It's possible Faith is realizing she has feelings for Nathan. Or she could just be worried about her friend getting entangled with a woman who no one knows much about. 
Wyman Walden returns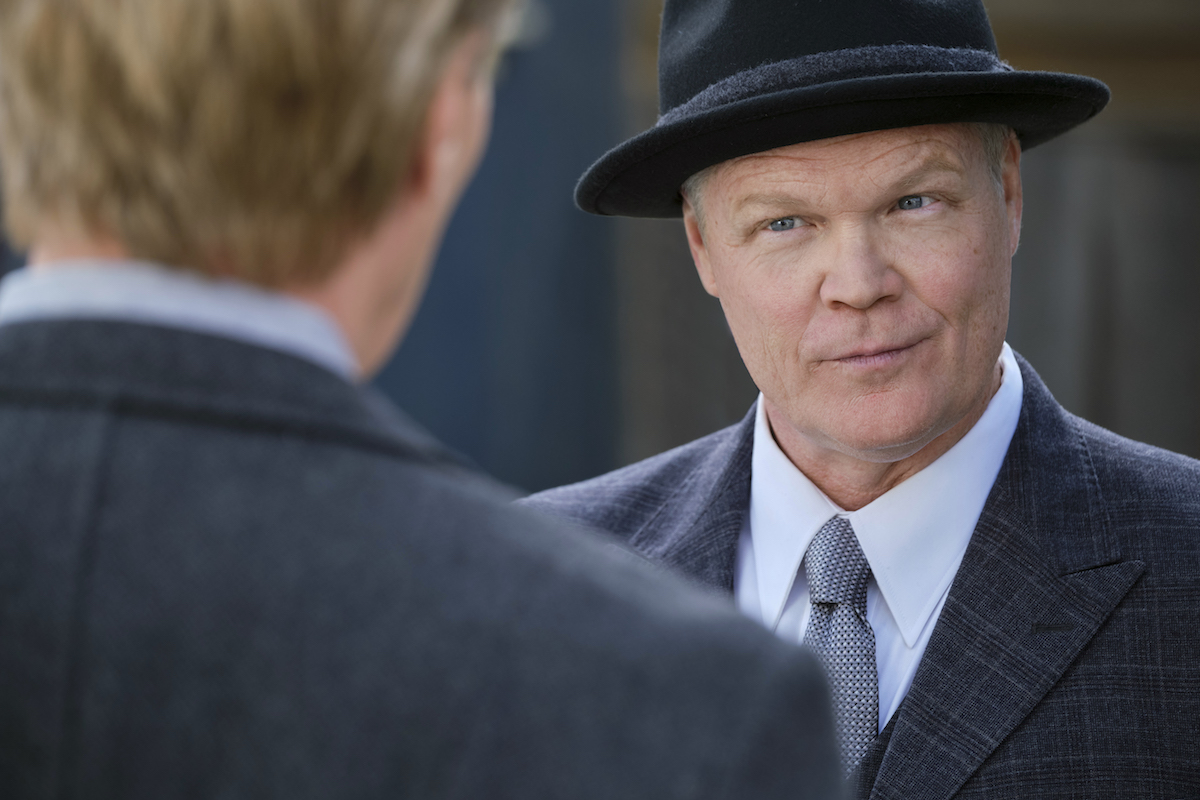 A not-so-welcome face from When Calls the Heart Season 8 returns in this episode. Wyman Walden (Wesley Salter) is back in Hope Valley and still determined to build his foundry, despite community opposition. 
Bill (Jack Wagner) doesn't trust Walden. Though he can't run him out of town, he can confiscate his gun. Meanwhile, newly elected mayor Hickam (Ben Rosenbaum) argues that he should at least meet with the businessman so that he knows what he's up to. 
Lucas has his own plan for dealing with the newcomer. When they first meet at the Queen of Hearts, Lucas hints he's interested in going into business with Walden. But the look on his face as Walden walks away suggests that's not all there is to it. That's confirmed when Elizabeth walks in on Lucas in the middle of a phone call. Speaking French, he tells someone named Janette that he needs more time to earn Walden's trust. Then, after Elizabeth leaves, he raises his voice, nearly shouting Walden's name and saying that he can stop him, but he needs help. It seems he's running some kind of undercover or sabotage operation against Walden. But why is he keeping it from Elizabeth? 
What else happened in the March 20 episode of 'When Calls the Heart'
Elsewhere in this episode of When Calls the Heart: 
Cooper (Elias Leacock) opens up to Joseph (Viv Leacock) about how he doesn't understand why Angela was left blind after getting the measles and not him. This prompts a deeper conversation between Joseph and Minnie (Natasha Burnett) about the doctor who refused to treat Angela, the racism that drove them out of their previous town, and when they should explain that past to their children.  
Nathan looks a little confused when he spots Mei's diploma on the wall in the pharmacy. It's from the University of Illinois, is dated 1917, and says she's based in Hope Valley. Something isn't adding up here. 
In one of his first official acts as mayor, Hickam politely orders Bill to vacate his office, much to Bill's dismay. 
Lee (Kavan Smith) is a man of many talents, but ace reporter he is not. His debut story for the Valley Voice – "Seems Like Duck Soup for Hickam" – is a bit of a head-scratcher.
Faith and Carson are no longer officially an item, but she still seems pretty bummed when she can't him on the phone in Balitmore.
Lucas reveals that Gustave (Karl Pepin) is his cousin.
When Calls the Heart Season 9 Episode 4 airs Sunday, March 27 at 8 p.m. ET on Hallmark Channel.
Check out Showbiz Cheat Sheet on Facebook!
RELATED: 'When Calls the Heart': Andrea Brooks Weighs In on a Potential Faith-Nathan Romance