'When Calls the Heart' Season 9 Episode 4 Recap: Trouble in Hope Valley
When Calls the Heart doesn't air on Hallmark Movies & Mysteries. But the latest episode of the popular period drama wouldn't have felt out of place on that network. The March 27 installment teased multiple mysteries involving Lucas Bouchard, Mei Sou, and Wyman Walden, potentially setting up some interesting twists as the rest of season 9 plays out. 
[Warning: This article contains spoilers for When Calls the Heart Season 9 Episode 4, "Straight from the Heart."]
Lucas steps up to help Elizabeth in 'When Calls the Heart' Season 9 Episode 4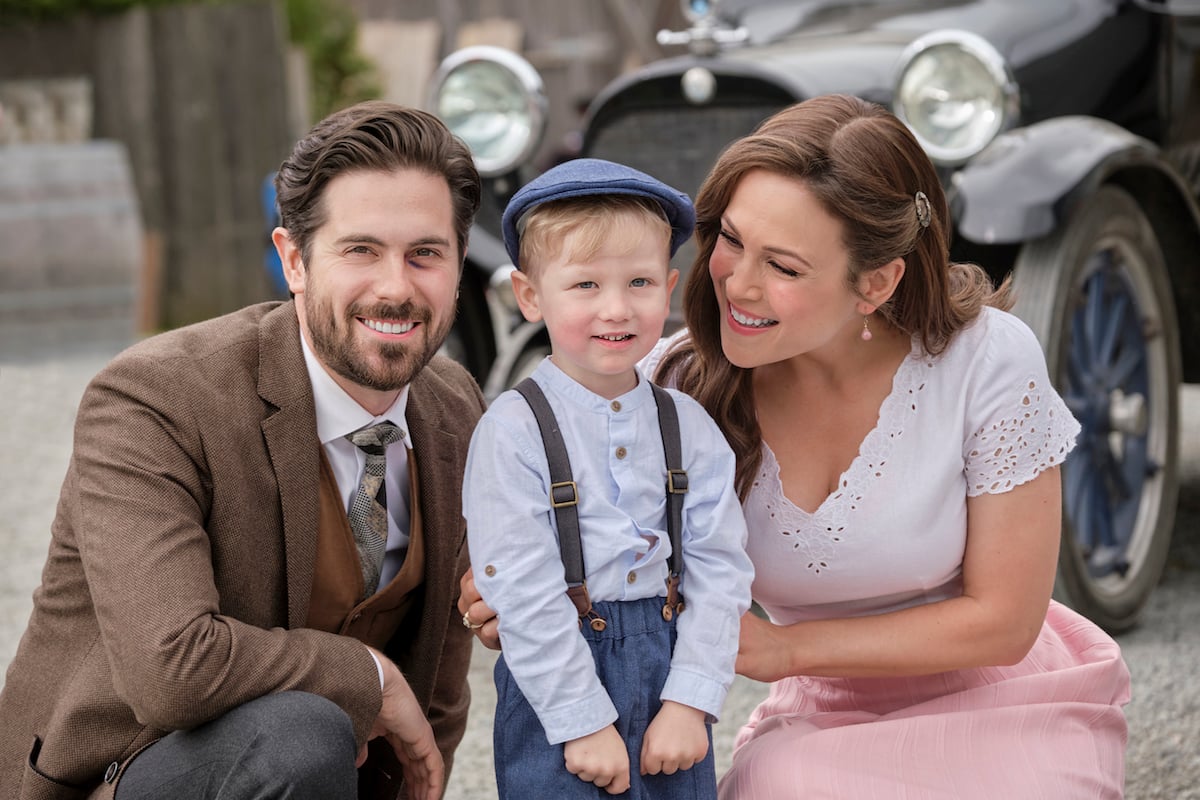 RELATED: 'When Calls the Heart': A Classic Christmas Movie Inspired Part of Season 9
Things get off to a rocky start for Elizabeth (Erin Krakow) when her babysitter calls out sick. Fortunately, Lucas (Chris McNally) happily takes little Jack (an adorable Hyland Goodrich) off her hands, though he doesn't realize exactly what he's getting into by volunteering to babysit. Lucas is eager to play dad, but he gets a bit panicky when Jack starts to get fussy. He nervously consults Dr. Faith (Andrea Brooks), but she assures him it's just minor growing pains. 
Despite being a little unsure of himself, Lucas proves to be more than a capable caretaker. It's proof that Lucas will be "a wonderful father," as Rosemary (Pascale Hutton) tells Elizabeth. Those words — along with some teasing from her students — seem to hint that this season of When Calls the Heart might end with an engagement for Elizabeth and Lucas. 
Elizabeth and Landis argue 
Elizabeth will definitely need Lucas in her corner as she continues to face off against school inspector Augustus Landis (Todd Thomson), who returns for the first time this season in this episode. She proudly tells him that while in Hamilton, she earned a certification to teach Angela (Vienna Leacock), who is blind. But Landis says they can't accept accreditation from outside the district. Eventually, the normally even-keeled Elizabeth loses her temper.  "This is still my school under my authority," she says testily before ordering him to leave. But it's only her school until it's officially brought into the larger district, which is likely to happen soon as more students arrive in town.
Elizabeth's students don't like Landis any more than she does. When he goes to leave, he discovers that someone has glued his hat to a table. Soon, Angela's brother Cooper (Elias Leacock) fesses up. It's just the latest in a string of bad behavior from Cooper, which has his parents seriously concerned. 
Mei Sou asks for help 
Ever since she arrived in Hope Valley, there have been hints that pharmacist Mei Sou (Amanda Wong) is hiding something about her past. That was confirmed this week, when she paid a visit to Judge Bill Avery (Jack Wagner). 
"I need your help … I'm a fugitive of sorts. From my husband," she says, before starting to say that he's not really her husband. We don't see the rest of Bill and Mei's conversation, leaving viewers to speculate exactly what she's running from, though an abusive spouse seems a likely possibility.
Mei's personal troubles aren't standing in the way of her forging a closer relationship with Mountie Nathan (Kevin McGarry). She pays him a visit in his office — where she spends some time contemplating the jail cell — to talk about his horse, Newton. Later, he asks her to dinner to thank her for her help in caring for Newton after their car accident. It's not exactly a date. But Nathan still warns Ned (Hrothgar Mathews) not to spill the beans to town gossip Florence. And Faith definitely notices that Nathan and Mei are spending more time together. Is she jealous or just wistful after her breakup with Carson? Her excited reaction when she gets a call from Carson in this episode suggests it might be the latter. She also seems to be coming to terms with being single and the idea that though she and Carson are "kindred spirits" they aren't meant to be together.  
Wyman Walden may be more dangerous than he looks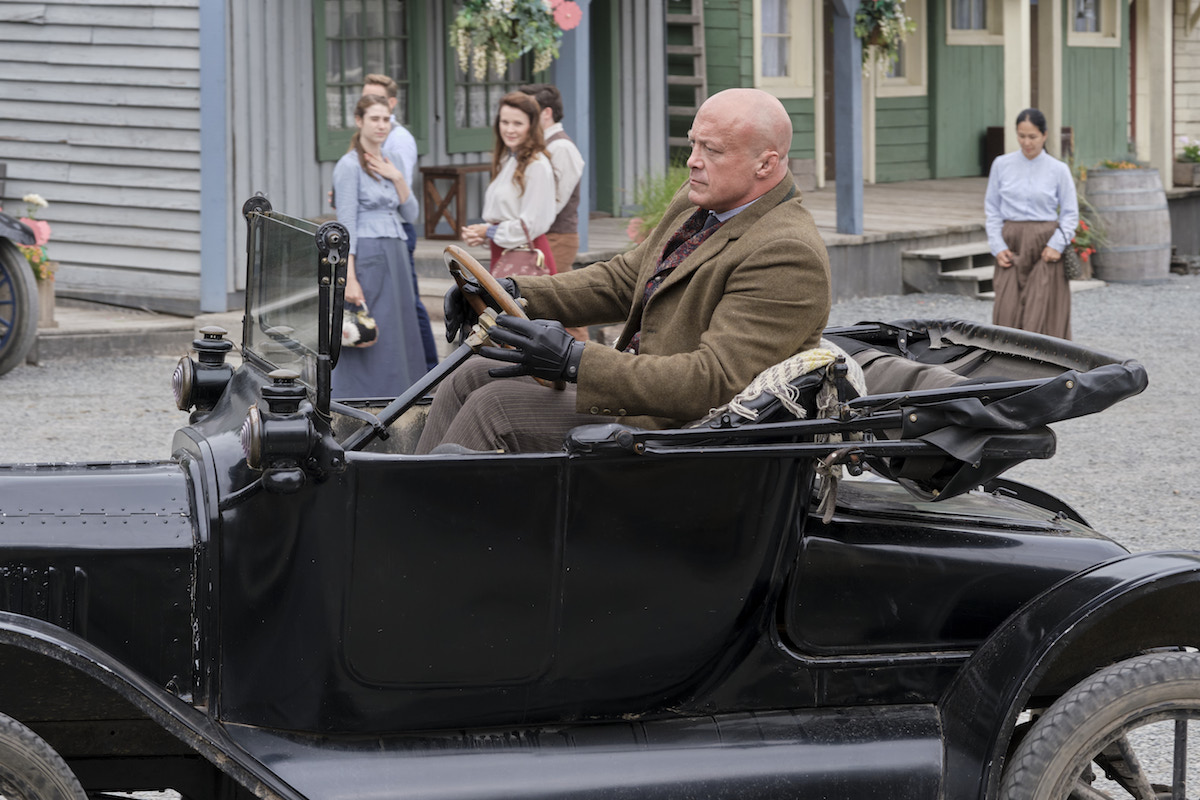 Businessman Wyman Walden (Wesley Salter) has been skulking around Hope Valley since last season, working to establish the new foundry. He's a less-than-savory character, and several people, including Bill and Nathan, don't trust him. They're also not pleased that Spurlock (Paul Lazenby), a Pinkerton agent, is back in town and still in league with Walden. 
"What's this guy after?" Bill wonders to Rosemary and Lee (Kavan Smith). In season 8, Walden tried to con Jesse and Clara out of their life savings. Apparently, he recently pulled the same trick in nearby Brookfield. Even more alarming, a local merchant there was shot around the time Walden left town. He hasn't been conclusively linked to the crime, but the circumstances are suspicious. Bill wants to run a ballistics test on Walden's gun, but he's lost it. How convenient. 
Walden is likely a con artist, but could he (or perhaps Spurlock) be violent as well? Someone whose face isn't shown attacks Lucas after he leaves Elizabeth's house one night, leaving him with a nasty black eye.
"I walked into a door," Lucas tells Elizabeth the next day. She doesn't buy it, but lets it drop. The assault happens not long after Walden insists on having a chat with Lucas. We don't see that conversation, but we do know from last week's episode that Lucas seems to be working in some kind of undercover capacity to take down the shady businessman. Whatever is going on, Lucas doesn't want Elizabeth involved.  
"If you intend on sending me some kind of message to try to intimidate me, I'm fine with that," he says. "But I'm warning you both not to go anywhere near Miss Thornton or her son."
What else happened in the March 20 episode of 'When Calls the Heart'
Elsewhere in this episode of When Calls the Heart: 
Fans are still waiting for word on when new episodes of When Calls the Heart spinoff When Hope Calls will air on GAC Family. But Brookfield, where that show takes place, did get a shout-out in this episode when Bill called Mountie Gabe to get more details on Walden's arrest. 
Joseph's (Viv Leacock) sharp eye helped nab the man who hit Nathan back in the season premiere. Was he just a bad driver or is there more to this story? Hopefully, we get some answers next week. 
Lucas definitely overstepped by installing a phone in Elizabeth's home without asking, but their low-key non-argument afterward was hilarious. 
Did Ned, inventor of the Band-Aid (at least in the WCTH universe), just create the crossword puzzle?  
Elizabeth tells Lucas she loves him for the first time, but he's asleep, so he doesn't hear her. 
When Calls the Heart Season 9 Episode 5 airs Sunday, April 3 at 8 p.m. ET on Hallmark Channel.
Check out Showbiz Cheat Sheet on Facebook!
RELATED: 'When Hope Calls': Jack (Daniel Lissing) Has a Sweet Message for Elizabeth in Christmas Special