'When Calls the Heart' Season 9 Episode 7 Recap: A Stranger Arrives in Hope Valley
A man who claims to be Mei's husband arrives in Hope Valley in the April 17 episode of Hallmark Channel's 'When Calls the Heart.'
The residents of Hope Valley are celebrating in the latest episode of When Calls the Heart Season 9, but one person isn't feeling so cheerful. Mei Sou's life is turned upside down when a figure from her past arrives in town. Plus, Joseph and Minnie make a plan for the future and Nathan's first driving lesson doesn't take him very far. 
​​[Warning: This article contains spoilers for When Calls the Heart Season 9 Episode 7, "Hope Valley Days: Part 1."]
Hope Valley celebrates in 'When Calls the Heart' Season 9 Episode 7
Mike Hickam (Ben Rosenbaum) has been struggling to find his footing as mayor. In the April 17 episode of When Calls the Heart, he hits on a way to make his mark: "Hope Valley Days," a week-l​ong celebration of multiple holidays. 
Elizabeth (Erin Krak​​ow) plans a Thanksgiving meal. Lee (Kavan Smith) and Rosemary (Pascale Hutton​​) embrace all things spooky for Halloween, which also gives her a chance to dig out some of her hold theatrical costumes. (The couple spends much of the episode dressed as Antony and Cleopatra.) Mei (Amanda Wong) marks Valentine's Day, as well as the Qixi Festival, a Chinese celebration of love. Finally, Ned (Hrothgar Mathews) and Florence (Loretta Walsh) teach the rest of Hope Valley about Hannukah (and bring a little religious diversity to When Calls the Heart in the process). 
A figure from Mei's past resurfaces 
Most of Hope Valley is celebrating, but things take a dark turn for Mei when Geoffrey Lewis (Chris Cope) makes an unexpected (and unwanted) appearance. He bursts into Bill's (Jack Wagner) office, declaring that he's her husband – and he wants her arrested. Bill doesn't take too kindly to Geoffrey's attitude, and an off-screen scuffle lands the newcomer a night in the town jail. 
Geoffrey's behind bars, but that doesn't solve Mei's problems. A call to Chicago reveals that she's wanted on multiple charges, including larceny, forgery, and spousal abandonment. She says it's all a misunderstanding; she also insists she's not really married. But officials in Chicago say there's a marriage license with her signature on it. Nathan (Kevin McGarry) is shocked to discover what Mei's been hiding. He's also upset that Bill didn't give him a head's up, though Bill points out that would have violated attorney-client privilege. 
Bill can't hold Geoffrey forever. He promises Mei that he and Nathan will look out for her safety once he's released, but she has to decide on her next movie. (The system seems to be letting Mei down here in a big way, but that's not entirely unrealistic.) Once he's out of jail, Geoffrey begs Mei to come back to Chicago, but she tells him to get lost.  
Joseph and Minnie make an investment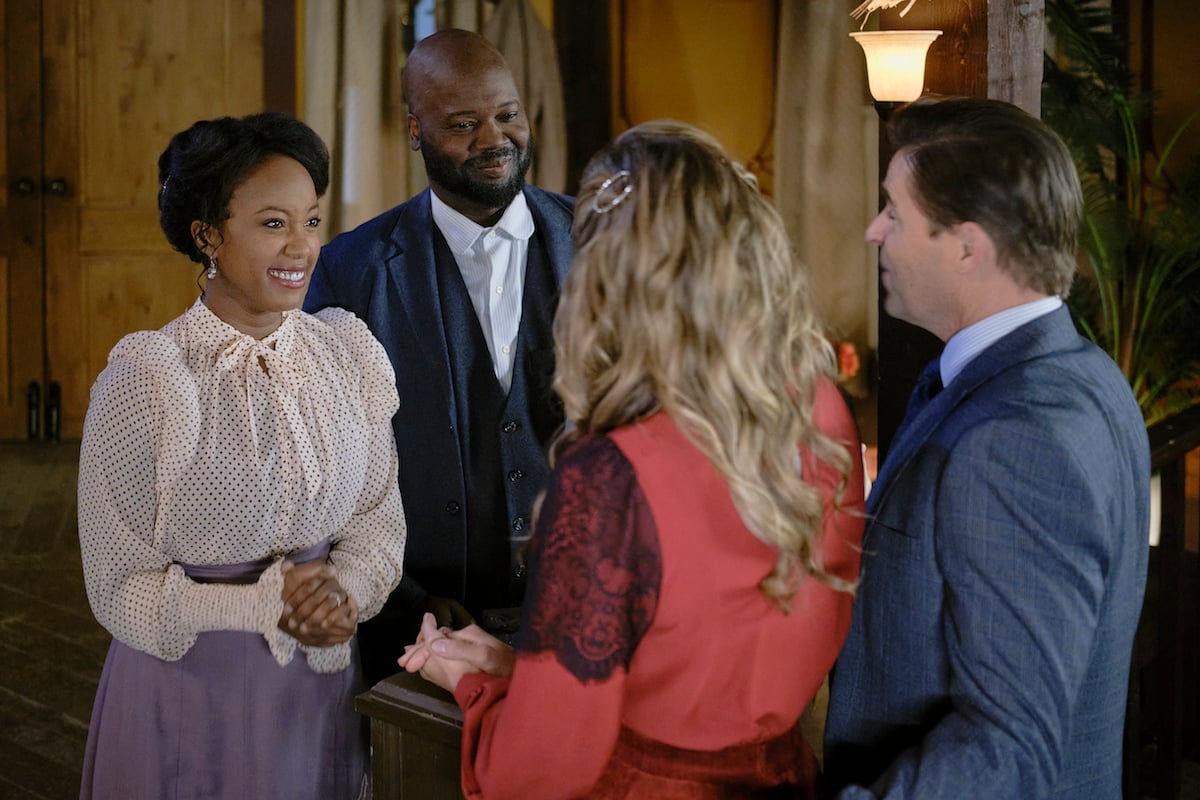 Joseph (Viv Leacock) and Minnie (Natasha Burnett) have been talking about buying a stake in the cafe for some time. Now that Abigail has agreed to sell her share, they decide to move forward with their plan. Minnie has faith everything will work out. Joseph says he trusts God, but maybe not the bankers. His concerns turn out to be well-founded. The bankers in Buxton turn down their request for a loan because of their race. 
Joseph is disappointed but not surprised. Lee is outraged on his behalf. He wants to make the situation right, so he uses his influence with the bank – plus a promise to personally guarantee the loan – to get Joseph and Minnie the money they need. Rosemary admires her husband's impulse, but she isn't sure this is the best plan. She's understandably worried how Joseph and Minnie will react if they learn of Lee's interference on their behalf. 
Faith goes it alone, while Nathan's driving lesson goes nowhere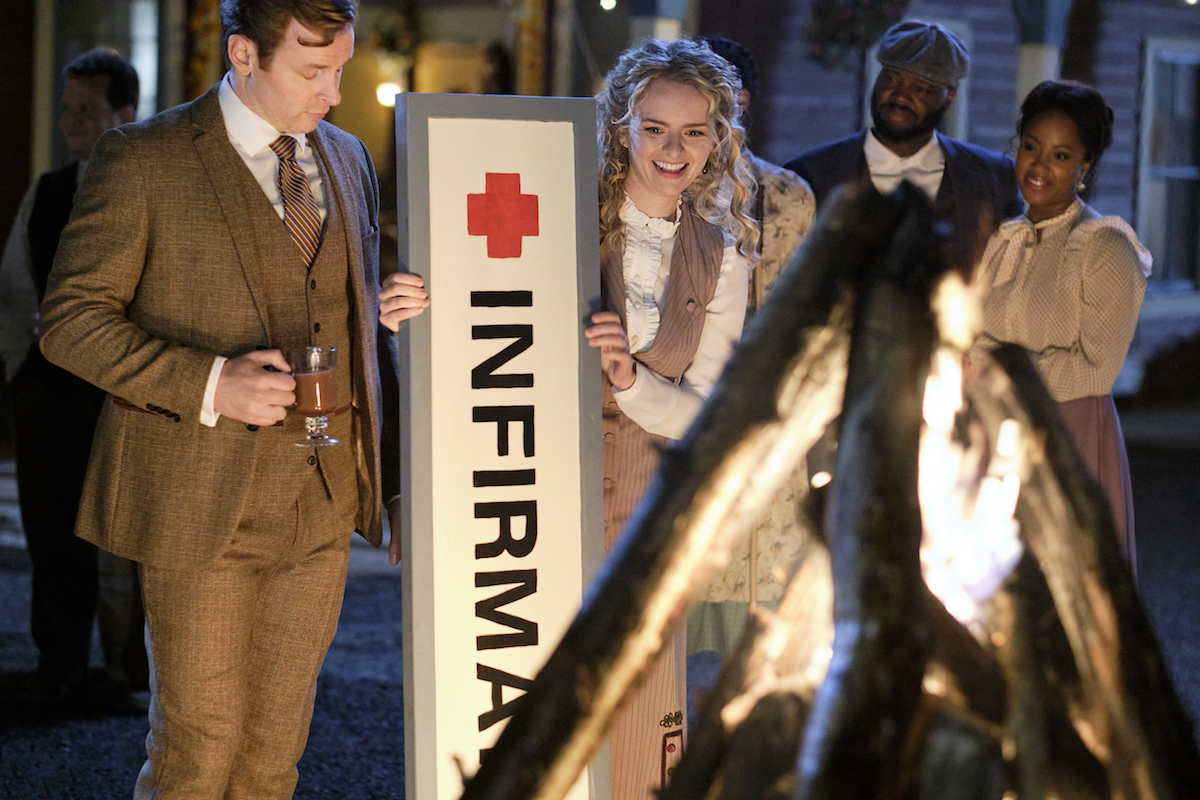 Faith (Andrea Brooks) wants to modernize Hope Valley's medical facility. That means buying an X-ray machine. In the past, the town has helped cover similar expenses. But Hickam says now that Faith is in private practice, she doesn't qualify. She tries to get him to reconsider, but he stays firm. He does, however, give her a motivational speech about investing in herself and her business. Faith takes it to heart, and the episode ends with her tossing the old infirmary sign in the fire. 
"I'm going to step out on my own," she says. "Can't rely on anyone. Not even the town." 
Meanwhile, Elizabeth is in full teacher mode during Nathan's first driving lesson. She wants to do everything by the book, while he just wants to hit the gas. 
"Would you mind terribly if Lucas taught me how to drive?" he asks, after quickly realizing this lesson will be difficult for both of them. "Maybe it was a good thing you and I never got together," he adds with a smile. 
Lucas has a more casual approach to instruction, but unfortunately, he doesn't have any more success than Elizabeth. Nathan's mind is occupied by the drama with Mei. He doesn't really believe she's married, he admits, but he's upset she never confided in him. Lucas points out that after what happened with Elizabeth, he might be "once bitten, twice shy." He tells Nathan to talk to Mei directly, which prompts the mountie to get out of the car and walk away.  
What else happened in this episode of 'When Calls the Heart' Season 9 
Elsewhere in this episode of When Calls the Heart: 
Anna (Kadence Kendall Roach) decides she'd rather live on her own in Hope Valley than follow her mother to Bellingham. 
Is Bill's health in jeopardy? Faith wants him to go to Union City for a chest X-ray to see if he has pneumonia. He initially refuses but agrees to consider it for Molly's (Johannah Newmarch) sake.    
Will it be a fall wedding for Lucas and Elizabeth? His question at the bonfire wasn't quite a proposal, but it was pretty close. 
The next episode of When Calls the Heart Season 9 airs Sunday, April 24 at 8 p.m. ET on Hallmark Channel. 
Check out Showbiz Cheat Sheet on Facebook!