'When Calls the Heart' Star Erin Krakow Shares Behind-the-Scenes Season 9 Photo of Chris McNally as Lucas
Hearties will have to wait until 2022 to see new episodes of their favorite show. But in the meantime, a number of people involved with When Calls the Heart have been sharing some behind-the-scenes looks at the Hallmark Channel drama, which is currently in production on its ninth season. Recently, star Erin Krakow and director Peter DeLuise have shared photos of Chris McNally in costume as Lucas Bouchard. 
Erin Krakow gives fans a glimpse of Lucas (Chris McNally) jumping for joy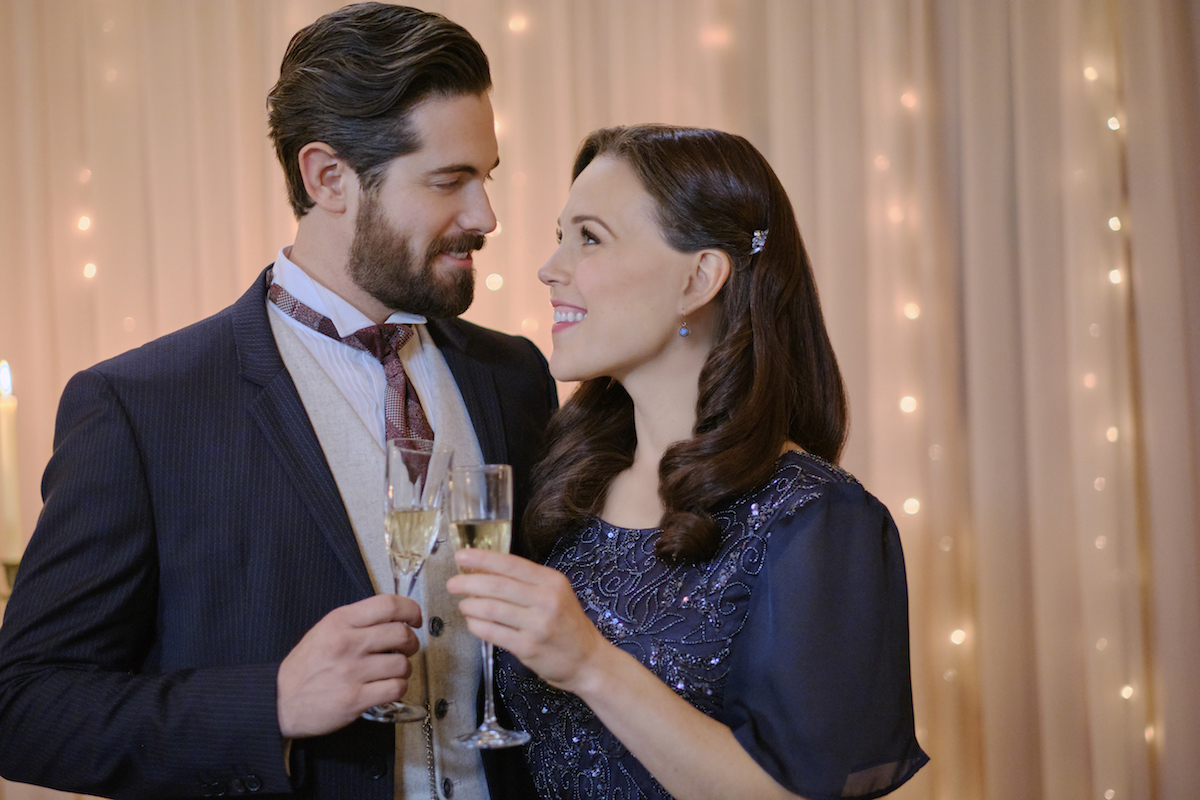 On August 17, series star Krakow, who plays Elizabeth Thornton, took to Instagram to share a photo of her co-star McNally, in costume as Lucas, jumping off the ground in the middle of Hope Valley's main street.
One fan who commented on Krakow's post were hopeful that Lucas had a specific reason to be so excited.
"He popped the question and Elizabeth said yes?" one asked.
Others were just pleased to see McNally's character looking so happy and were eager to see what happens next in his relationship with Elizabeth.
"Excited for Elizabeth & Lucas journey next season and beyond," one wrote.
See Lucas in the Queen of Hearts saloon 
DeLuise has also been sharing photos from the When the Calls Heart set with his followers on Twitter. On August 4, he posted a photo of McNally filming a scene in the Queen of Hearts, the saloon and hotel that his character Lucas owns. 
A week earlier, DeLuise shared another photo of McNally at work. "Rare Lucas sighting in his natural habitat," he tweeted along with a photo of the actor standing on the balcony of the saloon. Episodes of When Calls the Heart often include shots of Lucas standing in that spot — usually sipping a cup of tea — and observing the goings-on in Hope Valley.
Peter DeLuise has also shared photos of other 'When Calls the Heart' actors on set 
In addition to giving fans a glimpse at McNally in character as Lucas, DeLuise has also shared photos of other When Calls the Heart cast members at work on season 9. On August 6, he tweeted an image of Erin Krakow, who plays Elizabeth Thatcher, and Genea Charpentier, who plays Laura Campbell. 
"First Laura & Elizabeth scene of season 9," he wrote. 
A day earlier, he posted a photo of "dynamic duo" Fiona (Kayla Wallace) and Mike Hickam (Ben Rosenbaum). On July 27, he gave Hearties a glimpse at Vienna Leacock in costume as Angela Canfield. 
What's in store for Lucas and Elizabeth in 'When Calls the Heart' Season 9?
While DeLuise and other people involved in When Calls the Heart have been teasing what's in store for season 9, so far, there haven't been any photos of Lucas and Elizabeth together. The two characters declared their feelings for each other in the season 8 finale, and fans are eager to see what's next for their relationship. 
While he hasn't revealed any specific plot details, When Calls the Heart executive producer Brian Bird said during a June 14 episode of Dr. Steve Greene's Greenelines podcast that next season, viewers could look forward to "seeing how Elizabeth and Lucas launch into their official courtship."
McNally has said he hopes that in season 9, his character will get to spend more time with Elizabeth's son Jack (Gunnar and Lincoln Taylor). 
"I'm looking forward to the next season and working more with the Taylor twins and seeing Lucas in more of a father figure role," he told Entertainment Tonight after the season 8 finale aired. "I feel like we will see more of that and explore more of that."
When Calls the Heart Season 9 will air in 2022 on Hallmark Channel.
Check out Showbiz Cheat Sheet on Facebook!