'When Hope Calls': Where Is the 'When Calls the Heart' Spinoff Filmed?
It's time to go back to Brookfield. When Hope Calls Season 2 premieres Dec. 18 with a special, two-part Christmas episode on GAC Family. The return of the When Calls the Heart spinoff — which premiered in 2019 on Hallmark Movies Now — will surely have some fans wondering where the show is filmed and if Brookfield is a real place
'When Hope Calls' is set in a fictional town 
When Hope Calls is set in Canada in the early 20th century. The show's action takes place in a fictional town called Brookfield. It was founded as a mining town, but eventually, the gold dried up. The current residents have worked to keep their community alive and make sure it doesn't turn into a ghost town. 
Brookfield is home to an orphanage run by sisters Lillian (Morgan Kohan) and Grace (Jocelyn Hudon). In the Christmas special, Brookfield is in the running for the title of No. 1 Country Christmas Town, awarded by Harper's Bazaar. 
'When Hope Calls' Season 2 was filmed in Canada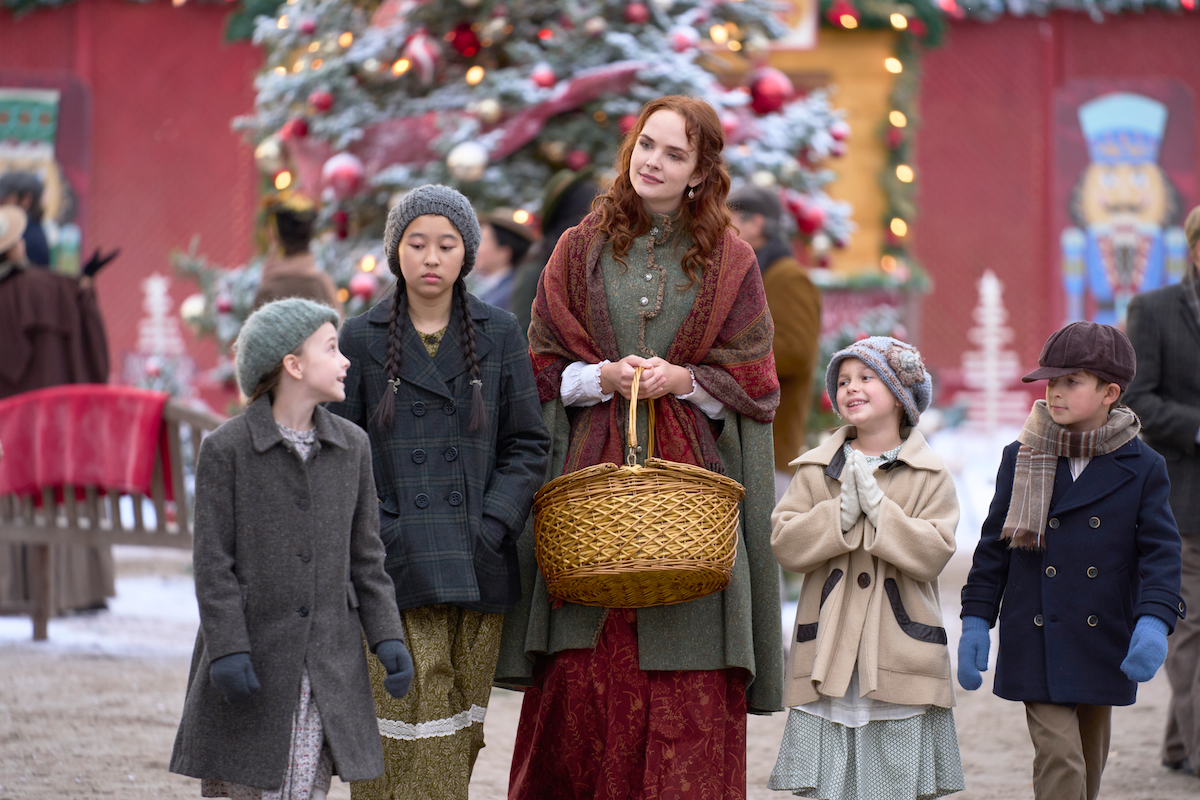 On TV, the town of Brookfield isn't that far from Hope Valley, where When Calls the Heart takes place. But the two shows are actually filmed in two very different parts of Canada. 
Production on When Calls the Heart happens at the Jamestown Movie Set in Langley, British Columbia, about an hour south of Vancouver. When Hope Calls is filmed in Powassan, Ont., about 3½ hours north of Toronto. 
"We are sitting out in a beautiful field in North Bay, [Ont.], but they created the whole town, constructed it in I believe it was 11 weeks," Kohan explained in a behind-the-scenes video for Hallmark ahead of the show's season 1 premiere in 2019 (via YouTube). 
"These sets have been created for our show," Hudon said. 
For season 1, there were three main sets: the orphanage, the town of Brookfield, and the Stewart ranch. 
'When Hope Calls' star RJ Hatanaka said the set helped 'build the universe' of the show
RJ Hatanaka, who will return as Mountie Gabriel Winslow in When Hope Calls Season 2, said that the set helped him get into the zone as an actor. 
"It was unbelievable," he said. "You're immediately transported into this early 1900s town [with] functional stores you can go in and just take a walk around. So it really just helps as an actor to build the universe for yourself." 
The themes of town and community will run through the upcoming season of When Hope Calls, Kohan said in a preview special that aired on GAC Family on Dec. 11. 
"One of the themes that plays throughout all of the episodes that we've done previously, and these, is the sense of community," she said. "And how important it is for a person and a town to thrive." 
When Hope Calls Season 2 premieres Saturday, Dec. 18 at 8 p.m. ET on GAC Family. 
Check out Showbiz Cheat Sheet on Facebook!