Where Is the 'Golden Girls' Cast Now?
No other TV show with an older cast is as loved as The Golden Girls. When NBC debuted the series in 1985, a bias against older demographics was already in the ratings system. Nevertheless, how could network executives say no to a sitcom starring Betty White, Bea Arthur, Rue McClanahan, and Estelle Getty?
Today, young people still fall in love with The Golden Girls through reruns. So, what happened to the stars after the show ended? Where is the Golden Girls cast now?
What happened to Estelle Getty after 'The Golden Girls' ended?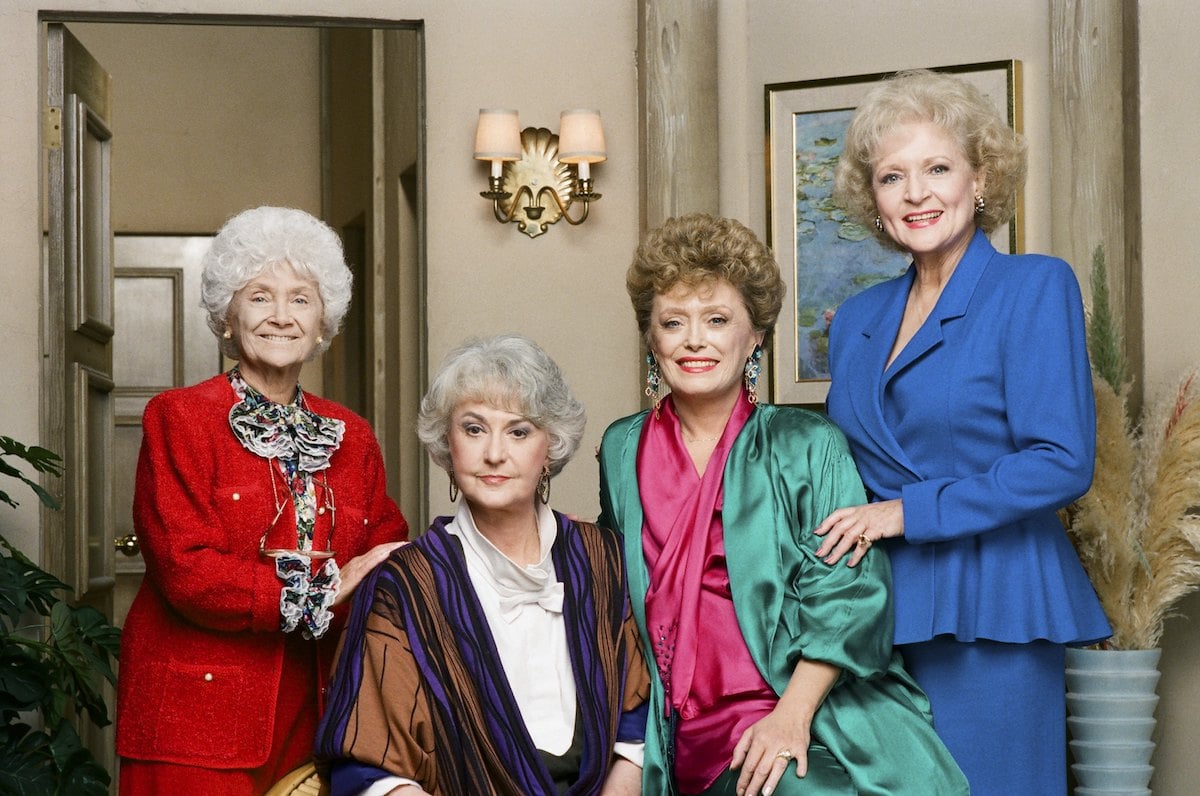 Estelle Getty wasn't as well known as her co-stars when The Golden Girls began. But as the spunky Sophia Petrillo, the oldest Golden Girl, Getty quickly became a favorite while fooling everyone into thinking she was older than her years.
Not many people remember the 1992 Golden Girls spinoff The Golden Palace. The TV show follows Rose, Blanche, and Sophia as they move into a Miami hotel they bought as an investment. However, it turns out all but two of the hotel's staffers are gone, leaving the women to figure out how to make their investment profitable.
After The Golden Palace ended in 1993, Estelle Getty was the only Golden Girls cast member to continue her role from the show. Those who remember the NBC series Empty Nest might remember when the show used Getty's Sophia Petrillo as a recurring supporting character. She moved back into her retirement home that had burned during The Golden Girls years.
That means Sophia endured on TV for a decade from 1985 to 1995 across three series. Getty remained active for a while afterward, acting in a few movies and TV projects.
She retired in 2000 following a Lewy body dementia diagnosis. The disease led to Getty's death in 2008 at age 84.
What happened to Bea Arthur after 'The Golden Girls' ended?
The iconic Bea Arthur decided not to participate in The Golden Palace because her Golden Girls character, Dorothy Zbornak, had married and moved away. However, she appeared as Dorothy in a two-part episode. The Golden Palace wasn't nearly as popular as its predecessor, and NBC canceled it after only one season, according to IMDb.
As for Arthur, though she had become a TV legend, she decided to make only guest appearances on talk shows, variety shows, and sitcoms for the rest of her career. Her real love was the Broadway stage, where she had cut her teeth in showbiz before finding success with Norman Lear's Maude in the '70s. She found more success on Broadway during the 1990s and 2000s.
Her death in 2009 at the age of 86 marked the end of an era that saw Arthur conquer virtually every medium in the entertainment industry.
What happened to Rue McClanahan after 'The Golden Girls' ended?
Rue McClanahan was one of the great comedic character actors of her generation. Everyone knew her as a familiar face on dozens of sitcoms in the decades before she landed the role as Blanche Devereaux.
We all guffawed when the writers of The Golden Girls made Blanche a dirty 60-something woman. Well, the entire cast had elements of that, which made the show so hilarious and real.
McClanahan's movie, TV, and stage credits are as voluminous as Arthur's, including awards in all three mediums. After becoming legendary for her Golden Girls character, she continued working through the 1990s and 2000s, up to a year before her death.
In the late 2000s, McClanahan experienced a series of health setbacks, including breast cancer and a stroke. Still, her 2010 death from a cerebral hemorrhage was sudden, making the 76-year-old the third Golden Girl to die in three years.
What happened to Betty White after 'The Golden Girls' ended?
Betty White is arguably the most beloved comedic celebrity of all time. Her accomplishments before and after The Golden Girls are beyond measure, though we consider Hot in Cleveland a highlight showcasing her comedic abilities into her 90s.
Even in her late 90s, White still enjoyed working, including a voice cameo in Toy Story 4 as "Bitey White." Everyone was rooting for the animal activist to make it to 100 to celebrate one of the most enduring Hollywood entertainers. But that wasn't to be.
Betty White died at the age of 99 on December 31, 2021, only a couple of weeks shy of her centennial.
About the Golden Girls' ages
And guess who was the oldest Golden Girl? Yep, it was White, who outlived her younger co-stars. She was born on Jan. 17, 1922. Arthur came along on May 13, 1922; Getty followed on July 23, 1923; and McClanahan was born over a decade later, on Feb. 21, 1932. To recap, the Golden Girls' cast ages at the time of their deaths were 84 (Getty), 86 (Arthur), 76 (McClanahan), and 99 (White).
As for their characters, the Golden Girls' ages were in the early to mid-50s, except for Sophia. Dorothy's mother was 79 years old when the show began.
RELATED: Betty White Once Lost 3 Pets in 2 Months: 'I Was Absolutely Devastated'