Which BTS Members Have Girlfriends, and Who Are They Dating?
BTS is one of the world's hottest boy bands. With tens of millions of followers on social media and numerous record-breaking songs, the K-pop group has enthralled fans since debuting in 2013. The bandmates have admirers everywhere they go, so a common question is: Do the BTS members have girlfriends? Plus, why did the group's record label intervene when Jungkook girlfriend rumors swirled?
Nobody could have predicted BTS' runaway success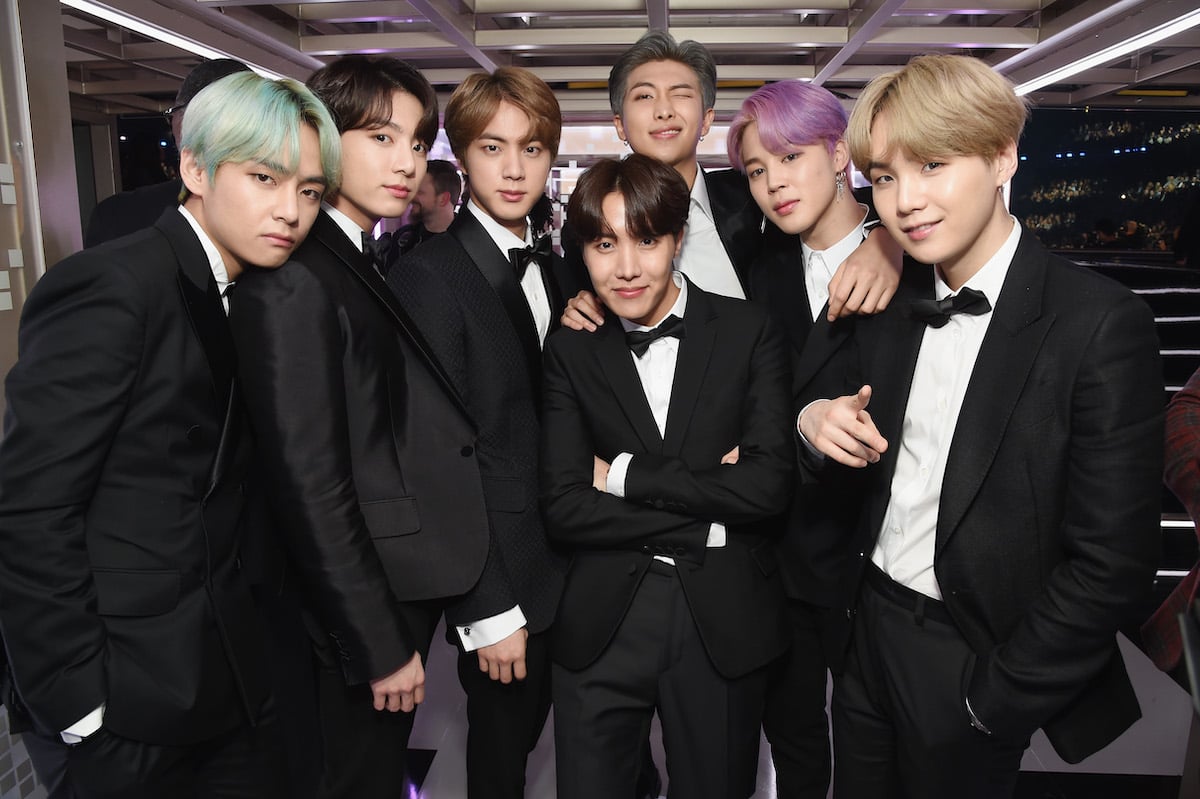 BTS, a seven-member boy band from South Korea, includes RM, Jin, Suga, J-Hope, Jimin, V, and Jungkook. They're all in their 20s and accomplished singers, dancers, rappers, and TV personalities. V and Jimin are also actors.
Though they're stars today, the bandmates' story is an impressive rags-to-riches tale. BTS debuted in its home country in June 2013. At the time, nobody saw the band's success coming. Unlike South Korean pop groups signed to major labels, BTS came from Big Hit Entertainment, a company with little money and influence. Thus, BTS' future was rather uncertain, and it was hard to tell if the band would succeed.
Nevertheless, BTS beat the odds and rose to the top thanks to its social media presence, The Guardian reported. Instead of relying on traditional marketing methods, the group connected with fans online via posts and videos. It also helped that BTS made catchy songs about social issues and youth problems. It allowed the group's young listeners to feel closer to the members, according to SBS.
BTS' international success came around 2015 when the band charted for the first time on the Billboard 200. However, it wasn't until 2017, when they performed at the Billboard Music Awards, that their fame exploded worldwide. Since then, they have appeared numerous times on American TV, charted at number one in several countries, and sold-out tours all over the world.
The BTS members actually went from living in one cramped apartment to sharing a $6 million complex in an exclusive area of Seoul. It's a testament to how far they've come.
Do the BTS members have girlfriends?
There's no shortage of fans who would gladly date the BTS members. But they don't appear to be involved in any romantic relationships.
Some of the older members (namely, RM, Suga, and J-Hope) have revealed they had girlfriends when they were younger, Koreaboo reported. But since they debuted as a group in 2013, none of the BTS members has publicly dated.
However, that hasn't stopped romance rumors, especially those involving the group's youngest member and main vocalist, Jungkook. For instance, fans previously speculated Jungkook's girlfriend was one of several members of K-pop girl groups. They included Yein from Lovelyz and Chaeyeon from DIA, Popsugar reported. Most recently, fans wondered if Jungkook's girlfriend was Lisa of Blackpink.
In addition, rumors swirled that Jungkook's girlfriend could be a tattoo artist at a parlor he visited. The situation escalated to the point that BTS' record label issued a statement: 
"During his visit to Geojedo, he realized his circle of tattooist acquaintances was also visiting there, so he hung out with them," Big Hit Entertainment said. "We are sorry that his private life during his extended break had to be distorted like this."
Why aren't the BTS members dating anyone?
One reason the BTS members aren't dating anyone could be they're too busy making music and performing. However, they also must protect their careers. In the South Korean pop music industry, a well-accepted practice is that members of K-pop groups do not date publicly. 
There are some exceptions, but for most K-pop artists, especially those with young fans, even an unfounded dating rumor can have negative impacts. Therefore, many entertainment companies advise their talents to steer clear of doing anything that could be interpreted as their having romantic relationships.
So, Korean media outlets typically don't ask K-pop stars about their dating life because the default answer will almost always be that there is none. However, many American interviewers are unaware of the cultural difference and bring up the BTS girlfriend question. The guys often find creative ways to respond without revealing their real relationship statuses.
For example, on the 2017 American Music Awards red carpet, an Entertainment Tonight correspondent asked the BTS members about girlfriends. "You guys are all together, but you didn't bring your girlfriends. Do you need a girlfriend? Are you looking?"
RM replied, "No, we got ARMYs [our fans]. We got, like, thousands of girlfriends in here, so we don't need to worry."