Who is Joe Flacco's Wife, Dana Grady?
Joe Flacco is currently the quarterback for the Denver Broncos. He was traded to the Mile High City in 2019 after spending 10 years as the signal caller for the Baltimore Ravens. Since coming into the NFL Flacco has spoken about his life off the field and shared pictures of his children via social media but fans don't know much about the woman he's married to.
Here's more on Flacco's wife, Dana Grady, and how many kids they have together. Plus, which famous talk show host embarrassed the quarterback when she pointed out a big difference between the couple.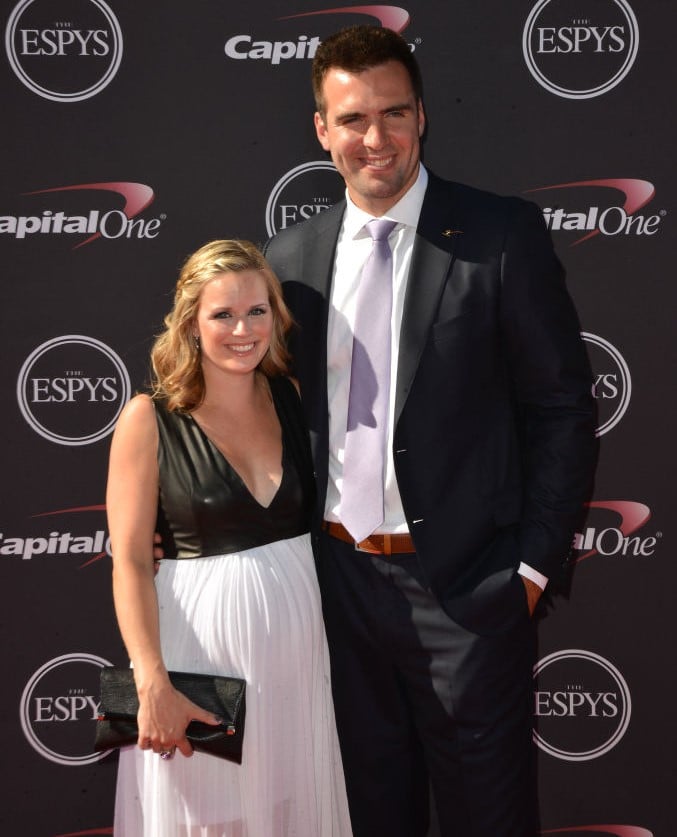 Flacco and Grady were high school sweethearts
Flacco and Grady were both born in 1985 and grew up in the same town of Audubon, New Jersey. They were high school sweethearts as they started dating each other in their senior year at Audubon High School.
After dating for years the pair got engaged and tied the knot on June 25, 2011. The day of their wedding they returned to the football field at Audubon High where Flacco played when he was a teen and this time he waited for his bride to snap him the ball.
Jason Prezant, who photographed the couple's wedding, revealed the different locations where the pictures were shot that day.
The day started in the home where Dana was raised. We then headed to the ceremony which was held at the Holy Savior Church. Afterwords, we visited their high school, and the field the Joe played ball on years ago. We stopped by the movie theater for a few shots, and then moved on to the reception which was at the lovely Hyatt Penn's Landing in Philadelphia.
How many kids they have together and the birth Flacco missed
Today, Flacco and Grady have five children together.
Their first child, Stephen, was born in June 2012 just a few months after Flacco won and was named Super Bowl XLVII MVP.
Their second son, Daniel, was born in September 2013. Daniel arrived an hour before his dad played in the Ravens home opener. While the quarterback missed his birth, he rushed to the hospital immediately after the game to be with Grady and their newborn.
The couple welcomed their third son, Francis, in January 2015.
The following year, Grady gave birth to their only daughter who they named Evelyn. 
"It was definitely different," Flacco said after Evelyn's birth. "Seeing a girl come out after three boys was a bit of a shock. Everybody is beyond overjoyed, beyond pumped."
On April 6, 2018, Grady and Flacco had their fifth child and fourth son, Thomas.
Kelly Ripa comments on the couple's major difference
After Flacco won the Super Bowl with the Ravens, he made the rounds doing several press interviews but things got a little awkward for him during a conversation with Kelly Ripa.
The daytime show host asked Flacco how tall he was and he told her he was 6 foot 6. Ripa then pointed out that Grady was much shorter and Flacco informed her that she was 5 feet.
"Wow, that's gotta be a fun party!" Ripa exclaimed.
The audience burst out into laughter but Flacco turned beat red. Ripa wasn't quite done though and said, "Get it, Joe!"
That's when Ripa's co-host at the time, Michael Strahan, chimed in and got the interview back on course. While Flacco was caught off guard most thought Ripa's remarks made for an entertaining chat.
Read more: Who is Patrick Mahomes' Girlfriend, Brittany Matthews?