'Whose Line Is It Anyway?': Which Original Cast Member is Worth the Most?
The improv comedy show, Whose Line is it Anyway? first came to American TV in 1998. Adapted from the British version, the show was hosted by Drew Carey, who was already riding high on his own comedy show, The Drew Carey Show.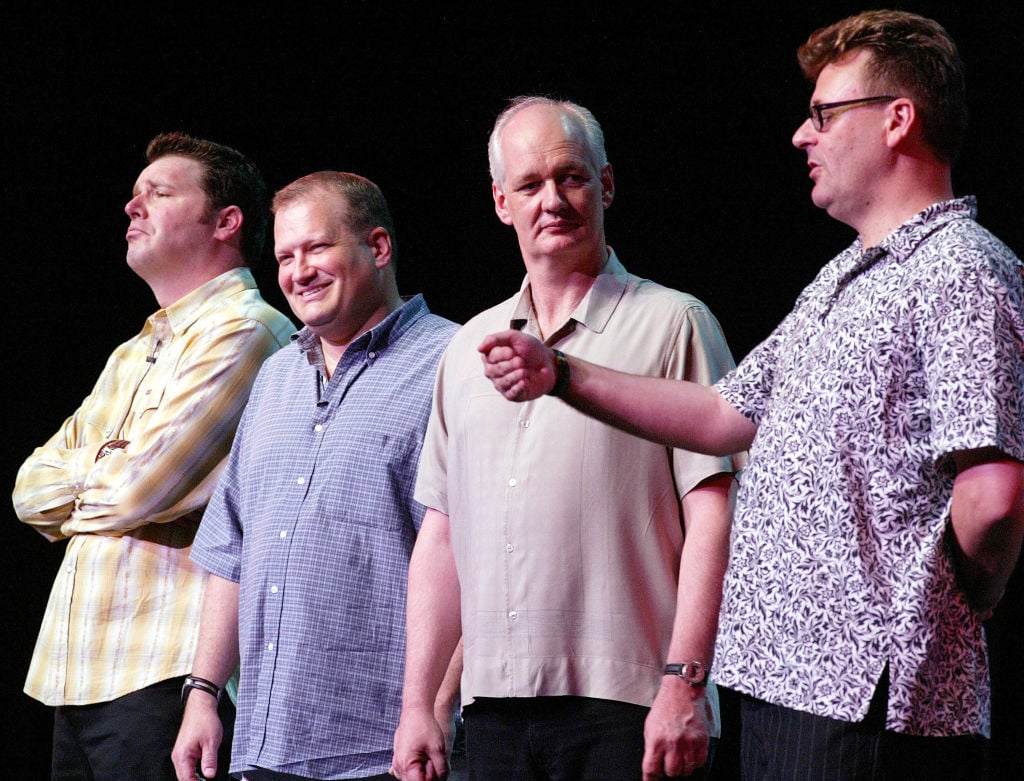 Every week, Whose Line featured four prominent comedians, Ryan Stiles, Colin Mochrie, Wayne Brady, and a guest. The group would develop skits from various material given by Carey through a random draw. The group was accompanied on the piano by Lauren Hall.
The show was an obvious hit lasting for more than nine years on ABC. It made household names out of the stars, who have been involved in a variety of work since, including a revival of the show hosted by Aisha Tyler on the CW since 2013.
So just what are these stars worth? Let's take a look.
Lauren Hall
Hall is a pianist, keyboardist, and guitarist who rose to fame with the show. Besides her main gig as a musician, she also composes, is credited with being an actress, producer, and writer.
Hall is best known for her musical talents accompanying improv, and appeared in the film Christmas with the Kranks, and subsequently on some TV episodes of the following show. She is a member of the band The Sweet Potatoes and has her own website. Her net worth is estimated to be $500,000.
Colin Mochrie
Mochrie first became recognized on the British version of Whose Line for seven years, prior to the American version hitting the screen. Scottish-born, the 62-year-old grew up in Canada and began his career in the Vancouver TheatreSports League before touring with the Second City Improv Company.
Mochrie has been seen in other TV shows, films, and commercials since Whose Line first aired, and currently appears in the revival of the show. His net worth is estimated to be $1 million.
Ryan Styles
Born in Seattle to Canadian parents, Styles started doing stand-up comedy right out of high school. Like Mochrie, Stiles appeared in the British version of Whose Line, returning the US when it went off the air and joining the American cast. He also had a recurring role on The Drew Carey Show.
Two and a Half Men fans know Stiles as Dr. Herb Melnick, who started dating and married Alan Harper's (Jon Cryer) ex-wife, Judith (Marin Hinkle). He has also appeared in guest roles on many other comedy shows and joined the cast on the latest version of Whose Line. His net worth is estimated to be $8 million.
Wayne Brady
Undoubtedly, it is Wayne Brady who has ventured out the furthest from his Whose Line roots. The Georgia-born, 47-year-old starting acting in high school. Prior to comedy, his first professional stage appearance was in Raisin in the Sun, followed by many other stage performances.
Upon moving to LA, he was able to land guest TV roles and on-stage appearances prior to becoming a regular on Whose Line. He first appeared in the rotation of visiting-celebs to the show, but quickly gained a permanent seat. He wrote and produced The Wayne Brady Show in the early 2000s in which he also starred.
Brady hosted Don't Forget the Lyrics for three years and became host of Let's Make a Deal in 2009 which he continues today. He was nominated for an Emmy in Outstanding Individual Performance in a Variety or Musical Program for Whose Line three times, earning a win in 2003. He also has won four Daytime Emmys through a multitude of nominations and was nominated for a Grammy in 2009. Most recently, Brady won The Masked Singer, Season 2, out of 16 celebrities. His net worth is estimated to be $10 million.
Whose Line Guest Stars
Rather than a different guest star every week or so, Whose Line had recurring guest stars appear on the show. It brought televised attention to several comedians and actors, who prior had appeared mostly on the live stage.
Brad Sherwood was picked up along with Mochrie and Stiles from the British Whose Line. Sherwood often appears with Mochrie in live performances, and the two were chosen to perform at the 2007 Congressional Radio and Television Correspondents' Association Dinner. Sherwood's net worth is $1.5 million.
Also coming in from the British Whose Line, Greg Proops, who was known for his improv work on stage. He is a guest performer on the current show and can be heard on his podcast, Smartest Man in the World. Proops' net worth is $4 million
It would be remiss not to include Chip (Charles) Esten, who following his work on Whose Line starred as Deacon Claybourne on the show, Nashville. Esten enjoys a net worth of $4 million.
What about Drew Carey?
Well, Carey himself could fill a whole latitude of stories. Suffice to say that Carey started his standup comedy career in the mid-1980s. In the mid-90s, Carey's TV career started to take off and through the past two-and-a-half decades, the former US Marine has amassed $165 million. Currently, Carey enjoys a healthy salary of $12.5 million as the host on The Price is Right.