Why Christian Bale Fell Asleep on the Set of 'Batman Begins'
Christian Bale is an Oscar-winning A-list star nowadays. But it took him a while to get there. The actor's career kicked off quietly with a forgotten fantasy movie. However, that same year, he landed his first lead role in Steven Spielberg's Empire of the Sun. Even so, Bale didn't become a legitimate household name until 2005's Batman Begins nearly 20 years later. Despite the iconic role, the actor admits to falling asleep on the job.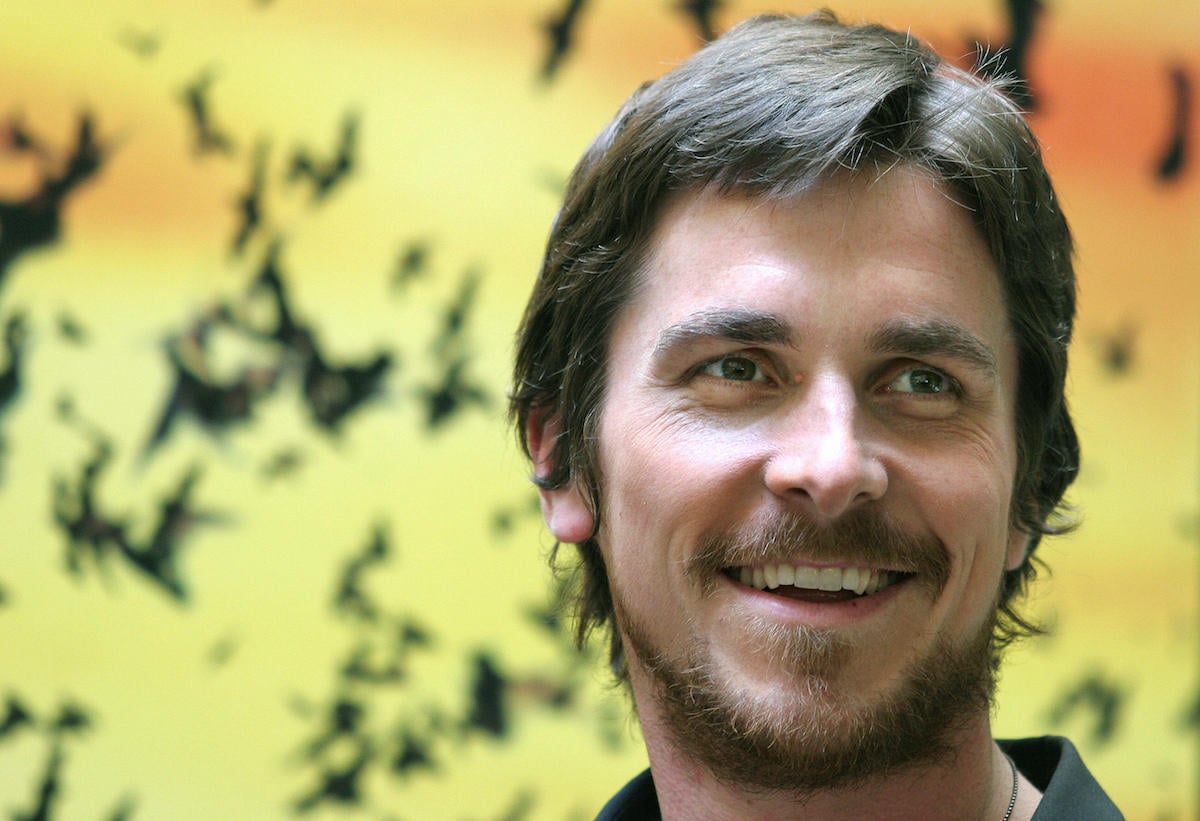 'The Dark Knight' trilogy reinvented the character of Batman
Bale isn't typically a sequel guy. With a few exceptions, Christopher Nolan's The Dark Knight trilogy is his only real foray into franchise filmmaking. Certainly, the prospect of working with Nolan — whom he also worked with on The Prestige a year after Batman Begins — was a big draw for the actor. After all, he's admitted to not being a fan of the previous Batman movies and even called the Caped Crusader "the most boring character."
Of course, Batman Begins presented a very different vision for the DC Comics superhero. Coming eight years after Batman & Robin leaned — according to many fans and critics — too far into campiness, Nolan and Bale relegitimized Batman. The Dark Knight turned out to be an even bigger commercial and critical hit than its predecessor. And The Dark Knight Rises topped even that with a worldwide box office of more than $1 billion.
RELATED: Christian Bale Once Explained Why He's Drawn to Movies That Are 'a Bit Dodgy'
His previous role made Christian Bale fell asleep on set during 'Batman Begins'
Despite the pressure of taking on such a beloved hero, Bale found himself nodding off on the set of Batman Begins. But it wasn't because he didn't take the project seriously. Rather, as he told GQ in 2009, his previous movie role — 2004's The Machinist — left a profound effect on him. Bale lost more than 60 pounds for the role of an insomniac factory worker, which led to a skeletal appearance on screen.
-https://www.cheatsheet.com/entertainment/christian-bale-movies-dodgy.html/
I guess you just sort of have to focus on other…pleasures than food. So you focus on things of the mind. It really is almost mind control. And I found that very calming.
"Usually, you're getting nervous energy from what you're taking into your body. Since I wasn't putting anything in, I was left in a low-energy state. … Physically, I was incredibly relaxed—I really didn't have a choice—but mentally very acute. It was very nice to be in that state while it lasted. … The Machinist changed me. I learned that I really enjoy, literally, not saying a damned word for days at a time, except for what was in the scene. … The purity of that, the satisfaction. Now I fall asleep on sets all the time. I've done it in the middle of scenes where they've had to shake me because I've missed my cues."
Batman Begins, according to Bale, is one such example. In one scene, Bale's Bruce Wayne awakens after being drugged by Scarecrow (Cillian Murphy) to find Alfred (Michael Caine) and Lucius (Morgan Freeman) in his bedroom. But Bale didn't hear Nolan call "action" and instead awoke to Caine "poking [him] in the ribs." No word on whether Bale fell asleep at any other point during the filming of Nolan's Batman trilogy.
RELATED: Christian Bale Once Starred as Jesus of Nazareth Opposite a 'Star Wars' Actor: 'I Had Nightmares the Whole Time'
Who is Christian Bale playing in 'Thor: Love and Thunder'?
Perhaps Bale's Batman Begins nap in particular was spurred on by the wild effects of so dramatically changing his body for The Machinist. So many years later, it's unclear if he still channels what he calls the "uncluttered" state he tapped into during that era of his career. In any case, he's about to return to the world of superhero films.
Bale will play Gorr the God Butcher in Marvel Studios' Thor: Love and Thunder. His first superhero film since playing Batman, the Taika Waititi-directed adventure sees Bale play a villain this time around. He'll appear opposite returning stars Chris Hemsworth, Natalie Portman, and Tessa Thompson. Thor: Love and Thunder hits theaters on May 6, 2022.