Why Did Kat Von D Step Back from the Spotlight?
Kat Von D is a somewhat controversial figure within the beauty community. She made her mark on pop culture in the early 2000s with the TV show LA Ink and has remained in the spotlight due to her series of feuds, as well as her relationships with other celebrities, including Steve-O and Jesse James.
These days, Von D has taken a significant step back from the spotlight and is not nearly as active on social media as what she once was. There are several reasons for Von D's reduced visibility, including the fact that she recently started a family.
How did Kat Von D become famous?
Kat Von D was born in Mexico in 1982. At the age of four, Von D and her family moved to LA, which is where she spent the remainder of her childhood. Her signature style developed early, and she began getting tattooed when she was just a teenager.
By the time she became an adult, Von D had covered nearly her entire body in tattoos and scored a role on the reality series Miami Ink. After several seasons on the show, Von D got her own show, LA Ink. 
Von D soon began making headlines for other reasons as well, including for her controversial romance with Jesse James. He had notoriously cheated on his wife, Sandra Bullock, and his romance with Von D kept them both in the headlines for several years.
Following her breakup with James in 2011, Von D started dating  Deadmau5, the famed music producer. They got engaged in late 2012, but by early 2013, they had announced their split. Von D was connected to several other popular personalities around the same time, including comedian Steve-O.
Kat Von D recently became a mother
In addition to her reality show, Von D branched out to a series of other business ventures. She has published several books of her artwork and tattoos and has worked with some musical artists to release songs and collaborate on existing projects.
Most successfully of all, in 2008, Von D launched her makeup line. The brand became hugely popular and has expanded to include long-wearing lipsticks, liquid eyeliners, eyeshadow, foundation, and concealers.
In late 2017, Von D started dating Rafael Reyes, from the band Prayers. The two got serious quickly and in early 2018, they tied the knot.
In November 2018, Von D gave birth to the couple's first child, a son they named Leafar. Since the birth of her son, Von D has taken a noticeable step back from social media as well as her businesses, posting that she wished to "focus on the baby and our amazing relationship transitioning into amazing parenthood."
Kat Von D sold her popular beauty brand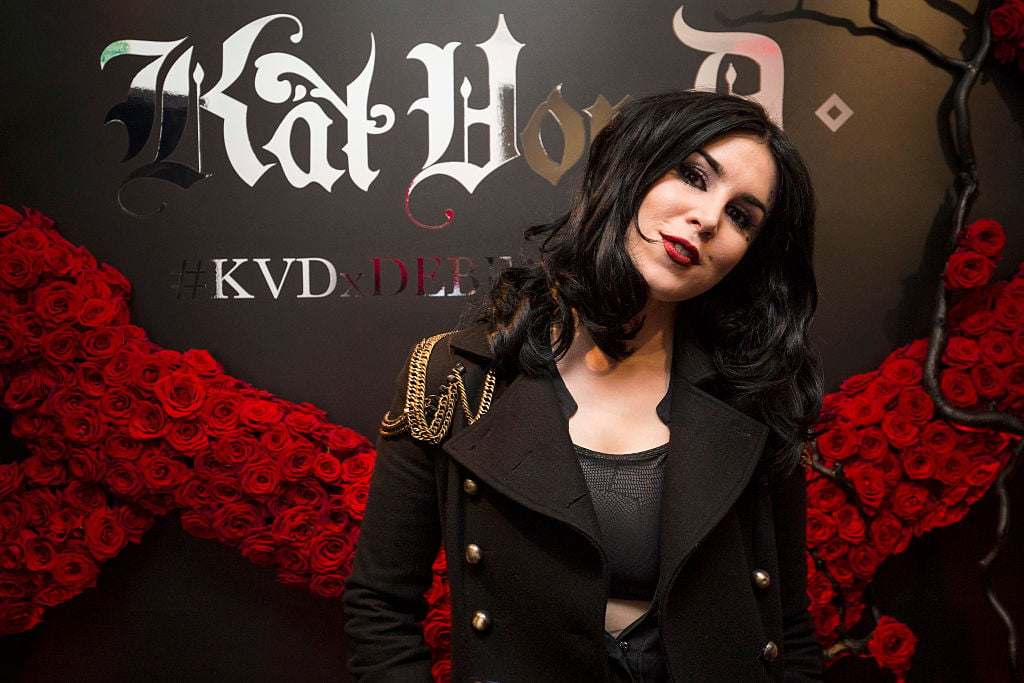 At the beginning of 2020, Von D released a statement, announcing that she had sold her popular beauty brand to Kendo. While she promised her fans that the quality wouldn't change, many were upset by the announcement.
Still, Von D claimed that she wanted to focus her energy on other projects, including on her budding music career. It also seems clear that Von D has found a new purpose in life after welcoming her son, and the photos that she shares on her social media pages have gone from stylized images to more candid shots of her family.
Von D has also been working on a vegan shoe line and has been very outspoken about her love for a vegan lifestyle. Ultimately, it seems as though there are many reasons why Von D no longer wants to be as present in celebrity culture as what she once was. For her fans, it might be disappointing, but it is clearly working for the tattooed star.