Why Did Oscar-Nominated 'Joker' Star Joaquin Phoenix Get Arrested?
Nowadays, controversy seems like it's literally everywhere. From our politics to our entertainment, everything feels heightened. And everyone naturally has his or her own opinion on how it all should go. So whenever politics and entertainment overlap, people tend to get uneasy.
Yet, some Hollywood stars — including Academy Award nominee Joaquin Phoenix — choose to risk their careers and reputations to stand up for a cause. In some cases, including that of Phoenix, such actions can even lead to trouble with the law. Here's why the Joker star was arrested recently.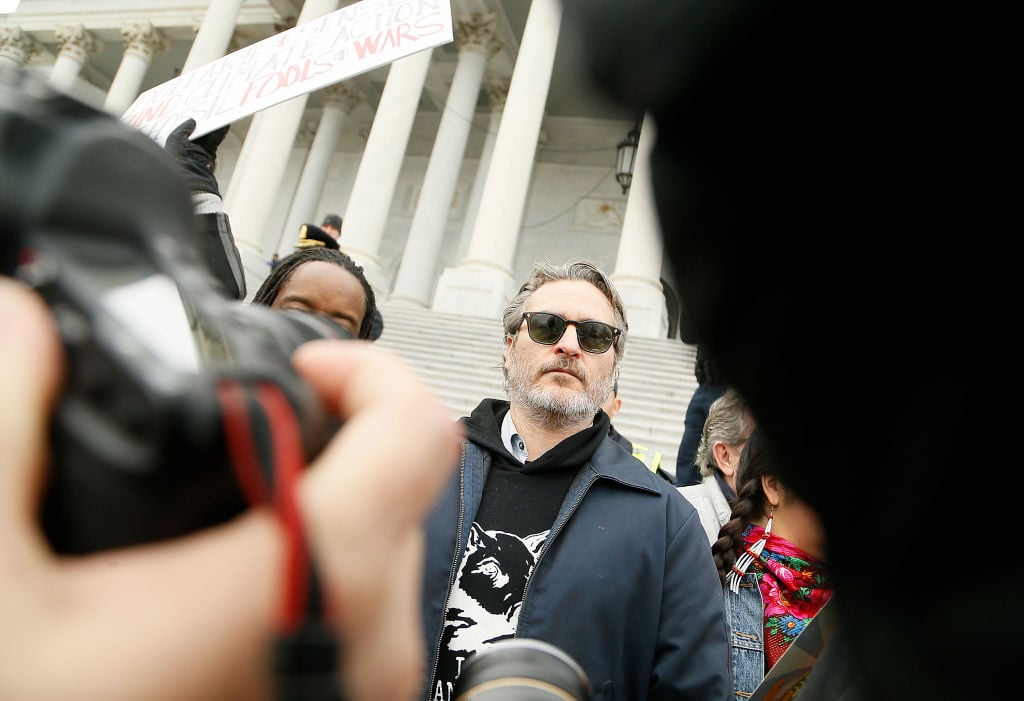 Joaquin Phoenix and the 'Joker' phenomenon
The past year has been a big one for Phoenix. The actor has delivered a string of beloved performances in recent years in films such as Her and You Were Never Really Here. But no one — neither Phoenix nor director Todd Phillips — expected the impact of Joker.
Made for a modest $55 million, the film was envisioned as the antithesis of the modern comic book movie. Whereas the genre leans toward over-the-top spectacle and world-building, Joker strips all that away. Instead, Phillips and Phoenix made a hyperviolent, R-rated character study. And audiences loved it.
Riding a wave of anticipation for Phoenix's performance and its distinctive tone, Joker earned $1.1 billion worldwide. Moreover, the film received a ton of love during awards season, including the Venice Film Festival's coveted Golden Lion. Now, remarkably, it's leading the 2020 Academy Awards with 11 nominations.
An actor with a history of activism
Although Phoenix might be on his way to an Oscar win, the actor's personal life has been less than spotless. His struggles with fame and substance abuse are well-known. And he reportedly suffers from intense anxiety during filming and especially at awards shows.
Yet, Phoenix has consistently lent his notoriety to a number of social causes he believes in. Among the actor's favorite charities are Amnesty International, The Art of Elysium, HEART, and the Peace Alliance. Most notably, however, Phoenix has become a staunch animal rights advocate.
The actor has famously followed a vegan diet for years and has campaigned for both In Defense of Animals and People for the Ethical Treatment of Animals (PETA). The latter charity even named Phoenix its "Person of the Year" in 2019 for his dedication to animal rights.
The Oscar-nominated actor got arrested
This very same passion for protecting animals is also what led to Phoenix's arrest. According to reports, authorities arrested Phoenix, Martin Sheen, and more than 140 others near the U.S. Capitol for "crowding, obstructing or incommoding." The arrests occurred at one of actress Jane Fonda's Fire Drill Fridays, her ongoing string of weekly climate protests.
During the event, Phoenix spoke out about how the meat and dairy industries impact climate change. In recent years, studies have found embracing such dietary restrictions might be the most effective way to combat climate change.
As for Phoenix's arrest, his is only the latest in a long string of such events. Over the last 14 weeks of Fonda's climate protests, actors like Ted Danson, Sally Field, Catherine Keener, Sam Waterston, and Rosanna Arquette have been arrested in similar circumstances. For social activists like Phoenix, it has become something of a rite of passage among Hollywood stars.