Why Disney's 'Hamilton' Movie Isn't What You Think It Is
Disney is bringing Tony-winning musical 'Hamilton' to theaters, but fans might have the wrong idea about what the movie actually is.
Pretty soon, audiences everywhere will get their shot to see Hamilton.
Whereas a movie or TV show can be easily accessible across the world, it takes a lot for a theater production to make a similar impact. After all, a very small percentage of consumers will be able to see a show's original run onstage. That comes later when touring companies begin to travel around the country or the world with the show.
So whenever a Broadway show reaches a mainstream audience, it's something of a miracle. But Hamilton didn't just become a hit. It was a cultural phenomenon. Even folks who normally have little to no interest in theater were scooping up copies of the best-selling original Broadway cast soundtrack.
Now creator/star Lin-Manuel Miranda is taking Hamilton to movie screens nationwide. However, the announced project isn't quite what fans are expecting.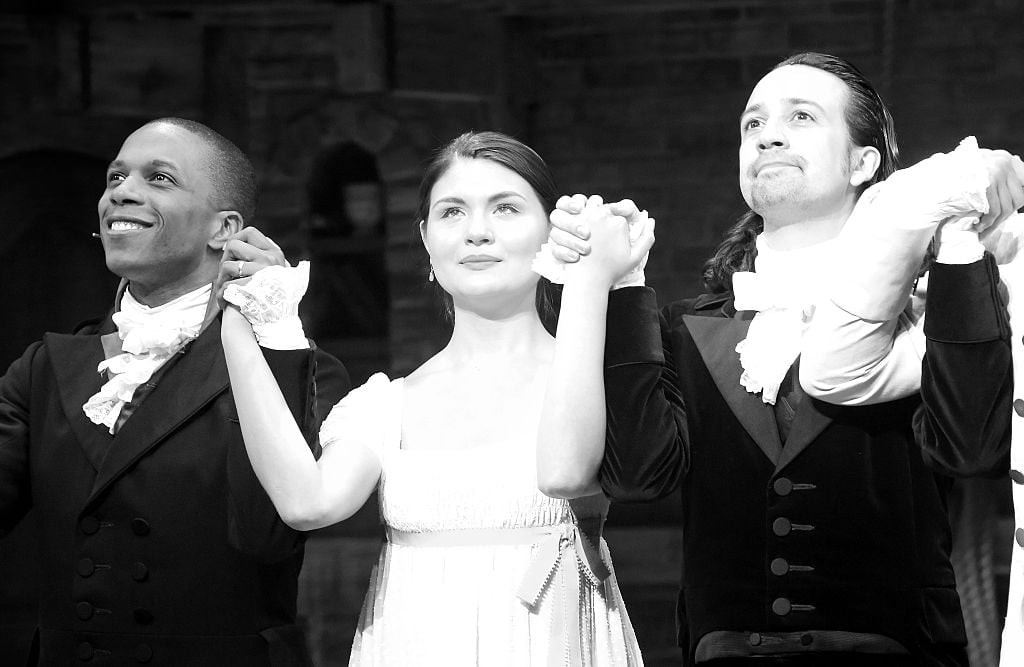 Fans have been waiting for a 'Hamilton' movie
Since Hamilton's Broadway debut, the show has remained a cultural force to be reckoned with. In 2016, it won 11 Tony Awards as well as the Pulitzer Prize for Drama. But many Hamilton fans have wondered when the stage production would be adapted for the big screen.
Miranda has gone on to work on a number of movies, including Moana, Mary Poppins Returns, and Star Wars: The Rise of Skywalker. So it seemed just a matter of time before some wise studio would sign him to a Hamilton movie deal. Alas, years passed without any word about Hamilton: The Movie.
Even Miranda's other massively successful, Tony-winning musical, In the Heights, is heading to theaters under director Jon M. Chu (Crazy Rich Asians). Certainly, Hamilton couldn't be far behind. Of course, Disney just announced plans for a theatrical Hamilton release. But we're willing to bet many fans are misreading the project's true nature.
The original Broadway cast is back but with a catch
Disney's Hamilton movie arrives in theaters on Oct. 15, 2021. And, yes, it will star Miranda, Daveed Diggs, Leslie Odom Jr., Phillipa Soo, and other members of the original Broadway cast. However, the film isn't an adaptation in the traditional sense. Unlike In the Heights, this Hamilton production is actually a filmed stage performance shot at the Richard Rodgers Theatre in New York before Miranda and his co-stars began to depart.
"I'm so proud of what [director] Tommy Kail has been able to capture in this filmed version of Hamilton — a live theatrical experience that feels just as immediate in your local movie theater," Miranda said in a statement. We're excited to partner with Disney to bring the original Broadway company of Hamilton to the largest audience possible."
While this probably isn't the Hamilton movie most fans might think it is, the project definitely makes sense from a business standpoint. After all, Miranda has established a strong working relationship with Disney over the past few years. The studio purchased the rights to the Hamilton film for $75 million and likely will continue leveraging the show's rabid fan base.
Does this Disney release set the stage for a proper film adaptation?
A "live theatrical experience" isn't what some Hamilton fans had in mind, even with the original cast involved. But Disney's upcoming Hamilton release doesn't preclude the studio from exploring other projects related to the show. In fact, a true film adaptation will probably happen at some point.
By the time it does, it likely won't feature Miranda or other members of the Broadway cast. Much like In the Heights, we suspect the inevitable Hamilton film adaptation will be less bound by the stage production. For now, fans who missed the opportunity to see the original Hamilton cast will get their long-awaited chance to do so.