Why Kelly Reilly Didn't Talk On the 'Yellowstone' Set Until Season 3
Kelly Reilly has portrayed the confident, fierce, and abrasive Beth Dutton on 'Yellowstone' for four seasons, but she admits she did not talk on set until season 3.
ARTICLE HIGHLIGHTS
Kelly Reilly began her acting career in the 1990s on the UK TV drama Prime Suspect.
Yellowstone creator Taylor Sheridan knew he found Beth Dutton when he saw Reilly's audition tape.
Reilly didn' talk on set for two whole seasons for a totally relatable reason.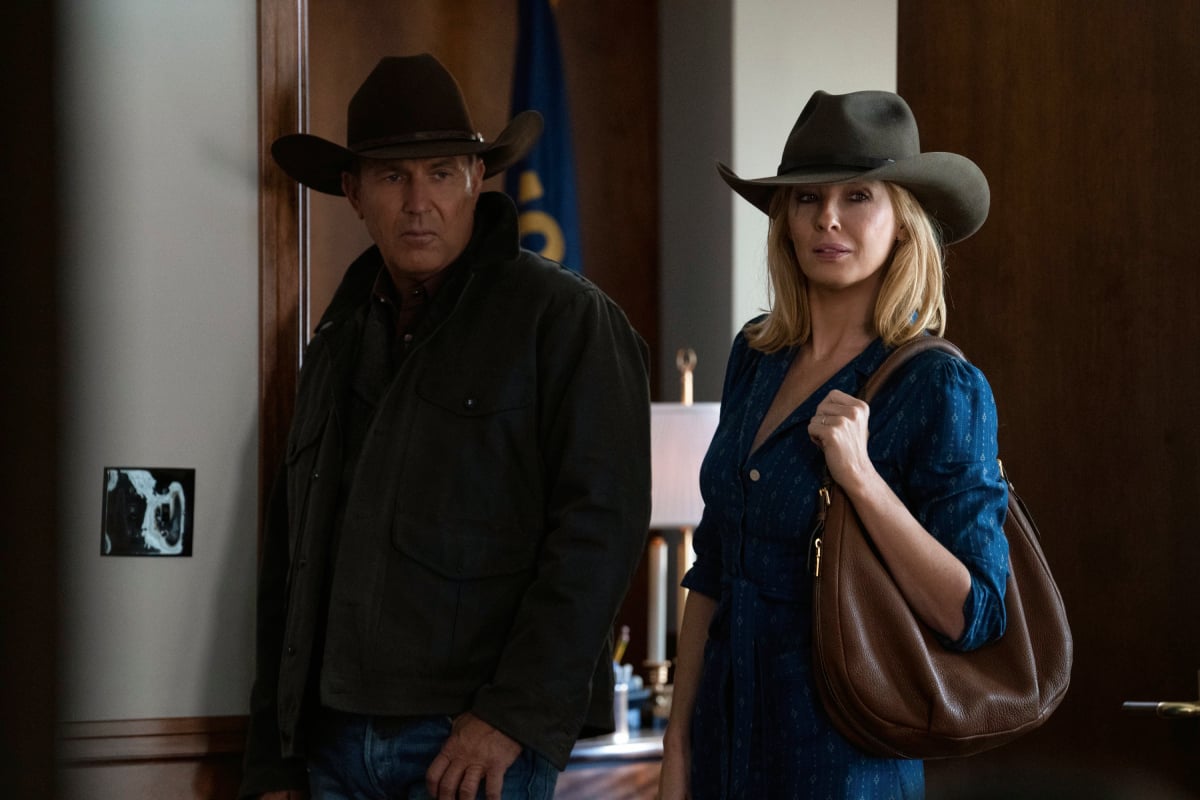 Kelly Reilly has captured the attention of American TV audiences as Beth Dutton on Yellowstone. For four seasons (so far), Reilly has portrayed the confident, fierce, abrasive Beth. A character that's taken being a bad*** to a whole new level, thanks to her no-nonsense attitude and biting one-liners.
But what Yellowstone fans might not know is that Reilly is absolutely nothing like her on-screen persona. In fact, it took her three seasons before she spoke a word on the Yellowstone set outside of her character.
Kelly Reilly is a British TV and film star
Yellowstone fans, you might want to sit down for this one. Reilly is a British actress, who was born and raised in Chessington, an area in the Royal Borough of Kingston up Thames within Greater London.
She began her acting career in the mid-1990s with a small role on the UK television drama Prime Suspect. This led to more work in TV and film, as well as the British stage. The first time American audiences saw her was in 2005's Pride & Prejudice, when she played Caroline Bingley.
The 'Yellowstone' star wasn't sure she could pull off being Beth Dutton
During a recent interview with Entertainment Tonight, Reilly opened up for the first time about landing the role of Beth Dutton. Creator Taylor Sheridan has said he knew he'd found his Beth the minute he saw Reilly's audition tape.
But Reilly revealed that it took her a while to really find the character. She described Beth as "stepping into a sports car." And she wasn't sure how to "go from naught to a hundred in three seconds."
"When I first met him [Sheridan], I hadn't found her [Beth] yet. So, I'm not sure what he saw. But I do remember having a moment where I thought 'I'm not sure I'm gonna be able to pull this off,'" Reilly said.
Kelly Reilly didn't talk on the 'Yellowstone' set for two whole seasons
The 44-year-old Brit says that once she got the "tremendously complicated" character of Beth Dutton, she got it. Since the bold, brave character was Sheridan's creation, Reilly says that all she ever wanted to do was show him that she could do it and make Beth real for him.
But when she got to the Yellowstone set for season 1, Reilly admits that she hid her true self from the cast and crew. She did this because she didn't want anyone to know how different she was from Beth. So, she stayed silent for two whole seasons.
"The first season when I first played Beth, I didn't want anyone to know that I wasn't American. I mean, people knew. But not everyone knew — the crew didn't know. And it's not that I stayed in an accent, I just didn't talk to anyone unless I was playing Beth," Reilly revealed.
She didn't want to 'break the illusion'
The Yellowstone star explained that she didn't really want anyone to know that she was so far removed from her character. So, she made the personal choice not to talk to anyone. Her reason for not showing up on set as herself was because "it sort of ruined the illusion."
"There was something about it for me. It wasn't about trying to convince everybody else. But for myself, I just needed to really become her," Reilly said. "It was only until season 3 that I started to hang out with everybody. You can ask them. They probably thought I wasn't very friendly. I just didn't want the illusion to break for myself."
'Yellowstone' fans are in awe of Kelly Reilly's performance
The in-depth interview with Reilly has given many fans their first opportunity to hear her real voice and to see her real personality — and they are in shock. In the comments, fans couldn't stop complimenting Reilly for how outstanding she is as Beth Dutton on Yellowstone.
"I had never seen her not as her character before. I now think she is even better because I can tell when she is 'Beth,' it's like her aura changes and she has a completely different look behind her eyes," one fan wrote. "When she turns on her Beth you just can tell she is always scheming and just thinking of a never-ending number of awesomely vicious and completely crass one-liners."
Another fan added, "She is outstanding in this role! How she got rid of her English accent is proof enough of her dedication to this role, not to mention the depths she has to go to in order to embody Beth's mental/emotional status…to witness that great acting ability is a remarkable thing to be a part of."
Yellowstone seasons 1 through 3 are available on Peacock. Season 4 is expected to be added to the platform in March 2022. Season 5 of the Paramount hit should premiere sometime in 2022.