Why the 'Hamilton' Stage Film Is Exactly What Fans Have Been Waiting For
Theater doesn't often spill into mainstream pop culture. But Hamilton was one of the few shows in recent memory to emerge, well, everywhere. The musical — which chronicles the life story of U.S. Founding Father Alexander Hamilton — quickly became one of the most popular stage productions ever. And the show's creator and star, Lin-Manuel Miranda, became a superstar.
Yet, aside from the touring productions of the show, the Hamilton fan base hasn't had a lot of new material to chew on. Despite murmurs about a film adaptation of Miranda's Tony-winning smash, nothing ever came together. Then, Disney made an announcement that shocked Hamilton fanatics the world over.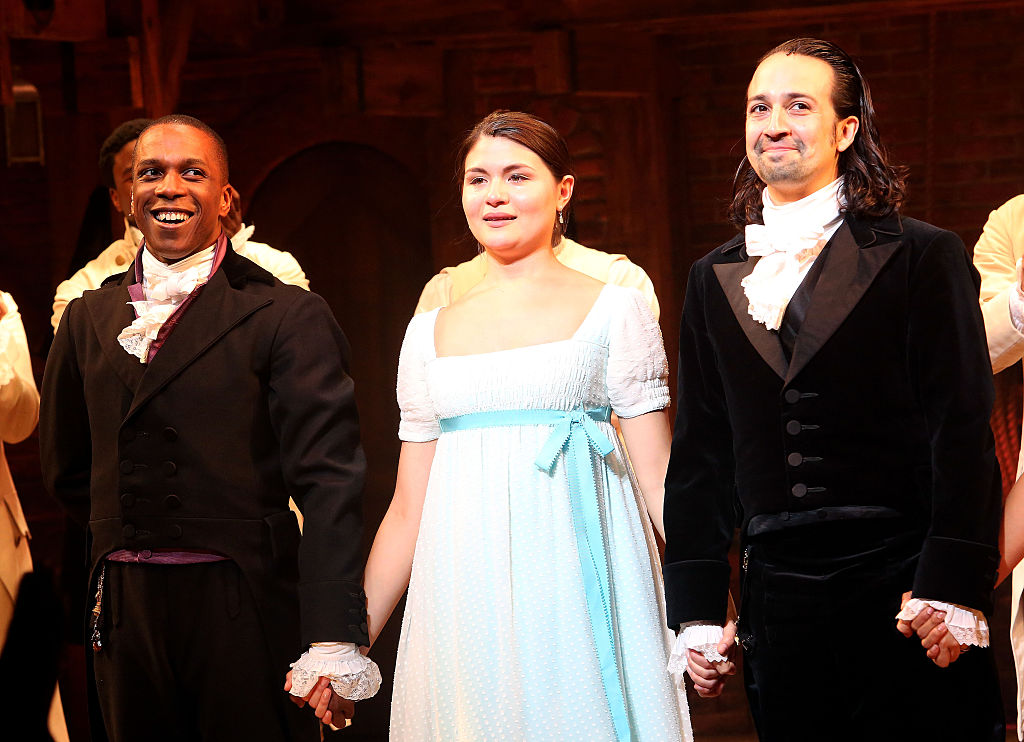 The reality of Disney's upcoming 'Hamilton' movie
After a fierce bidding war, Disney has secured the movie rights — for $75 million, no less — to release a Hamilton film. On October 15, 2021, moviegoers will be able to head to their local theater to see Hamilton on the big screen. Moreover, Miranda and the rest of the original Broadway cast will star in the production.
However, this isn't a film adaptation in the traditional sense. Instead, Disney's Hamilton is a stage performance filmed in 2016 at New York's Richard Rodgers Theatre. This kind of release isn't unheard of, of course. For example, Fathom Events regularly facilitates the theatrical release of stage productions. But Hamilton is on another level of notoriety.
Is this the 'Hamilton' release you've been waiting for?
Because of the overwhelming success of Hamilton, fans who hear about the Disney film might be quick to make assumptions. After all, the hype for a film adaptation has been boiling up for years. And the stage production is certainly ripe for one. But while this 2021 release isn't that, it arguably presents something even better for those who've stood by the show.
Releasing a Broadway musical as a filmed stage performance isn't the traditional route to bringing a show to movie theaters. But Hamilton isn't just any show. In fact, rarely in the past couple of decades have theatergoers kicked up such buzz. Tickets for the show on Broadway are still selling insanely well, and the show hit the road in a separate touring production.
Even though audiences everywhere now have the opportunity to see Hamilton, that initial Broadway cast has come and gone. Or at least it had until Disney's announcement. Miranda and company sparked a phenomenon, and this theatrical release gives all Hamilton fans an affordable way to experience the same magic captured on the cast album.
Now everyone has their shot to see the stage production
Much like Hamilton celebrates the bold spirit of democracy, the upcoming Disney release levels the playing field for fans who missed the chance to see the show's original cast live. Miranda himself acknowledges this was always the plan behind filming one of his last performances in the lead role.
"What I'm most excited about [is] you all have that friend that is like, 'I saw it with the original cast,'" he told Variety soon before Disney made the announcement. "We're stealing that brag from everyone because you're all going to see it with the original cast."
Hamilton's producers probably aren't quite ready to commit to a movie. And when it finally does come together, it likely won't star the cast that made Hamilton famous. For now, moviegoers hoping to see Miranda's work receive the big-screen treatment will soon have their chance.
Director Jon M. Chu's In the Heights — based on Miranda and Quiara Alegría Hudes' stage musical — hits theaters on June 26, 2020. Disney's Hamilton will square off against Halloween Ends, the supposed finale to the long-running horror franchise when it lands on Oct. 15, 2021.