'Wings': Why Marvel Actor Thomas Haden Church Left the NBC Sitcom
The dream team of David Angell, Peter Casey, and David Lee created mega hits Frasier and Cheers, continuing NBC's reign as the home of sitcom gold. The trio developed Wings in 1990, putting the spotlight on brothers Joe and Brian Hackett (Tim Daly and Steven Weber) as owners of a small Nantucket airline. Recruiting an ensemble cast that included Marvel actor Thomas Haden Church as the lovable yet simpleminded mechanic Lowell Mather, producers of Wings had a problem when Church wanted to exit the show earlier than his contract allowed.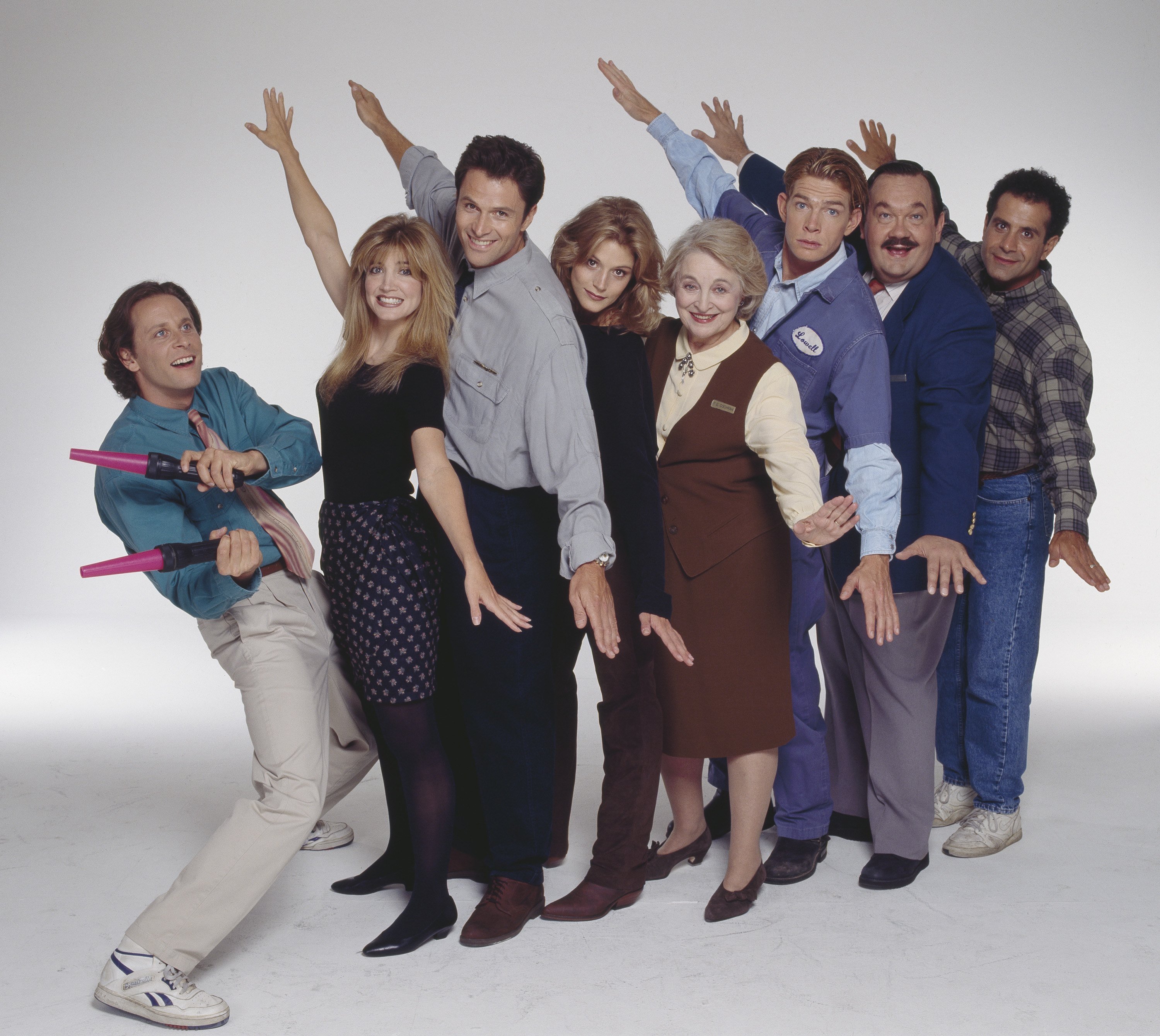 'Wings' was on NBC for 8 seasons
Premiering in 1990, Wings was a moderate hit for NBC and at one point even had a time slot in the network's coveted "Must See TV" lineup. In addition to Daly, Weber, and Church, the sitcom starred Crystal Bernard (Helen Chapel), Tony Shaloub (Antonio Scarpacci), Farrah Forke (Alex Lambert), David Schramm (Roy Biggins), and Rebecca Schull (Fay Cochran).
The cast had a solid chemistry with the main storyline often focusing on the Hackett brothers and Helen, who ends up marrying Joe in season 6. Wings aired its final episode in 1997 after eight seasons on the air. Weber reflected on the series in a 2016 interview, noting its NBC sitcom relatives.
"It was a far less observant show than either Cheers or Frasier," Weber told the AV Club in 2016. "It didn't necessarily take any risks with any current topics or sexuality. It was good, a fairly standard comedy but it was almost always well-written. … It turned out to be a springboard for a lot of writers. … Looking back now I realize it was at the tail-end of network drama experience. We all had great schedules, made good dough, had a lot of fun. And made a lot of good friendships."
Thomas Haden Church hoped for more of a meaty role on 'Wings'
Church was an aspiring actor when he joined the cast of Wings. Though he prompted plenty of laughs as the naive but affable Lowell, Church voiced his discontent with his character's lack of development after being sold on the show as an ensemble vehicle.
"I was frustrated for years on Wings," Church told SFGate in 1995. "Even in the very first season I had been told that it was going to be a real strong ensemble show, not unlike Cheers. And it quickly became apparent that they were going to concentrate on Tim, and Steve, and Crystal, and the rest of us were going to be tertiary characters."
According to the interview, Church attempted to leave the series before his contract was up but was "threatened with a mammoth lawsuit." He bided his time and exited in season 6, moving on to Fox Network's Ned & Stacey with Debra Messing.
"They never really saw the need or maybe the opportunity to expand the character beyond what he was, which was to come in, hit a big joke and then leave," Church remarked. "I mean, I just think the character had such a fecund kind of experience that they never really took advantage of. So after six seasons I thought it was a good time to move on without getting into the whole big contract area."
'Wings' alum received an Oscar nod
Church went on to hit the big screen in a big way. Starring in a plethora of films including George of the Jungle, Easy A, We Bought a Zoo, and All About Steve, the Wings alum earned an Academy Award nomination for his performance in the 2004 movie Sideways. Moving on to Marvel, Church landed the role of the Sandman in the 2007 blockbuster Spider-Man 3 and reprised the part (via technology) in Spider-Man: No Way Home. He also co-starred with Sarah Jessica Parker on the HBO series Divorce.
Lowell was written out of the show by being put in a witness protection program after witnessing a murder. Calling Wings "a great experience," and "one that I will forever cherish," Church viewed his former character with great affection and had hoped for a better plot with which to depart the sitcom.
"I described him once as a blue-collar altruist," Church said of Wings' Lowell Mather. "He was always such a truthful, innocent guy. … Unfortunately, they did not give the character the closure I think he deserved. I would have preferred to leave the series with some degree of dignity and explanation to the audience. But they had another agenda."
RELATED: Why 'Frasier' Was Once the Most Hated Character on Television