'Yellowstone': Even Forrie J. Smith Doesn't Know How Lloyd Got His Brand
Some of the cowboys and ranch hands on 'Yellowstone' bare a 'Y' brand – including old-timer Lloyd who is played by real-life cowboy Forrie J. Smith. While fans got to witness many of the ranch hands get their brands – by choice or force – no one seems to know when Lloyd got his brand. Including Smith himself.
ARTICLE HIGHLIGHTS
Some of the cowboys and ranch on Yellowstone have a brand from the Dutton Ranch.
This includes old-timer Lloyd, played by real-life cowboy Forrie J. Smith.
While Yellowstone fans have witnessed some of the cowboys being branded, no one seems to know when Lloyd got his — including Smith himself.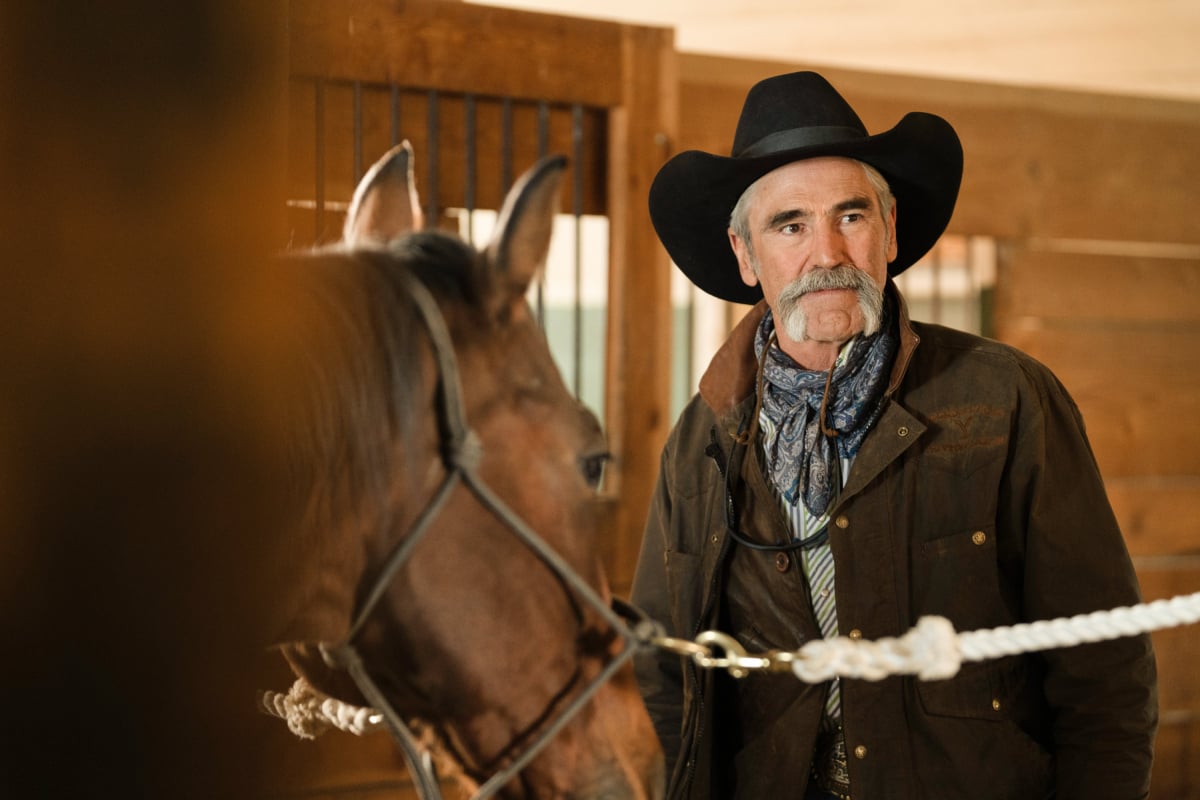 Yellowstone features a group of ranch hands who live in the bunkhouse and wear the Yellowstone brand. This includes old-timer Lloyd, played by real-life cowboy Forrie J. Smith.
During the first three seasons, viewers have witnessed how and why many of those ranch hands received their brand. But what about Lloyd? Smith says that even he doesn't know the story behind Lloyd's "Y."
Why do cowboys get branded on 'Yellowstone'?
On the Dutton ranch, the livestock have a brand of the Yellowstone logo — a hooked, rocking-Y — burned onto their skin. The mark signifies they are Dutton property. And it's how a rancher finds the animals when they get lost.
But the Yellowstone brand isn't just for livestock. The Dutton Ranch logo is also put on the chest of a dedicated wrangler. And the meaning is both physical and metaphorical. Not just anyone wears that Y — it's a tag of loyalty that must be earned.
To those who have it, bearing that brand is worth the pain they went through to get it. It's about belonging to something bigger than themselves, and getting a "second lease on life" as part of John Dutton's (Kevin Costner) ranch family.
Forrie J. Smith asks 'Yellowstone' fans how Lloyd got his brand
Smith took to Instagram during the break between Yellowstone seasons 3 and 4 and asked his 124K followers a question. In the post, he shared a Facebook-generated graphic that read, "Does anyone know what Lloyd did to get the brand?" In the caption, he added, "Who can answer this??"
Since Yellowstone proper has never answered this question, multiple fans shared their theories. One fan wrote that Lloyd got his brand when he "became the train station engineer/fireman/conductor." 
Did Lloyd work for John Dutton's father?
Some fans believe that Lloyd's been on the Yellowstone Ranch since before John Dutton took over. One shared their theory that Lloyd was someone that John's father picked up from prison, just like Rip (Cole Hauser) got Walker (Ryan Bingham). Another fan agreed, adding "you have to get the brand if you come to the ranch from prison."
But, not every branded ranch hand comes from prison. As fans saw in season 3, neither Ryan (Ian Bohen), Colby (Denim Richards), or Teeter (Jen Landon) came from prison, and they all received the brand. John's son Kayce (Luke Grimes) also earned the brand without doing time, as did Rip Wheeler.
The 'Yellowstone' brand is for keeping secrets
The specific reasons why each ranch hand receives their brand do vary. But, there is one common thread among all branded men and women — it's a mark of trust, loyalty, and keeping secrets.
Fans witnessed Ryan, Colby, and Teeter all get their brands after they were accomplices to murder.
Will 'Yellowstone' season 4 tell the story of Lloyd's branding?
Lloyd is a popular Yellowstone character who has been woefully underused during the first three seasons. Hopefully, he will get more screen time in season 4 as the Duttons get their revenge on those who attacked them in the season 3 finale.
Could season 4 possibly tell the story of Lloyd's branding? Maybe they'll give fans some of Lloyd's backstory? Creator Taylor Sheridan hasn't given away any secrets about what's coming next.
But, if they keep up the flashbacks like they did in the first three seasons, fans might get some insight into what brought Lloyd to the ranch and made him so loyal to John Dutton.
New episodes of Yellowstone air Sunday nights on the Paramount Network. Seasons 1 through 3 are exclusively available for streaming on Peacock.