'Yellowstone': Kelly Reilly On the 1 Moment She Knew She Wanted to Work With Taylor Sheridan
Yellowstone creator Taylor Sheridan wasn't familiar with British actress Kelly Reilly before she auditioned for the role of Beth Dutton. It was casting director John Papsidera who brought Reilly to Sheridan's attention when the series was in development.
But Reilly knew exactly who Sheridan was thanks to his films Sicario and Wind River. And she says there was one moment when she knew she wanted to work with the writer/director.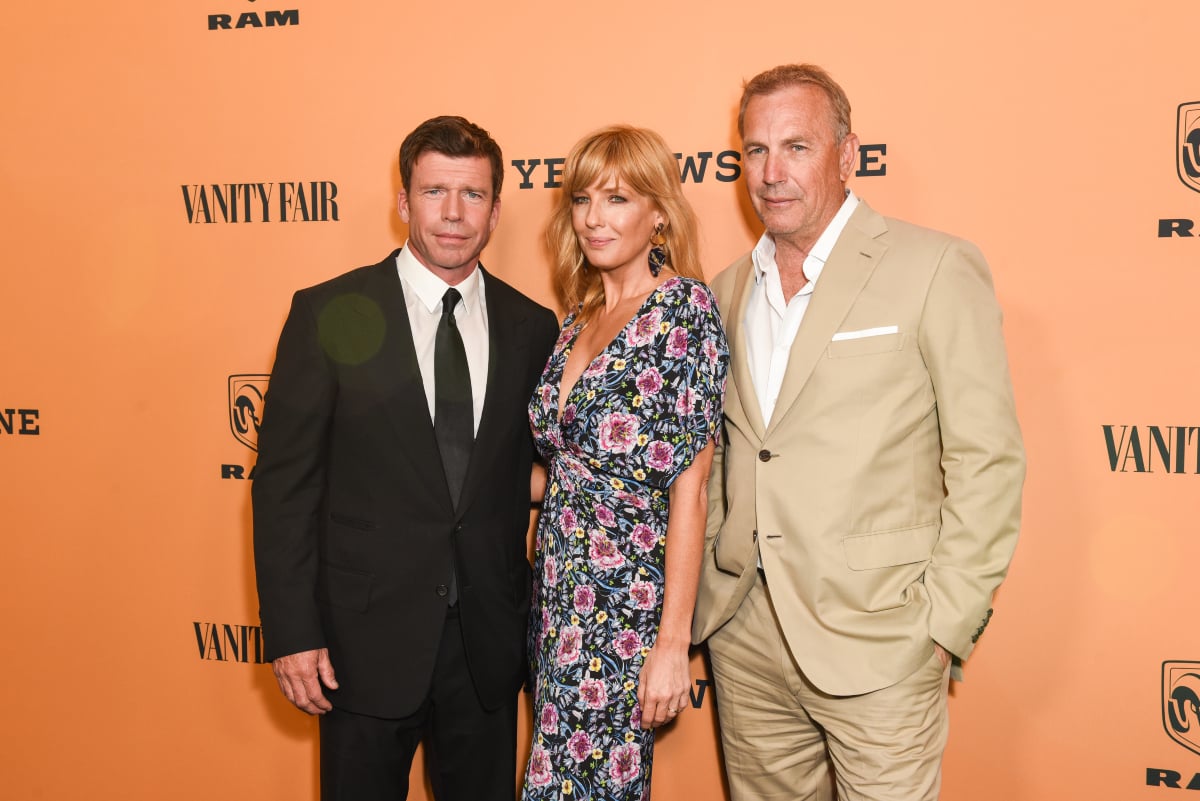 'Yellowstone' star Kelly Reilly says her character is 'brilliantly written' by Taylor Sheridan
Yellowstone fans know Reilly as Beth Dutton — the feisty daughter of 5th generation rancher John Dutton (Kevin Costner) and the wife of Rip Wheeler (Cole Hauser). Before she landed the role, American audiences knew Reilly from the Sherlock Holmes films starring Robert Downey Jr., the second season of True Detective, and her turn as Caroline Bingley in Pride & Prejudice.
Reilly acknowledges that Beth is a firecracker, but she says that makes the character both challenging and fun to play. She told Looper that the role is "brilliantly written." And there's not a line that Beth says that Reilly doesn't love.
RELATED: Why Kelly Reilly Didn't Talk On the 'Yellowstone' Set Until Season 3
"She's a bit of a fantasy of all the things that you want to say, but you'd never have the courage to say or do," Reilly explained. "To be able to do that and get to do it with all those great lines, it's just so satisfying. I love her so much."
Kelly Reilly says there's one moment when she knew she wanted to work with Taylor Sheridan
Reilly says that when she was offered Yellowstone in 2017, Sheridan had just won the award for Best Director at Cannes for the film Wind River. She hadn't seen the movie at that point. But she had seen Sicario, which Sheridan wrote.
Reilly also got the chance to hear Sheridan's speech when he won at Cannes. And she says that's the moment she knew she wanted to work with him. The 44-year-old recalled how Sheridan dedicated his award to the Native Americans, and he "spoke with such intelligence and grace about them."
RELATED: 'Yellowstone': Taylor Sheridan Kept 1 Major Secret From Wes Bentley, but Not From Kelly Reilly (Exclusive)
"I knew where he was coming from because he's a real cowboy, as well. He has that devotion for the life of the cowboy. But he also is super-connected to the Native Americans and their history, and our history with them," Reilly said. "Because of that, I knew that this wasn't just going to be a cowboy show with no depth or heart. I knew that it was going to be a full story. So, I really admired him for that, telling their story."
Beth and Rip's on-screen chemistry was a surprise to everyone on the 'Yellowstone' set
Even though Sheridan always intended for Beth and Rip to have an on-again, off-again relationship on Yellowstone, he didn't have Reilly and Hauser do a screen test before they were cast. It wasn't until they were filming a sex scene in season 1 that Sheridan realized their on-screen chemistry.
"Initially there was a scene where we were having sex in her bedroom on the dresser, and she slaps me, and the way I reacted," Hauser told Vanity Fair. "I remember walking out of that scene and everybody was just kind of glued to the monitors, and I saw John and Taylor and the producers and the D.P. and so on. And I looked at them and they just all looked up, like, a 'Wow, that was amazing' kind of feeling."
RELATED: 'Yellowstone': Kelly Reilly on Her Relationship With Cole Hauser — 'We're So Lucky to Have Found Each Other'
Hauser says that from that moment on, Sheridan started giving Beth and Rip's relationship more focus in his writing. He gave the characters more to do and gave the actors more opportunities. And now, they are one of the most popular couples on television.
Yellowstone seasons 1 through 3 are available on Peacock, and season 4 arrives on March 28. Season 5 of Yellowstone premieres this summer on the Paramount Network.