'Yellowstone': Kelly Reilly Says Playing Beth Dutton Is Like 'Going Into Battle'
ARTICLE HIGHLIGHTS
Yellowstone star Kelly Reilly admits she is nothing like Beth Dutton.
In fact, when Taylor Sheridan offered her the role she wasn't sure she could even do it.
She also admits that playing Beth is "so much fun" but also like "going into battle."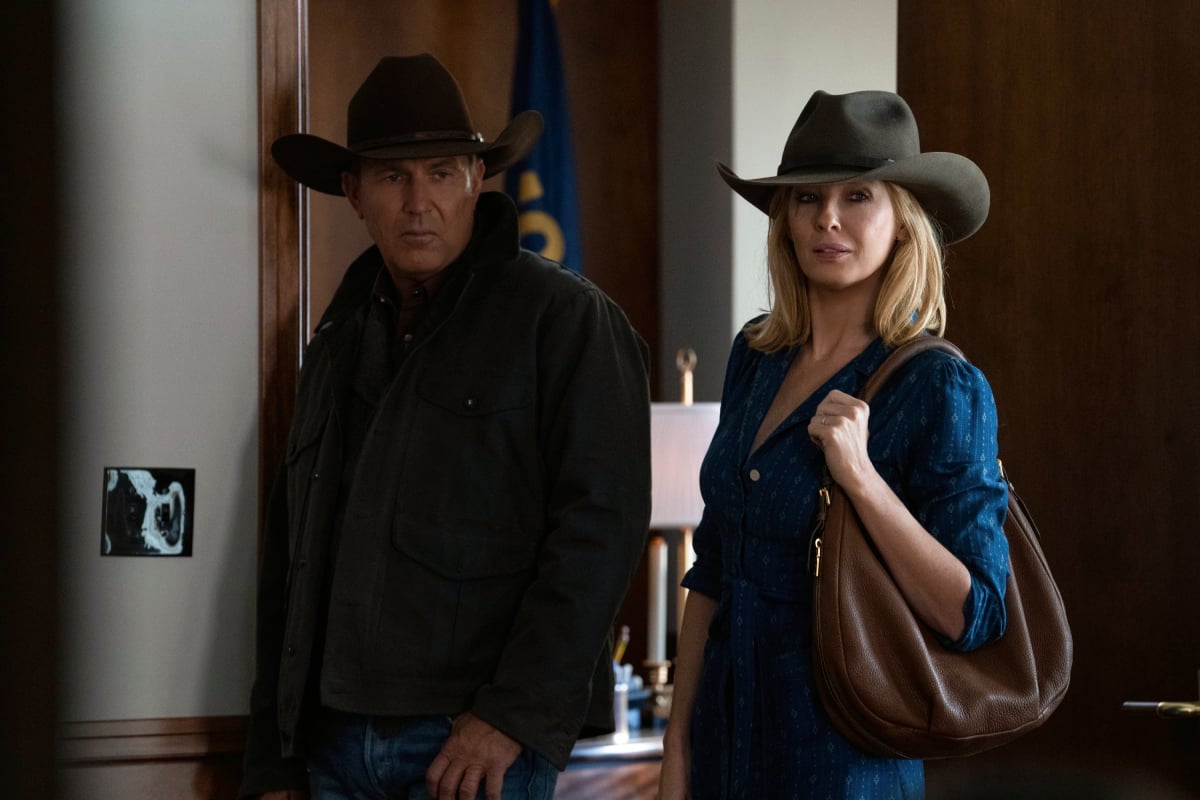 Yellowstone star Kelly Reilly is nothing like her on-screen persona, Beth Dutton. In fact, when Taylor Sheridan first offered her the role, Reilly wasn't sure she could do it. Reilly says that playing the "bold, brave character" of Beth has been like nothing else in her career. She admits the experience has been "so much fun." But playing Beth for four seasons and counting has also been like "going into battle."
'Yellowstone' fans believe Kelly Reilly is Beth Dutton
Reilly is a British actress who mostly appeared in film and TV projects on the other side of the pond until 2005's Pride & Prejudice, when she played Caroline Bingley. American audiences didn't get the chance to see Reilly star in a TV series until Yellowstone. Four seasons in, and she's made such an impression as Beth that that's what everyone calls her.
"People call me Beth. They'll come to me, wanting to high-five me or start a fight," Reilly told Entertainment Tonight, with a laugh.
"It's really interesting how people believe that you're your character. This is the first time I've talked about it properly. It's such a personal process as well. And, for people to hear me talk about her is sort of different as well because they have such a unique idea of who she is. But this character is a beast."
It took a while for Kelly Reilly to 'find' her character
Yellowstone creator Taylor Sheridan has said that he knew Reilly was Beth the minute he saw her audition tape. But Reilly insists she didn't know she was Beth, and it took her a while to "really find her."
"I mean, she's like stepping into a sports car. Like, how do I go from naught to a hundred in three seconds?" Reilly explained. "Because it's such a tremendously complicated role. I wasn't sure if I was the right person for it."
Reilly recalls sitting down and doing rehearsals when she first got the part. She explained that she is "certainly shyer" than Beth, and she admits it took her a while to find her own way into "owning that confidence."
"I remember saying to [Sheridan] 'I'm going off a cliff with her, aren't I.' And he said 'you bet, and I'm going to push you off that cliff,'" Reilly recalled. "And I just remember thinking 'alright, I'm in for a ride here.' And, it's been so much fun."
The 'Yellowstone' star describes playing her character as 'going into battle'
Reilly revealed that during the first season of Yellowstone, she didn't want anyone to know she wasn't American and "so far removed" from her character. So, she decided not to talk to anyone unless she was playing Beth.
"It was only until season 3 that I started to hang out with everybody. You can ask them. They probably thought I wasn't very friendly. I just didn't want the illusion to break for myself," Reilly explained
When the cameras aren't rolling, Reilly is not in Beth "beast" mode. Instead, she keeps the character "locked up in a box with a padlock."
"I'm not joking. The four months of the year I get to play her is sort of like going into battle. I mean, she's tough. And then the language — how Taylor writes her — it's a mouthful. It's like really hard sentences, to just say so easily and kill," Reilly said.
Beth Dutton is a monster, and she loves her
Reilly noted that the best part of playing Beth are the biting one-liners that get made into t-shirts. But the 44-year-old Brit admits that it's strange how Beth has "sort of pierced the psyche of American women."
"I'm not sure because I think she's such a monster, and I love her. But she is…there's something about her that's really empowered a lot of women. I think just being able to say those things without fear of retribution — no one can come back at Beth better than her," Reilly said.
The 'Yellowstone' star loves the challenge of playing Beth Dutton
Over the course of her 25-year career, Reilly says she's played quite a few challenging roles. But there's no doubt that Beth is in a league of her own.
"Beth is the most challenging role that I've ever played. Ever," Reilly noted.
The actor described the character as "pretty thrilling" and she loves that Beth has "so many different aspects."
"I don't get to rest on my laurels and just roll into work. I have to work really hard and prepare, and it's a challenge. For me, I love the challenge of it," Reilly said.
Yellowstone seasons 1 through 3 are now available on Peacock. Season 4 is expected to hit the streamer in the spring of 2022.