'Yellowstone': Piper Perabo Says Her 'Love Story' With Kevin Costner Is 'Kicking Into Gear' in Season 5
ARTICLE HIGHLIGHTS
Yellowstone fans met Piper Perabo's Summer Higgins in season 4 of Taylor Sheridan's hit show.
Perabo's character was manipulated by Beth Dutton (Kelly Reilly) and started a relationship with John Dutton (Kevin Costner).
Despite season 4 ending with Summer heading to jail, Perabo is teasing that she may be finding her way back to the Dutton Ranch in season 5.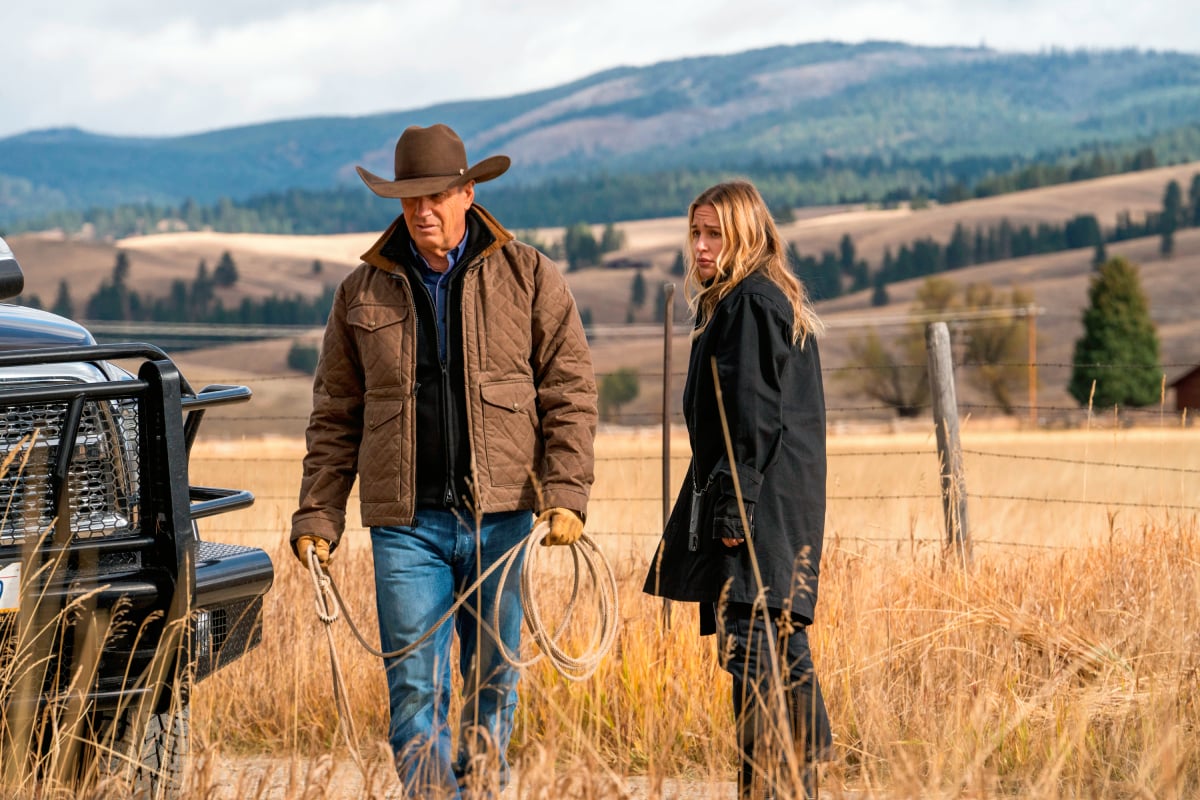 Yellowstone fans won't have to wait nearly as long for season 5 as they did for season 4. The last break between seasons was a whopping 15 months. But this time around, fans are going to get new episodes before the summer is over. Meaning the current hiatus will be only half as long.
When Taylor Sheridan's western does return for season 5, it appears that Summer Higgins (Piper Perabo) will be out of jail quickly and back on the Yellowstone Ranch. According to Perabo, the "love story" between her character and John Dutton (Kevin Costner) will be "kicking into gear" in upcoming episodes.
The rancher and the Piper Perabo's animal rights activist hooked up in 'Yellowstone' season 4
The focus of Yellowstone might be John Dutton's fight to save his ranch, which has been in the family for five generations. But the drama also includes plenty of love stories. Fans have fallen in love with the on-again, off-again romance of Rip Wheeler (Cole Hauser) and Beth Dutton (Kelly Reilly). At the same time, they've witnessed Kayce (Luke Grimes) and Monica's (Kelsey Asbille) marriage being put through the ringer.
During the first three seasons, widower John had a casual romance with Montana governor Lynelle Perry (Wendy Moniz). But in season 4, he surprisingly hooked up with animal rights activist Summer Higgins after he bailed her out of jail when she was arrested for protesting at the Livestock Commissioner's office.
RELATED: Will 'Yellowstone' Introduce a New Big Bad in Season 5?
They are on opposite sides of the political spectrum, and there is an age gap of at least 20 years. But it appears that Summer has become important to John. He even tried to intervene in her latest case and tried to get her a lighter sentence.
The 'love story' between Piper Perabo and Kevin Costner's characters is 'kicking into gear'
Perabo may have recently leaked the spoiler that John will be successful and get her out of jail quickly, instead of serving a 14-year sentence.
On the red carpet at the recent Screen Actors Guild Awards, Perabo talked about Yellowstone season 5 and the John/Summer storyline. She told Entertainment Weekly that they are "turning up the heat" in the upcoming season because the last couple of years have been hard for John.
RELATED: 'Yellowstone' Fans Know Exactly Which Character They Do Not Want to Return for Season 5
"The love story is kicking into gear on Yellowstone," Perabo said. "I know a lot of people watch it for the cowboys and the ranch, but I watch it for the love story. We're turning up the heat. It's been a hard couple of years, let's turn up the heat for a minute."
'Yellowstone' season 5 will be split into two parts
Yellowstone fans have a lot to be excited about when it comes to season 5. Not only will it premiere this summer, but it will also feature 14 episodes instead of 10. The catch, though, is that the season will be split into two parts. Each with seven episodes.
RELATED:'Yellowstone' Season 5 Is Split Into 2 Parts Because of '1883' and '1932'
The first half of the season will air in the summer, then there will be a break for "additional episodes" of 1883. When the second half of the season returns in the fall, it will introduce the new prequel 1932. Which tells the story of another generation of Duttons — this time in the era of prohibition and the Great Depression.
Yellowstone seasons 1 through 3 are available on Peacock. Season 4 drops on March 28.