'Yellowstone' Season 4: Luke Grimes Reveals His Favorite Moment Is Still to Come and It's Something He 'Never Saw Coming'
Season 4 of 'Yellowstone' is more than halfway over, and to say Luke Grimes' Kayce Dutton has been on a journey is an understatement. In a recent interview, Grimes admitted that Kayce is stuck between a rock and a hard place. He also admitted that his favorite moment is still to come.
ARTICLE HIGHLIGHTS
Luke Grimes' Kayce Dutton left the Dutton Ranch in a recent episode of Yellowstone.
Grimes admits that his favorite moment of season 4 is still to come, and it's something he "never saw coming."
The Yellowstone star also said fans will be happy with the investigation into the attacks on the Dutton family.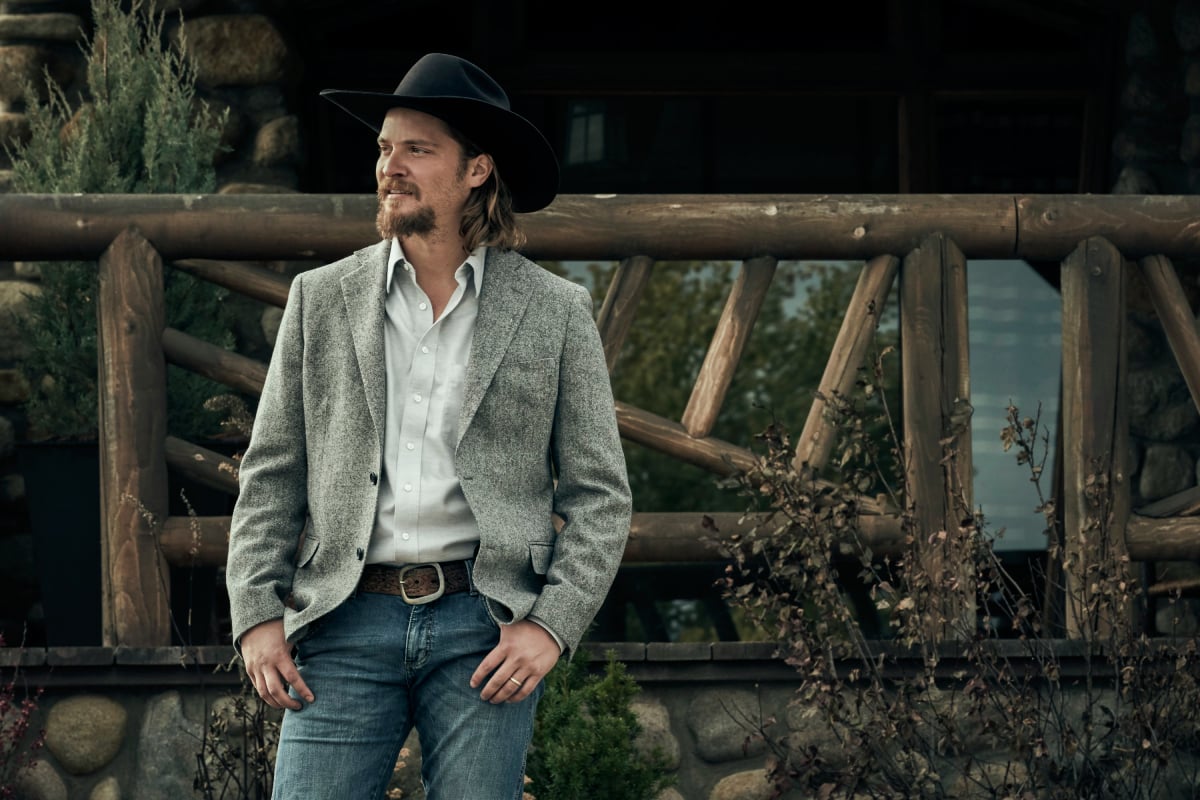 Yellowstone star Luke Grimes says his character, Kayce Dutton, has been on a journey since day one. Kayce loves his wife and son more than anything, but he also has loyalty to the Duttons and their ranch. Grimes admits that Kayce is stuck between a rock and a hard place, and he's just as interested as fans are in seeing how everything ultimately plays out. He also confessed that what happens to Kayce at the end of season 4 is something he "never saw coming."
Kayce Dutton left the Dutton Ranch in a recent 'Yellowstone' episode
After the traumatic events in the Yellowstone season 3 finale — which spilled over into the season 4 premiere — Kayce's wife Monica (Kelsey Asbille) and his son Tate (Brecken Merrill) were not happy living on the Dutton Ranch.
Watching their struggles was too much for Kayce, so he moved them back to the Broken Rock Reservation to stay with Monica's father. Now, they are looking for a home they can call their own that's independent of either of their families.
"What he's trying to do is just make one decision at a time, take it day by day," Grimes told TV Insider. "And I think he knew that if he didn't get Monica and Tate off the ranch, he probably would lose them. And so that being the most important thing, that's what he's trying to do."
Luke Grimes says Monica surprised Kayce when she told him 'I hate you'
Grimes admits that it was a "big moment" for Kayce when Monica said that she hated him. The actor also says it took his character by surprise. But what surprised Kayce more was the way he was treating his wife.
"He'd never just flat out yelled at her before. Playing that in that moment, I felt maybe he felt like he was becoming more like the parts of his father [Kevin Costner's John] that he doesn't like or he saw that he was falling in line with the attitude of that place, and I think it scared him," Grimes explained.
He says that viewers can see Kayce scared in that moment, and the character decided right then that he was going to do whatever he had to do to save his marriage.
"Whether that sticks, whether they stay or they do find home, I don't know," Grimes said.
The 'Yellowstone' star says his favorite moment comes at the end of the season
Grimes promised that there will be a moment at the end of season 4 when viewers will see Kayce dealing with his demons in a way that he hasn't before.
"I don't think I could say much more than that, but it was a really important moment for this character's journey and for me to play him where you see that maybe there is a light at the end of this tunnel, at least emotionally for him," Grimes explained.
The actor went on to say that his favorite moment he's had with the Kayce character comes at the end of this season, and he admits "it's something I never saw coming."
Luke Grimes says fans will be surprised
Grimes explained that this moment is "very healing and spiritual," and "it's really going to surprise people."
"It's basically a journey of him really trying to get to the core of the reason he can't find any inner peace and him really for the first time trying to do some hard work to do something about that. That's probably my favorite scene I've filmed," Grimes revealed.
Jamie Dutton's investigation unfolds in true 'Yellowstone' form
Grimes wouldn't give away any secrets about what's coming next in season 4. But he did say that fans will be happy about Jamie's (Wes Bentley) investigation into who was behind the attacks on Kayce, John, and Beth (Kelly Reilly).
"It's true Yellowstone form. You'll be happy with how it all goes down," Grimes said.
He also noted that fans will never be able to guess how season 4 ends, and they shouldn't expect another explosive cliffhanger like season 3 because Yellowstone isn't going to do the same thing twice.
"As you've seen, you're never going to guess, it's just impossible," Grimes said. "[Creator] Taylor's [Sheridan] too good. He's going to be one step ahead of you the whole way."
New episodes of Yellowstone air Sunday nights on the Paramount Network.