'Yellowstone' Season 5: While Kelsey Asbille Seems Hopeful for Kacey and Monica's Future But Luke Grimes Is Keeping It Very Real — 'We Might Die Tomorrow'
'Yellowstone' season 5 could prove to be a difficult one for Luke Grimes and Kelsey Asbille's Kayce and Monica Dutton after he saw 'the end' of them in the season 4 finale.
Yellowstone season 4 was a difficult one for Kayce (Luke Grimes) and Monica Dutton (Kelsey Asbille). Kayce chose his wife and son over his loyalty to the Dutton Ranch, but that didn't bring him or his family peace. The season ended with the future of their marriage in doubt, but Asbille still remains hopeful. Meanwhile, Grimes is keeping it very real — "we might die tomorrow."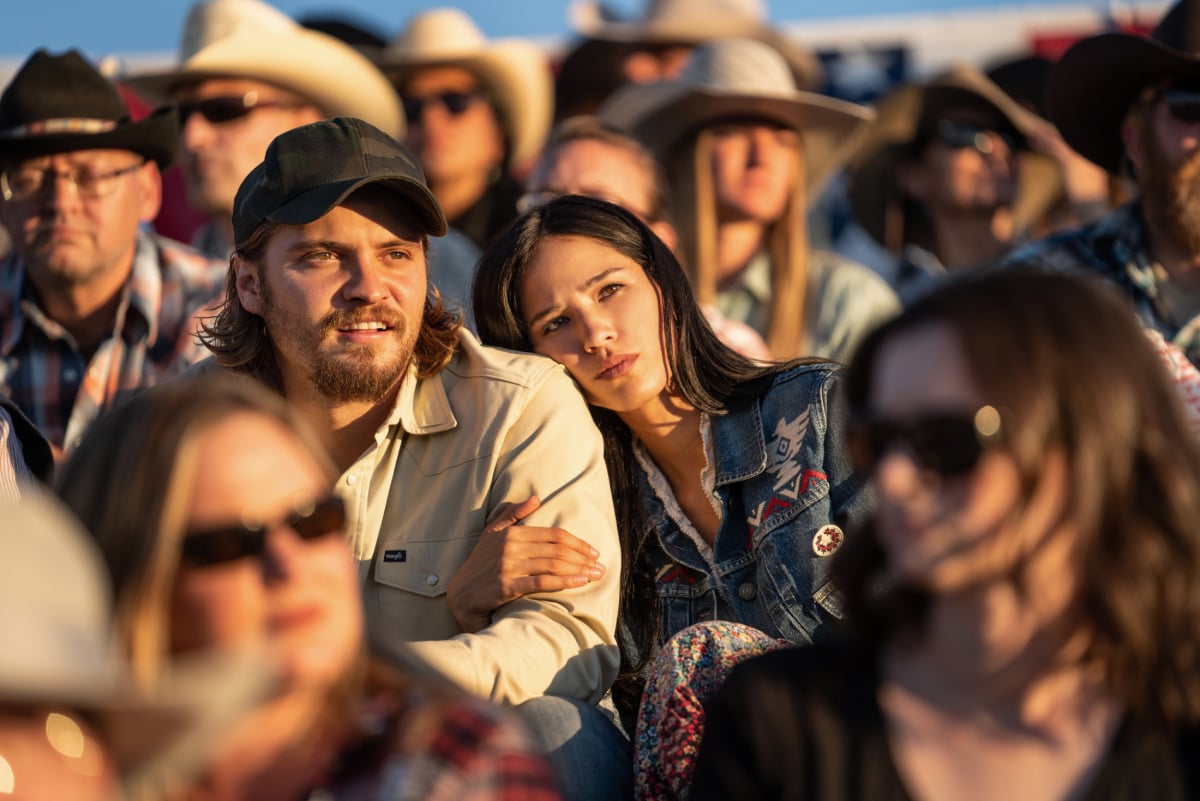 Kayce and Monica found their own home in 'Yellowstone' season 4
The danger that comes with living on the Dutton Ranch was too much for Monica and Tate (Brecken Merrill) in season 4. After fighting off an armed intruder in the premiere, Tate suffered from PTSD. And that battle drove a wedge between Kayce and Monica.
Ultimately, they found their own home away from the ranch and the Broken Rock reservation to try to rebuild their family and mend the relationship. When they found out they were expecting a second child, everyone was happy. But things quickly unraveled when Avery (Tanaya Beatty) reappeared.
Fans last saw Avery when she left the bunkhouse in season 1 of Taylor Sheridan's hit, and it was clear she always had a soft spot for Kayce. She told him she loved him in season 4, but his response was that "God wouldn't let her love something that can't love her back."
It appeared that Kayce would stay loyal to his wife and reject Avery's advances. But during his vision quest — a Native American ritual that attempts to get rid of personal demons — he hallucinated Avery, among other scenarios. When he emerged, he told Monica that he "saw the end of us."
Kelsey Asbille remains hopeful for Kacey and Monica's future in season 5, but Luke Grimes is keeping it real
Asbille and Grimes walked the red carpet together at the 2022 ACM Awards at Allegiant Stadium in Las Vegas. The on-screen couple spoke with Entertainment Tonight about the future of their characters in season 5, and Asbille revealed that she remained quite hopeful.
"I hope that they'll be happy in the end, but it's not likely, to be honest," Asbille said.
She said she was excited to wear a fake baby bump, and she's ready to have "a sweet little baby on set." But as Grimes pointed out, there's no guarantee any of that will happen.
"Yeah, but who knows? We might die tomorrow," Grimes said of their characters. "It's kind of the Yellowstone [trademark]. We never know what's next, you know? We're sorta on the ride with everybody else. We kinda get [the scripts] as they come and we're always super excited to see what's happening next. We honestly have no idea what's coming up."
Is a love triangle coming in 'Yellowstone' season 5?
In a video on the show's YouTube page titled "A Yellowstone Love Triangle," Asbille admitted that her character was "a little jelly" over Kayce working for Avery. While Grimes agreed that Kayce needed to remain cautious.
"It becomes clear to him that, okay, there is something going on there and I need to be careful around this person," Grimes said.
Beatty added: "He has other priorities, as he should… Monica… which Avery does not like. Kayce sort of opens up that vulnerable side. Anything can happen, I don't know, but I know it's gonna be interesting."
Yellowstone season 5 premieres this summer on the Paramount Network.