'Yellowstone' Star Cole Hauser Reveals the 1 Moment That Rip Knew He Couldn't Leave Carter Behind
ARTICLE HIGHLIGHTS
Beth met Carter in the season 4 premiere of Yellowstone.
Rip Wheeler was not on board with the newcomer joining their family.
Cole Hauser admits he knew the one moment his character could not leave the orphan behind.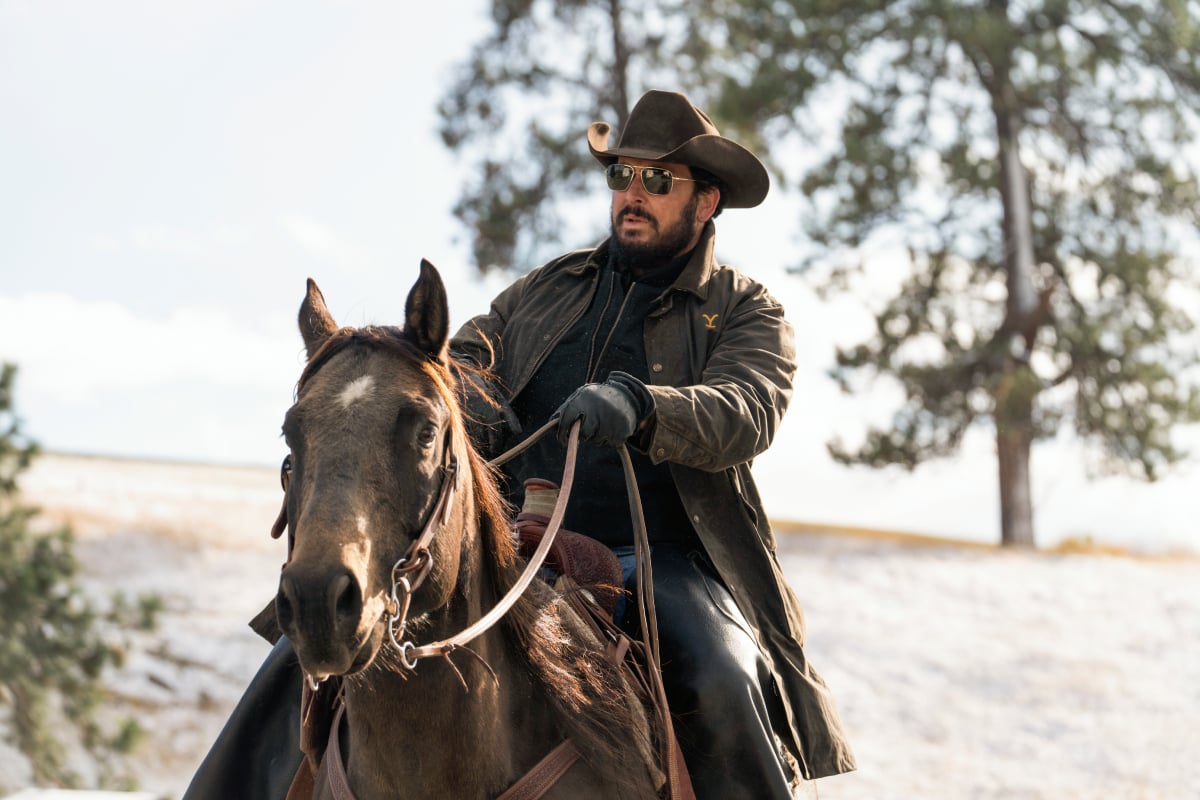 Yellowstone star Cole Hauser admits his character — Rip Wheeler — hasn't been very supportive of Beth bringing Carter into their family. He's been skeptical since the day that Beth (Kelly Reilly) brought the young teen to the ranch at the beginning of season 4. But Hauser recently revealed there was one moment that Rip knew he couldn't leave Carter (Finn Little) behind.
Beth met Carter in the 'Yellowstone' season 4 premiere
Yellowstone fans will recall that Beth first crossed paths with Carter in the hospital during the season 4 premiere. Beth was there to visit her father, John Dutton (Kevin Costner), who was recovering from getting shot in the season 3 finale. Carter was there to tend to his dying father.
When Carter's dad passed, the local police caught him making trouble. Since he didn't have any parents left, the young teen told the cops that Beth was his guardian. With Carter reminding her of a young Rip — and her desire for a family and children — Beth agreed to take the boy in.
Rip Wheeler knew he couldn't leave Carter behind
The moment that Rip got home, he wasn't happy with Beth's decision to take Carter in. He immediately kicked him out of the house and told the boy he could pick one of four directions, since he had no place to go. Then, he tells him to get back in the house for the night.
The next morning, Rip is taking Carter back into town when the boy tells him he can drop him off wherever. Carter then tells Rip that all he wanted was a chance. That's when Rip kicks him out of the truck and attempts to move on down the road.
According to Hauser, the next thing that happened is the moment Rip knew he couldn't leave Carter behind.
The 'Yellowstone' newcomer just wanted a chance
During a recent appearance on The Official Yellowstone Podcast, Hauser revealed the one moment Rip knew Carter would be in his life. He said that when Rip left Carter behind on the road — in the split second he looks in the rearview mirror — he "sees himself" in the young boy.
Rip backed up, got out of his truck, and told Carter: "Life doesn't give people like you chances, kid. If you haven't noticed. And asking for one is a waste of goddamn time."
Carter fights back, asking Rip, "So I'm supposed to just take what I get in life? Get raped in a foster home? I've been down that road. I ain't never going back."
Rip Wheeler gives Carter a job
Rip then tells the boy to ask him for something else, like a job. Carter does what he's told and asks for a job, but then admits he can't ride a horse or rope. After sending Carter out to fetch a plastic bag in the middle of a field, Rip tells the boy he can stay.
"There'll be no stealing, you understand me? If I catch you stealing, you're f***ing gone. You hear me?"
As soon as Rip takes Carter back to the ranch, Beth kicks him out again and sends him to the barn after a disastrous shopping trip. It's taken Carter all season to show his worth on the ranch and get his hands dirty. But in episode eight, he finally got to move back in with Beth and Rip in John Dutton's massive log cabin.
'Yellowstone' star Cole Hauser hints that Carter is going to be around for a while
Despite his rocky start with Rip and Beth, it looks like Carter is going to be a permanent part of their family and a cowboy on the Dutton ranch. During a discussion on Paramount's Behind the Story, Hauser hinted that the young boy would be sticking around.
"What's great about the consistency of what Taylor (Sheridan) writes for these characters that do come on to be cowboys is he has to work," Hauser said.
The Good Will Hunting alum noted that Sheridan has done great thing in his writing for Beth and Rip.
"I think Taylor did just a fantastic job of putting these two kids together and seeing how they can grow, and how their hearts can be more open," Hauser explained. "How they can navigate different waters together, and find even a stronger bond through those waters."
Yellowstone airs Sunday nights on the Paramount Network.
RELATED: Cole Hauser Reveals 1 of His 'Yellowstone' Co-Stars Chapped His A** at Cowboy Camp, They 'Had to Put Bandaids all Over Him!'