'Yellowstone': Taylor Sheridan Did Not Just Consider 'Big Names' When Assembling His SAG Nominated Cast — 'You're Not Going to Out-Cast Kevin Costner'
Yellowstone recently snagged its first major award nomination. After years of being snubbed, Taylor Sheridan's modern-day western finally got some industry attention with a Screen Actors Guild Award nomination for Outstanding Performance by an Ensemble in a Drama Series.
The large cast is led by Oscar-winner Kevin Costner, whose reputation in the western genre helped bring viewers to the show. But Sheridan says he didn't just consider "big names" when assembling the Yellowstone cast.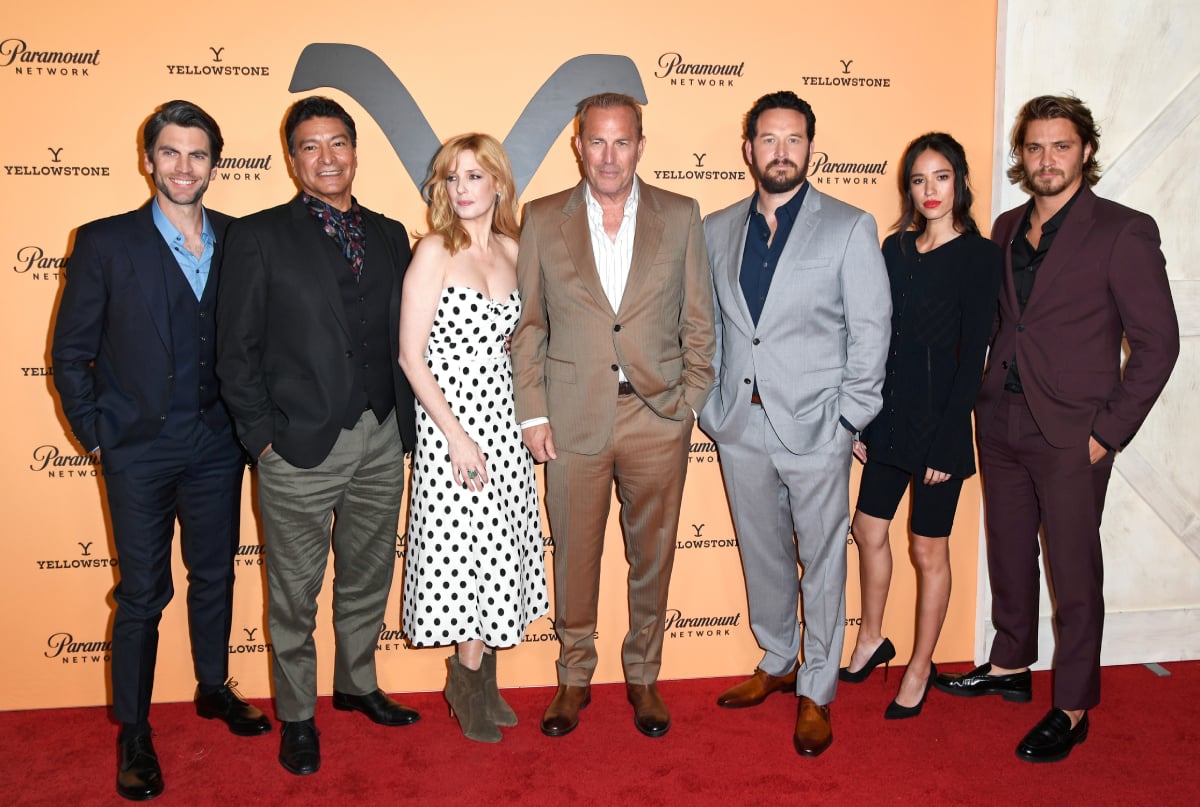 The 'Yellowstone' cast is in a competitive category
The Yellowstone cast features 21 actors, including Sheridan himself. He plays cowboy and horse trader Travis Wheatley. The ensemble finally got some recognition from SAG this year with the nomination, but the ensemble cast is in an extremely competitive category.
Yellowstone will be up against the ensembles from Succession, Squid Game, The Morning Show, and The Handmaid's Tale.
RELATED: 'Yellowstone': Taylor Sheridan Had No Idea Cole Hauser and Kelly Reilly Would Have Such Insane Chemistry — Until 1 Scene Left Him 'Glued to the Monitor'
"There's no bigger compliment to an actor than being recognized by their peers. Congratulations to our incredibly talented cast on this wonderful and well-deserved nomination," Sheridan said in a statement.
Taylor Sheridan didn't just consider 'big names' when assembling the cast
Before Sheridan and Yellowstone casting director John Papsidera started assembling the Yellowstone cast, Costner was already on board as a fifth-generation rancher and patriarch John Dutton.
"You're not going to out-cast Kevin Costner," Papsidera told Vanity Fair.
Between Sheridan's industry connections as an actor/director/writer and Papsidera's experience as a casting director working with directors like Christopher Nolan and Roland Emmerich, the duo had the tools they needed to build a stellar cast around their Oscar-winning star.
"It was not so much about, What are the names can we get? But Who can we bolster this cast with? It was more about who really was right, and who really added to the collective soul of the show," Papsidera explained.
The 'Yellowstone' creator had 'strong ideas' about the Dutton men
When it came to casting Jamie Dutton, Kayce Dutton, and Rip Wheeler, Papsidera says that Sheridan had "strong ideas" about guys he's had working relationships with in the past.
"Taylor has a vocabulary in actors and of actors that is less about who and more about if they're right," Papsidera said. "Nobody's deal was done other than Costner's, but he knew of Luke [Grimes], he liked Luke. He knew of Cole Hauser and was friends with Cole. He knew Wes [Bentley]. So there were a handful of people that he already was kind of ruminating about and leaning into."
RELATED: 'Yellowstone': How Taylor Sheridan Prepared His Cast to Look Like Real Cowboys
Hauser ended up choosing the role of Rip, despite his limited appearance in the pilot. Grimes landed the role of Kayce, a Navy SEAL veteran, and John's youngest son. While the role of adopted son Jamie went to Bentley.
Taylor Sheridan wasn't familiar with Kelly Reilly
For the role of John's shrewd daughter Beth, Papsidera says that the challenge they faced was finding someone who "incorporated all the things" that Sheridan wrote Beth to be. He says that Kelly Reilly was on his shortlist of strong, smart, and beautiful women. But Sheridan wasn't familiar with the British actress.
After handing out the pilot script to five or six potential Beths, Reilly was the first that connected with the part.
"She said, 'I love this, I get it. I want to talk about it,'" Papsidera recalled.
Surprisingly, Hauser and Reilly didn't have a screen test before they landed their respective roles. Sheridan didn't realize the on-screen chemistry they had until they started filming season 1.
Gil Birmingham knew Taylor Sheridan before 'Yellowstone'
As for Thomas Rainwater, the chief of the Broken Rock Reservation, that role went to veteran actor Gil Birmingham. He says that he first spoke with Sheridan about the part on the set of Sheridan's Oscar-nominated film Hell or High Water.
"He said he had a series that he was developing after it, and I said, 'Count me in.' And then it was just a matter of waiting to get greenlit," Birmingham explained.
RELATED: Taylor Sheridan on the End of 'Yellowstone' — 'I Know How It Ends. I'm Writing to That Ending'
The actor says he was "ecstatic" about his character after reading the pilot script because it was present-day storytelling instead of a historical piece.
"The fact that he's developed a character that's empowered and contemporary was very satisfying," Birmingham said.
Part one of Yellowstone season 5 premieres this summer on the Paramount Network. The Screen Actors Guild Awards will be simulcast on TNT and TBS on Sunday, February 27.