You Can (Sort of) Thank 'Glee' for Tom Holland's 'Lip Sync Battle' Song
When an actor scores a big role in something like the Marvel Cinematic Universe, it's hard to top it. But Tom Holland sure found a way to do that with his iconic Lip Sync Battle. That's not to say his performance is better or more memorable than his role as Peter Parker aka Spider-Man. However, his appearance on Lip Sync Battle might live on for nearly as long. 
Tom Holland's 'Lip Sync Battle' performance is a treasured pop-culture moment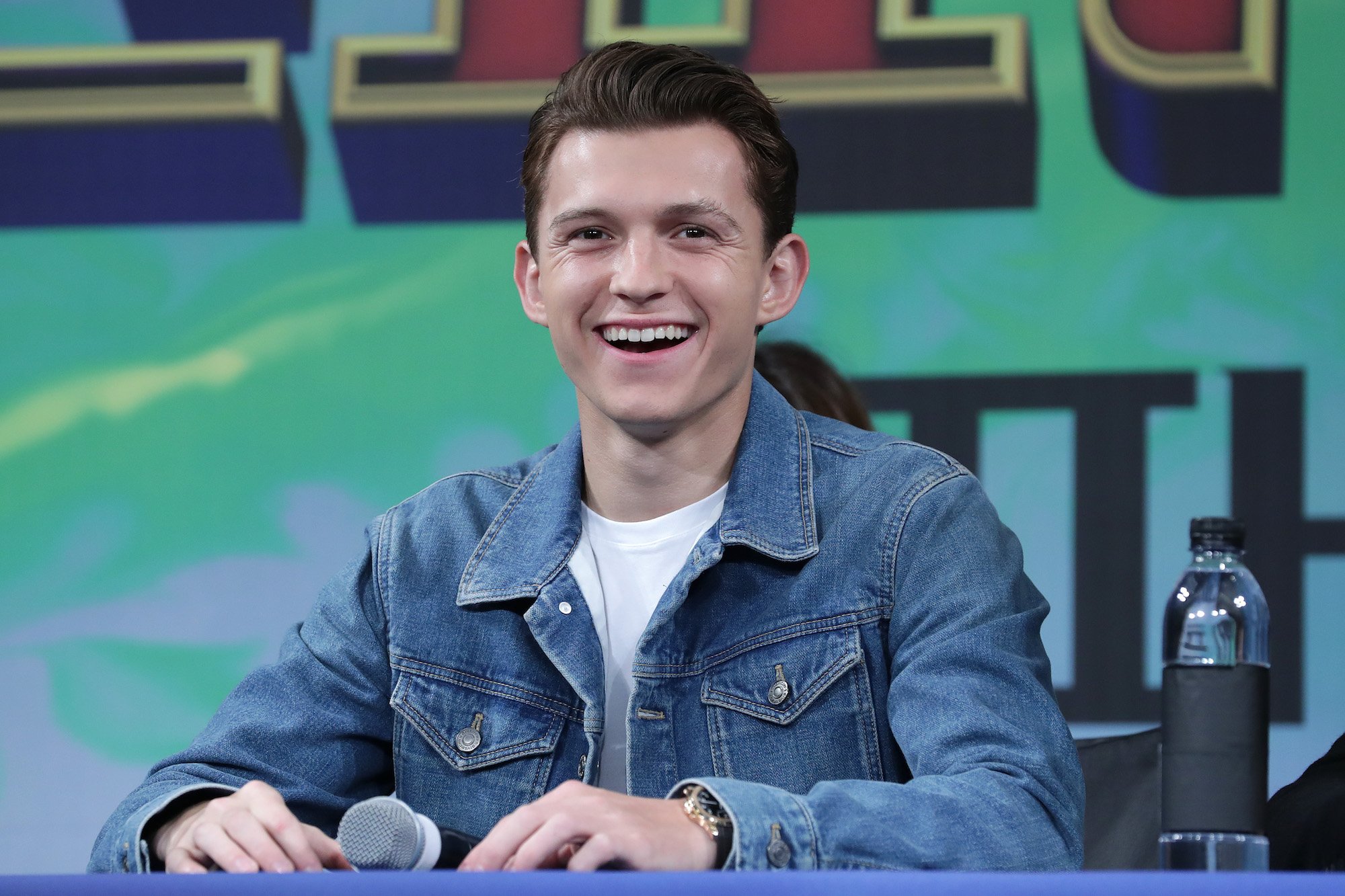 RELATED: Tom Holland Hopes Fans 'Disconnect from the Spider-Man World' To Enjoy His New Film 'The Devil All The Time'
Back in 2017, Holland and Zendaya took part in an episode of Lip Sync Battle. For their first songs, Holland performed "Ride Wit Me" by Nelly featuring City Spud and Zendaya did "Tyrone" by Erykah Badu. 
It's typically the second round that hits it out of the park for fans, and this was definitely the case here. Zendaya went first with "24K Magic" by Bruno Mars. And then came Holland's iconic "Singin' in the Rain"/"Umbrella" mashup.
Holland came up in a very Gene Kelly coat and hat with an umbrella. But then he undressed to reveal he was in drag and blew the crowd away with his acrobatic dancing. And he continues to blow the internet away over three years later. It's hard to come across the video on social media and not watch it in full every time. 
Holland told People it was "more nerve-wracking than Spider-Man" which is saying a lot. But he mentioned that it was stressful most likely due to the complexity of dancing in front of a live audience. "It was probably the biggest thing I've had to get over," Holland said. 
He also noted he "didn't mind being in drag," and actually would go back and do it again with heels.
"That would have shut things down," he said.
And he almost wasn't able to use "Umbrella" by Rihanna. Holland shared it was only approved at the last minute. 
"I didn't have approval on 'Umbrella' until like five hours before we did the show," Holland said. "There's the contingency of, 'If you don't do this, then you'll be doing Britney and we'll teach you a new dance.'"
It wasn't the first mashup of 'Singin' in the Rain' and 'Umbrella' 
Holland is what makes the performance, from his outfit to his dancing and the way he gave his all for the audience. So whether he had a Rihanna song or a Britney song, he would have given a wild show. However, there's really just something about the "Singin' in the Rain"/"Umbrella" mashup that hits. And it's not the first time the two have been put together. 
Back in 2010, during season 2 of Glee, Gwyneth Paltrow came on the show as the new substitute teacher and really shook things up. That included doing one of Glee's oh-so-memorable mashups. This time it was a combination of Gene Kelly's "Singin' in the Rain" from the movie of the same title, and Rihanna's "Umbrella." It was just like Holland's, except they were more entangled with each other. 
To top it off, the two performances — Glee's and Holland's — both included a water-filled part of the stage along with umbrellas and rain effects.
"[Paltrow] had to sort of stamp around with Matt [Morrison] and the kids in a full tank of water for 12 hours," Ryan Murphy, creator and showrunner for Glee, told People about the performance. "She loved it, actually. She's just the best."
It is interesting that the mashups are so similar and it makes you wonder whether anyone behind the Lip Sync Battle song choice was once a Gleek. The show was known for its original mashups, so it wouldn't be surprising. It doesn't seem like anyone has commented on the inspiration behind Holland's song choices. 
Tom Holland kind of wants to distance himself from the performance now 
Regardless of Glee, Holland is the owner of the most iconic rain-involved performance of Rihanna's "Umbrella," except for RiRi herself. But even so, Holland does want to put some distance between him and that appearance. 
"I get more comments on the Lip Sync Battle [episode] than I do any of my actual work, ever. To the point where I'm like, over it," Holland said during a cast interview for Spider-Man: Far From Home with Wired. "When someone brings up the Lip Sync Battle, I'm like, 'Don't. Bring up. The Lip Sync Battle.'"
It's all in good fun, but when you're swinging through Manhattan and Queens while also doing real-life flips to be an MCU star and iconic superhero, it can be a bit bothersome if you're better known for getting down to Rihanna instead. But Holland also said that if given the chance, he'd do the show again with Channing Tatum. So, fingers crossed on that one. 
RELATED: 'Spider-Man 3' Will Stay True to 1 of the MCU's Biggest Unspoken Traditions