Donald and Melania Trump's Million Dollar Wedding Included a 200 Pound Cake With 3,000 Iced Roses
Are Donald Trump and Melania Trump in love?
That's up for debate, but it seems like they were, once upon a time. Whether or not true love was the reason behind getting married, they once wanted to celebrate their relationship so much that they blew an unfathomable amount of money on their wedding, with extravagant details that you wouldn't believe.
Out all the luxuries that Trump's third wedding included, perhaps the most ridiculous was their 200-pound wedding cake which cost a whopping $50,000.
Donald and Melania Trump's relationship timeline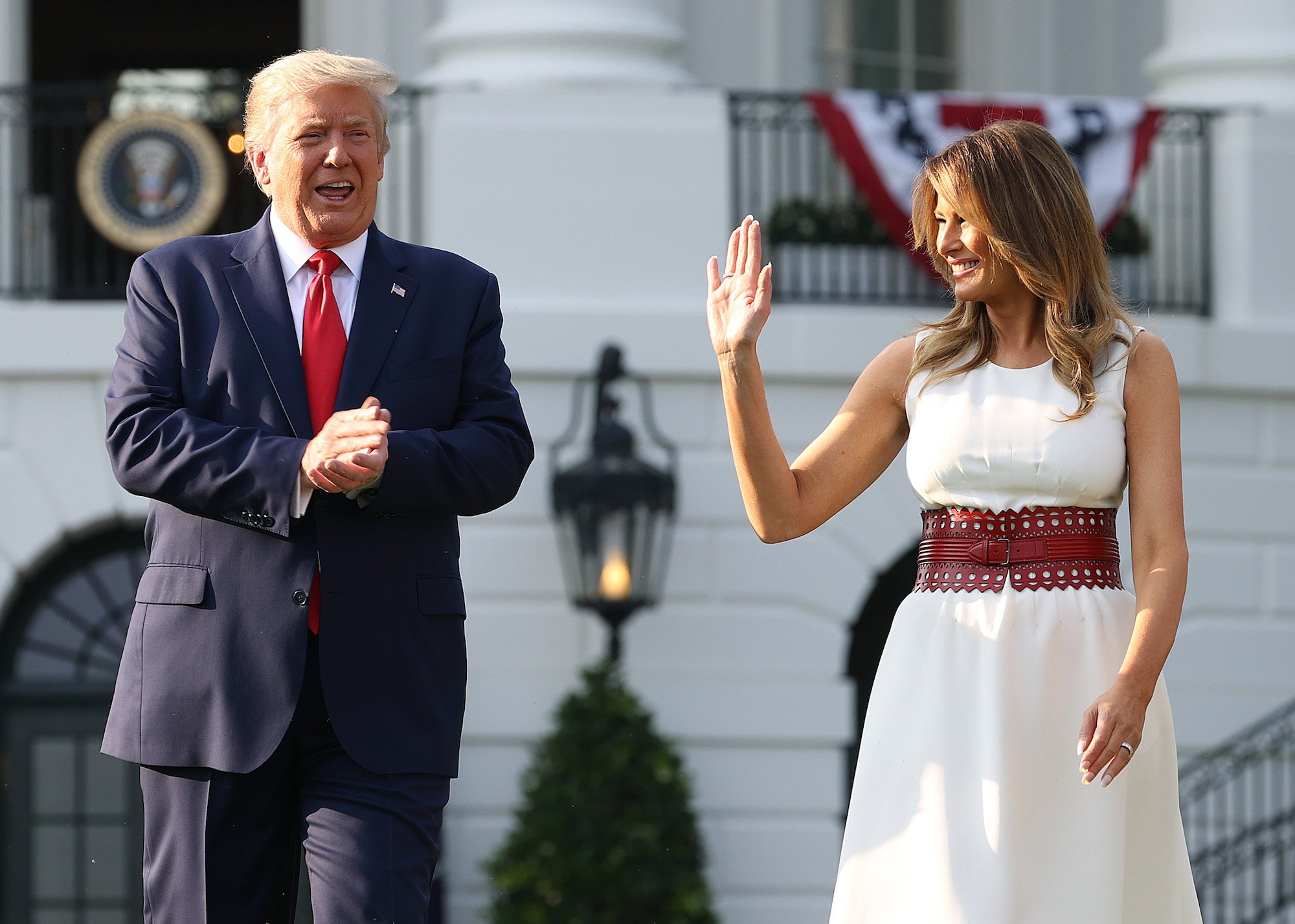 Donald and Melania Trump, who was then Melania Knauss, met back in 1998 at a Fashion Week event. Donald actually attended the event with a date, but when he met Melania, he was immediately smitten and ditched his date to talk to her. It's not surprising – Melania was a supermodel at the time, after all.
After dating for a few years, Donald proposed to Melania in 2001 with a 10-carat diamond ring that was worth around $1.5 million. It was clear from the get-go that Donald was willing to spend his billions on his new woman. Melania was far from the first person he'd had proposed to – she would become his third wife. The man gets around. 
The Trumps' $50,000 wedding cake
Donald and Melania got married in 2005 at his Mar-A-Lago resort, which is now famous as the place where Donald has spent his many weekends as President golfing. The wedding was full of extravagant details, but one notable feature was the wedding cake.
According to Insider, the Trumps spent $50,000 on their Grand Marnier wedding cake, which weighed 200 pounds and was covered in 3,000 icing roses. The cake was made by Mar-A-Lago's very own pastry chef, Cedric Barberet, who said it took him over 2 months to design.
The most ridiculous thing about the cake wasn't the cost or extravagant design, however: it was that none of their wedding guests were even allowed to eat it.
Because the cake was so enormous, it had to be held up by metal wires and no one actually cut into it at the wedding. Instead, the guests were fed pieces of a "back-up cake."
The staff were allowed to gorge on the real cake after, so at least it didn't go totally to waste. The guests were also treated to individual chocolate truffle cakes to take home; one of them was put up for auction last year and shockingly sold for thousands of dollars. Who wants 10-year-old cake?
Other extravagant details from the Trump wedding
Perhaps the biggest cost from the Trump wedding was Melania's dresses. Yes, she had two! The dress she wore during the ceremony was the one that really broke the bank; it was a customized gown from Christian Dior that cost a whopping $100,000. The dress was embroidered with 1,500 rhinestones and pearls and had a 13-foot train.
All of that for a couple of hours – because the Dior gown was so heavy, Melania changed into a lighter silk Vera Wang dress for the reception.
Although the exact cost for the entertainment at the wedding isn't known, they must have either spent a fortune or called in some favors. Legendary musicians performed at the wedding, including Billy Joel, Elton John, and Tony Bennett! The Trumps also spent a pretty penny on catering – $275 a plate for each of the 350 guests.
The meal included beef tenderloin, lobster rolls, caviar, and free-flowing Cristal champagne. All in all, Donald Trump's third wedding is estimated to have cost him over $1 million. Not too bad, considering he spent $3 million on an anniversary gift for Melania. Now, do these two love each other or just love money? That's something we're still trying to figure out.