Fans Compare Kim Kardashian's SKKN and Hailey Bieber's Rhode Skin Care Lines, and Here's the Verdict
Kim Kardashian has a new skin care line called SKKN, and Hailey Bieber just released her new collection of skin care products called Rhode. Here's what fans are saying about the shapewear and beauty mogul's line compared to the model's, and whether they prefer Kardashian's or Bieber's products.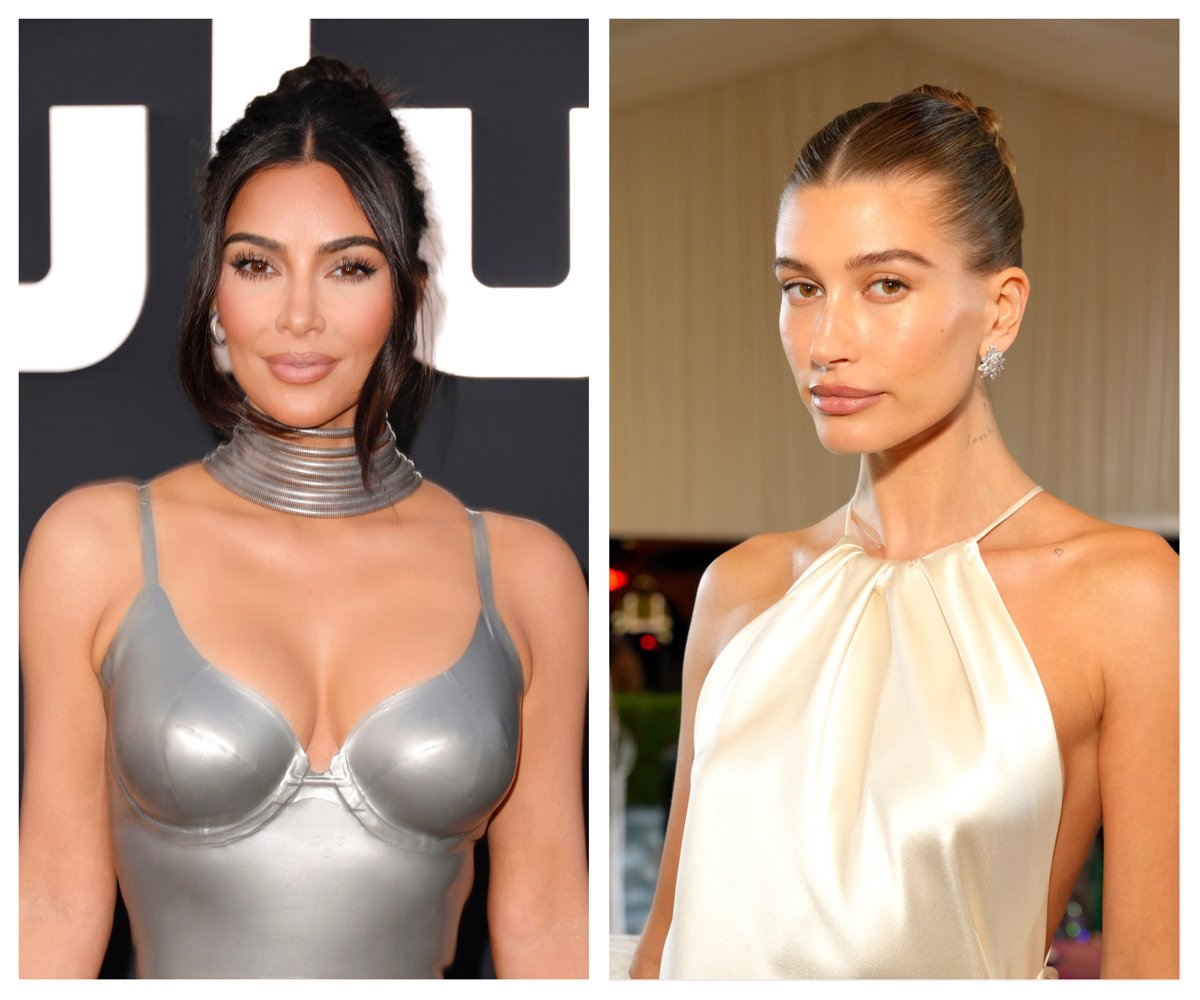 Kim Kardashian announced her new line of skin care products, SKKN, will come out on June 21
On June 1, Kim Kardashian revealed on Instagram that she has a new skin care line. The entire set of nine products will be released on June 21. 
"I'm excited to finally introduce to you SKKN BY KIM, a rejuvenating nine-product skin care ritual that I have developed from start to finish," the reality star wrote. "I've been so privileged to learn about skin and skin care over the years from the world's top dermatologists and estheticians, and every bottle from my new line is filled with the knowledge I've accumulated along the way."
On June 11, Kardashian shared another Instagram post with the product details. The SKKN line includes a cleanser, exfoliator, toner, night oil, eye cream, and more. Each product ranges in price from $43-$95 (or $37-$81 for a refill), and the entire collection costs $575. 
The collection is "clean, cruelty-free, vegan, and thoughtfully formulated without gluten, sulfates, phenoxyethanol, BHT, and PEGs."
But Kardashian's SKKN has some competition in the skin care space. Hailey Bieber just launched a line of products called Rhode.
Hailey Bieber has a new skin care line called Rhode
Kim Kardashian isn't the only celebrity to recently launch her skin care brand. Model Hailey Bieber just released her own line of products, called Rhode after her middle name.
On June 15, Bieber shared an Instagram post describing Rhode. "We are a line of curated skincare essentials made with thoughtful intention. our formulas nourish your skin barrier to instantly give you dewy, delicious skin while improving its look and feel over time," the runway model wrote. 
"We spent years working on our formulas with our skin board of dermatologists and chemists to make sure that every rhode product restores, protects and nurtures your skin. our formulas only use high-performance ingredients at efficacious levels. each one is purposeful, non-sensitizing, and chosen for its efficacy because a happy skin barrier is a glowy skin barrier. ✨"
Bieber added, "Formulated for sensitive skin and suitable for all skin types, we are vegan, cruelty-free, gluten-free, and we're available fragrance-free. all our products are under $30. everyone is welcome here 🤍 come on in at rhodeskin.com."
The Rhode line currently includes a "peptide glazing fluid," a "barrier restore cream," and a "peptide lip treatment." The products range in price from $16 to $29. The entire line, including three flavors of the lip treatment, can be purchased for $95.
Fans are comparing Kim Kardashian's SKKN and Hailey Bieber's Rhode skin care lines 
Kim Kardashian and Hailey Bieber fans compared their SKKN and Rhode skin care lines in a Reddit thread titled, "$95 for RHODE SKINCARE, finally something realistic. And Hailey actually wears her bare face no makeup on a continuous basis. So I'm sure it works. Our lovely kimmy on the other hand….$600 for a full set."
Many fans expressed that they preferred getting their skin care recommendations from a dermatologist, leaving comments like, "I don't really trust any celeb skincare brand tbh," and, "i will never buy skincare from a celeb even if its cheap🤷🏻‍♀️." And one fan advised, "Y'all just go to the doctor omg."
Other fans compared the prices of the two brands. "The full set isn't really comparable though because Rhode is $95 for 3 lip hydrators, moisturizer and peptide serum and SKKNS full set is 9 different products from cleanser to oil," one fan wrote, before adding, "I still prefer Rhode and I'll probably pick up the lip hydrators."
One fan pointed out that Bieber's products might be cheaper because they are smaller. "Prices are great but they aren't very transparent about how big these products are," they wrote. "Her peptide glazing fluid (I think it's a serum?) look like it's about 1 fluid ounce which for 29 dollars isn't that great."
Another fan chimed in to say that Kardashian's line is overpriced. "I work for a chemical supply chain company I've seen how much these active ingredients cost – Kimmy your brand is absurdly overpriced."
One fan wrote, "I'll be honest I like hailey and I know kim's is way too much $ but I would trust kim products > hailey," while another commented, "I actually believe in Haileys skincare line more than I do any other celebrity tbh. she's been passionate about skincare for years and has always appeared knowledgeable on the subject."
Bieber's line is certainly the less expensive of the two brands. But, as some fans pointed out, the products aren't really comparable. Kardashian's collection has nine different products, while Bieber's has three, with multiple flavor options for the lip treatment. The reality star's products also appear larger than the model's, which may account for some of the price difference. 
Bieber's collection is available for purchase now, while fans have to wait until June 21 to try Kardashian's line.
RELATED: Fans React to Kim Kardashian's 'SKKN' Skin Care Line Prices: 'This Is Kind of Insane'