What Are the BTS Members' Ages?
How old are BTS members Jungkook, V, Jimin, RM, J-Hope, Jin, and Suga? Read on to find out the BTS members' ages, and impress your friends with your newfound knowledge.
BTS has taken the world by storm since debuting in 2013. Back then, the bandmates were just seven teenagers from South Korea who loved making music. But they quickly became one of the most beloved K-pop groups on the planet. The band's chart-topping hits, like "Dynamite" and "Butter," have given BTS the kind of fame few other acts enjoy, such as the Beatles and One Direction.
So, how old are BTS members Jungkook, V, Jimin, RM, J-Hope, Jin, and Suga? Read on to find out the BTS members' ages, and impress your friends with your newfound knowledge.
(Fun fact: South Korea uses the Korean age system. It's different from the international age system the rest of the world uses. In South Korea, when you're born, you're considered 1 year old. The Korean age system also doesn't add a year to a person's age on their birthday. Instead, everyone adds a year to their age on the same day: January 1. So if you lived in South Korea, you could be considered one or two years older than you are, depending upon when you were born, KoreanClass101.com explains.)
How old is Jungkook?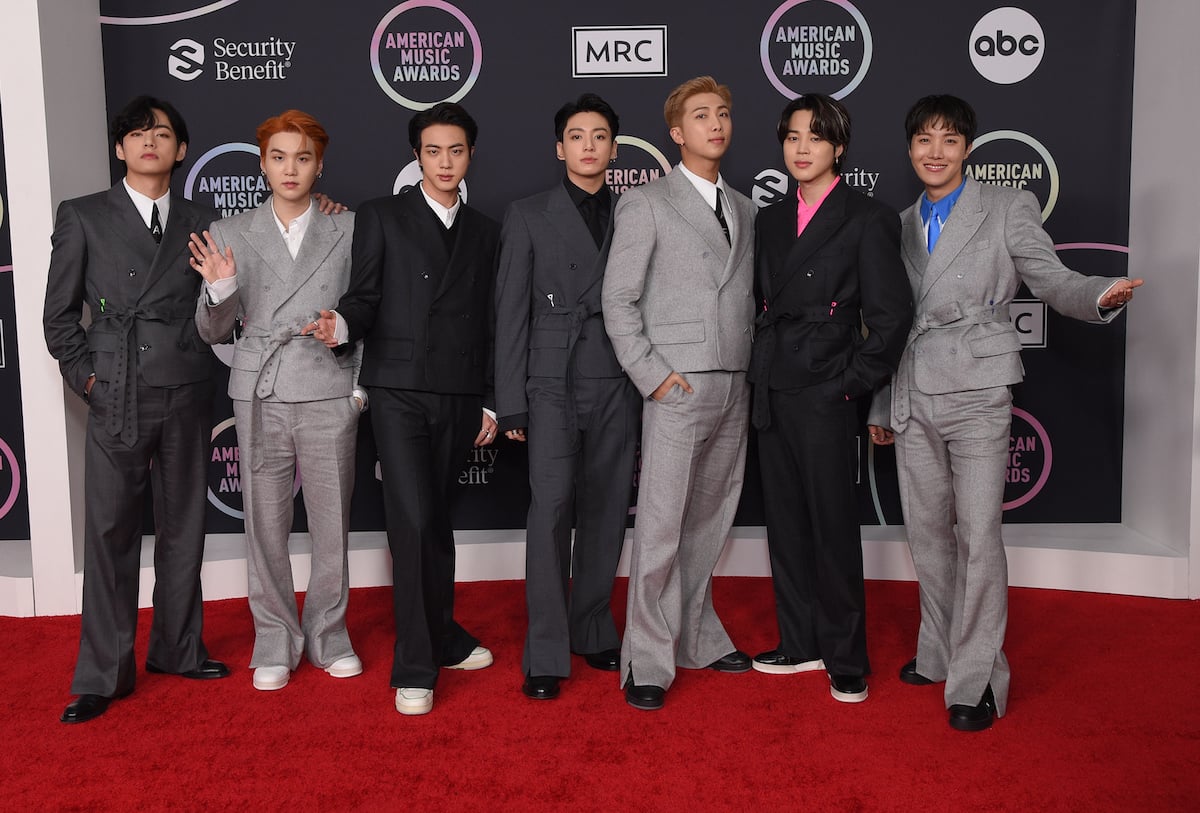 Jeon Jeongguk, better known as Jungkook, was born in Busan, South Korea, on September 1, 1997. He is the youngest member of BTS. Jungkook joined the group when he was around 15 years old, but that didn't stop him from becoming the lead vocalist.
And though he's young, he has the highest-rated social media presence of any K-pop star, Allkpop reports.
How old is V of BTS?
V's real name is Kim Taehyung. He was born in Daegu, South Korea, on December 30, 1995. His BTS bandmates consider him the nice one of the group and say he isn't afraid to show his emotions. 
V also wrote and sang his first solo song, "Scenery." It was an instant hit with fans, garnering over 100 million streams in just the first few weeks.
How old is Jimin?
If there's one BTS member who puts the "heart" in "heartthrob," it's Park Jimin. Jimin was born in Busan, South Korea, on October 13, 1995. Even though fans go crazy whenever he walks onstage, he has admitted he's still insecure about his vocal abilities.
Bandmate Jungkook has said Jimin's singing has gotten much better since he started. 
"If you listen to his singing now, it has changed a lot compared to before," Jungkook said of his friend in the documentary Burn the Stage. "He asked me a lot of questions about the vocal part." 
How old is RM from BTS?
Kim Namjoon is better known as RM or Rap Monster. He was born on September 12, 1994. Since he was little, he has loved rhyming. In grade school, he won awards for his exceptional poetry-writing skills. 
In addition, he is rumored to have learned English by watching the TV show Friends. RM also grew up idolizing the American rapper Eminem. And he has done musical collaborations with rap icons Wale and Warren G.
How old is J-Hope?
Jung Hoseok, aka J-Hope, was born in Gwangju, South Korea, on February 18, 1994. In addition to singing, he is also known for his impeccable dancing skills. He has been recognized worldwide for his moves and even placed first in a national dance competition before joining BTS. 
As his stage name implies, J-Hope brings hope to millions of fans and is known for his compassionate heart. He regularly gives to charitable causes, including a recent donation of over $80,000 to ChildFund Korea to help low-income families with children, The Korea Times reported.  
How old is BTS member Jin?
Kim Seokjin was born on December 4, 1992, making him the oldest member of BTS. Before Jin joined BTS, he was studying to be an actor. When he was approached to join the band, making music professionally wasn't even on his radar. 
However, someone with BTS's management company, Big Hit Music, reportedly saw him walking down the street one day and thought he would make a fine addition to the group based on his good looks.
How old is Suga?
Suga's real name is Min Yoongi. Born on March 9, 1993, Suga got his start in the music industry by working in a recording studio part-time when he was a teenager. He initially got a job as a producer for Big Hit Music, but after working with RM and J-Hope for a few years, he officially became a full-fledged BTS member.
[Correction: An earlier version said Suga is the oldest member.]